From a slaying campus girl to a successful timber yard merchant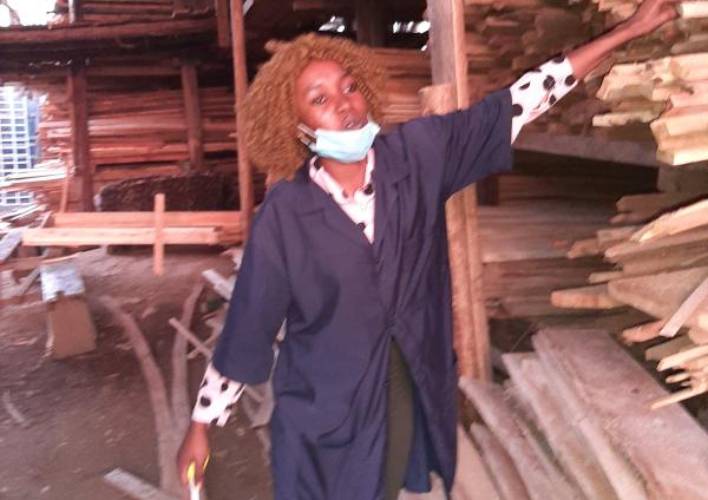 Your perception of campus girls may be skewed until you meet Lisa Shava. During the Covid pandemic, the hardworking third year student at Kabarak University became a timber yard merchant.
The twenty year old student pursuing Bachelor of Science in (Geography and Mathematics) is not your ordinary campus girl thrilled by taking snapshots by the roadside; for her the long break that was occasioned by the advent of coronavirus was a blessing in disguise as she has drawn a new path.
Unlike some of her colleagues who sit at the comfort of their homes waiting for support either from their boyfriends or parents,Shava makes her money through crushing and selling wood in Lurambi Junction in Kakamega.
Shava who would wear fake eyelashes and fake hair in order to appeal to her online audiences when she felt like slaying, this new venture only requires coping saw, mortising machine among others. She began working in timber yard way back in September last year during long holiday when her Dad warned her against depending on men for financial support.
"My dad got worried that I was literally asking him for everthing including airtime money,he told me to make the most of my holidays by asking for a job at a timber yard, at first I laughed off the proposal, I was like,am too beautiful for such work," said Lisa as she smiles.
She adds that the reality dawned on her when coronavirus struck the country which later forced institutions of learning to abruptly close.
"At that point getting money for basic sustenance was difficult, it was then I went to ask for a job, when I got it, the first days proved tough, I was used to looking good, the saw dust was a turn off, but with time the prospects of going home with Sh 600 became my impetus."
Since her yard is located few meters from Masinde Muliro University, it did not take time before young customers especially male students made their way to the yard.
"There are many who come in the guise of buying products yet their intention is to get your attention, it's become normal to me these days," adds Shava.
"Girls have often been victims of abusive relationships because of their insatiable dependence on men especially sponsors, just like the male specie is endowed so are we, there is no greater feeling than working for your money however little it may be."
Lisa's advice to her fellow students is that they should get out of their comfort zones through exploiting opportunities that come their way.
"It's not enough to depend on your parents for everything, there are various ways of eking a living without compromising your integrity."