Anthony Muthungu: Maker of USB chargers has big dreams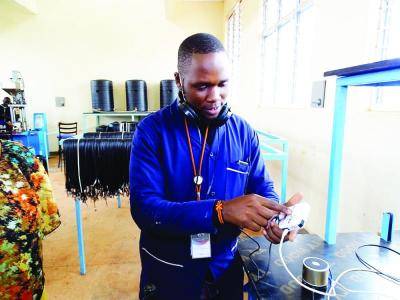 Kenya ranks among countries with the biggest number of mobile phone users on the African continent.
On average, Kenya has about 10 million smartphone mobile users.
However, mobile phone shipments are not accompanied by a similar number of charger cables, which means that in case of damage or loss, users are left with no option but to buy from a market saturated with fakes which not only get damaged easily but are also not eco-friendly as well.
It is this situation that a young scientist set out to address by founding a company that produces cheap but authentic USB charger cables locally.
Meet Anthony Muthungu, 28, the founder of TotoSci Holdings Limited, an SME located at the Kenya Industrial Estate in Sagana, Kirinyaga County.
In March 2020, as Covid-19 reached Kenya's shores, Muthungu realised that all USB cables in his house were not functional and yet he could not do without one.
"I wanted to transfer some files from my phone to my laptop. Unfortunately, none of the USB cables I had in the house was working despite appearing new and in good shape," he said.
According to Muthungu, he reached to several friends on Facebook seeking default charger cables. Two weeks later, he had received over 5,000 damaged cables.
Muthungu, who holds a Bachelor of Science degree in Physics from Karatina University and is currently studying Computer Engineering at Zetech University, simply sampled them and started off.
He took Sh76,500 as seed capital from his savings to establish the manufacturing plant. The rest is history.
On his LinkedIn page, Muthungu expounds more on the idea behind his venture: "Because of the big number of the users of the cables, the market has been flooded with fake USB cables that are not up to the standards. This makes every smartphone user to have two or three damaged USB cables in their houses. Most of the problems associated with this breakage at the end point due to stress of folding and others breakage of internal wires."
He avers that buying and selling of counterfeits is one of the major factors contributing to the death of MSMEs especially in the electronics industry.
TotoSci built its brand around "mindfully sourced raw materials" such as copper wires, connectors, ferrite, fiberglass, wood composite, recycled paper, and a fabric blend made from reclaimed cotton and hemp.
Muthungu told CityBiz that they only make products with compostable bio-plastic and flax straw materials, delivered in minimal plastic-free packaging.
A team of five employees helps in cable cutting and stripping, cable soldering, internal injection work, inspection, testing, packaging and recycling the offcuts to produce the USB chargers.
At the manufacturing level, there is a PCB, a transformer, various chips and a bunch of discrete parts. This, apart from the transformer, is basically what is in the charger circuitry as a stepdown device. He avoids petroleum-based plastics in favour of plant-based ones, and also uses fabric blends made from recycled plastic bottles.
"Its packaging is made from biodegradable recycled scrap paper free of harmful inks or dyes. The company stopped using PVC, a difficult-to-recycle type of plastic, in its chargers, and in its product designs. It relies heavily on aluminum, a material that is infinitely recyclable," says Muthungu.
In a good week, the company can make 300 to 500 cables which are sold to distributors. With each purchase, consumers are given a prepaid return envelope so they can easily send in old and obsolete electronics for recycling with the company's partners.
And its recycled composites also have benefits for buyers. According to Muthungu, the lower-impact materials they use are actually more durable, making for a better overall product.
"Our products are of high quality and we give our clients a six-month guarantee", he told the City Biz.
The chargers have been approved and certified by both the Kenya Bureau of Standards and Kenya Export Promotion and Branding Agency as an authentic made in Kenya product.
In terms of pricing, TotoSci's debut products retail at Micro Sh200,Type C at Sh300 while iPhone at Sh500 and are available for purchase on its social media platforms though he is also seeking distributors countrywide.
Muthungu also says he plans to invest more in research and development to improve on his work and also to provide more job opportunities for other youth when he starts manufacturing earphones and mobile phones. He adds that he has learned a lot through books, fellowships, tutorials and the "school of reality."
However, the venture has not been without challenges.
Muthungu cites administrative and running cost, high taxation and high cost of electricity, fuel and raw materials.