Graduate ditched glamorous degree papers for carpentry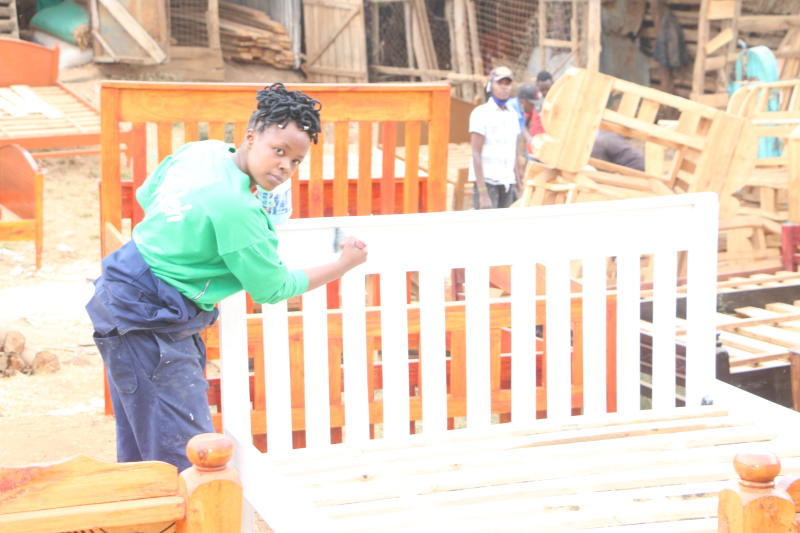 Margaret Mwikali is a communication graduate from Jomo Kenyatta University of Agriculture and Technology.
Her turbulent academic journey sparked off her creativity and passion for woodwork.
When Margaret Mwikali wrote her last paper at Jomo Kenyatta University of Agriculture and Technology where she was pursuing a degree in Mass Communication in 2017, one thing was certain - she was not just about to give up on her passion for carpentry.
Although she appreciates the fact that a high number of university graduates find themselves in different fields from what they pursued in college due to scarcity of job opportunities, Mwikali stands out among the few cases that have deliberately chosen to pursue their passion away from what they studied.
Having encountered a bumpy ride through university life due to financial constraints, Mwikali mastered the art of discovering creative ways to raise money for her upkeep and other necessities early enough.
"My academic journey was characterised by severe hardships mainly due to lack of money. At one point, I resorted to hawking bottled water to make money for my upkeep," says Mwikali.
By the time she was graduating in 2017, many of her classmates had already entered the job market.
"I was forced to defer several times when we couldn't raise fees," she recalls.
But that notwithstanding, she still performed well and was conferred a second-class upper-division honors degree.
It is around this time when she developed a keen interest in the informal sector, away from the likely conventional communications career for which she was had been pursuing a degree course.
"Being the creative person I believe I am, it dawned on me that it was necessary to try and think outside the box and see what I could be able to accomplish in the informal sector," says Mwikali.
After graduation, for which she has never collected her degree certificate, she got a casual job in Nairobi's Industrial Area where she earned Sh20,000 per month.
"I found myself in a pretty tough situation because I did not like the job, while at the same time I had to do it to settle too many debts I had accumulated," she recalls.
However, one Friday morning, she recalls, the government through the Ministry of Industrialisation and Human Resource Development, announced opportunities under the Kenya Youth Employment Programme (KEYOP) which was initiated in partnership with the World Bank.
"Without thinking twice about what people would think of me, I decided to apply for a course in carpentry under the programme. Back in my mind, I visualised how I would apply my creative skills in making unique products which would stand out and impress buyers," she says.
She also thought it was good to pursue the opportunity considering that she still did not have her degree papers.
"I said to myself, since I do not have anything to show for a degree, I am just the same as any other ordinary Form Four leaver. I applied and fortunately, I was selected to train in carpentry," she adds.
As fate would have it, Mwikali would be posted to Machakos town where the KEYOP programme trains youth in various competencies in a facility domiciled at the municipality's Grogan area.
Her initial capital to service an order by a customer was miraculous. "A friend of mine who came to know the occupation I was pursuing asked me to make for him a coffee table, ironing table, shoe rack, and a bed whose total cost was about Sh30,000. He gave me Sh15,000 deposit and this marked the beginning of my career in carpentry," recalls Mwikali.
She started marketing her work on Facebook and orders started coming in.
Mwikali's prowess in carpentry started manifesting itself during the training which earned her 'the queen of the woodwork' title.
One of her instructors, David Mutisya, describes her as a stunningly creative and unusually fast learner who always looked forward to experimenting and putting her creativity to work.
"Mwikali is such a fast learner because barely three weeks into the training, she was able to make simple furniture such as tables and stools. Over the months, she has mastered her craft and is now able to take projects outside the workshop without supervision," instructor Mutisya said.