Meet the digital fishmonger: She is young, posh, educated and perfumed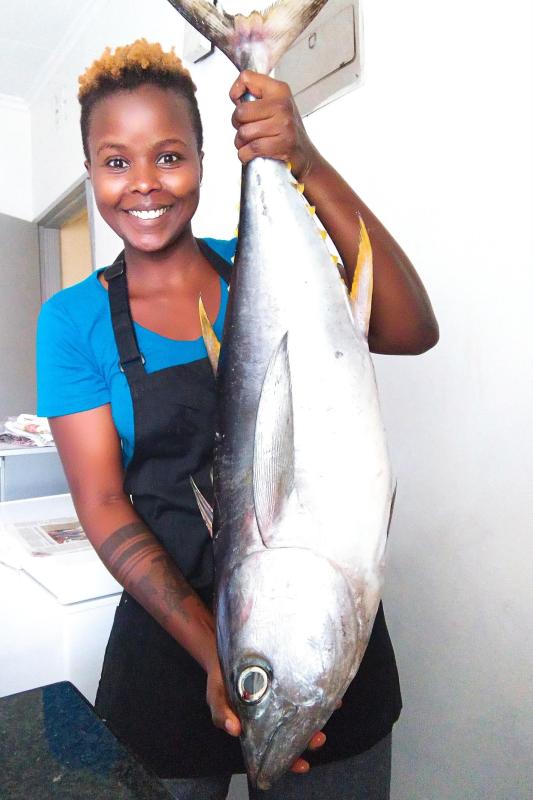 The world has heard of many harrowing stories where women fishmongers are exploited in one way or the other. And Now, women in the cities of Nairobi and Kisumu are not only contributing to the development of the country's business sector, but also playing a vital role in changing social norms of doing business.
Going against the tide, several women entrepreneurs are now selling fresh fish Online instead of focusing on feminine businesses like running boutiques or selling ornaments.
Elizabeth Kinyanjui studied Hospitality Management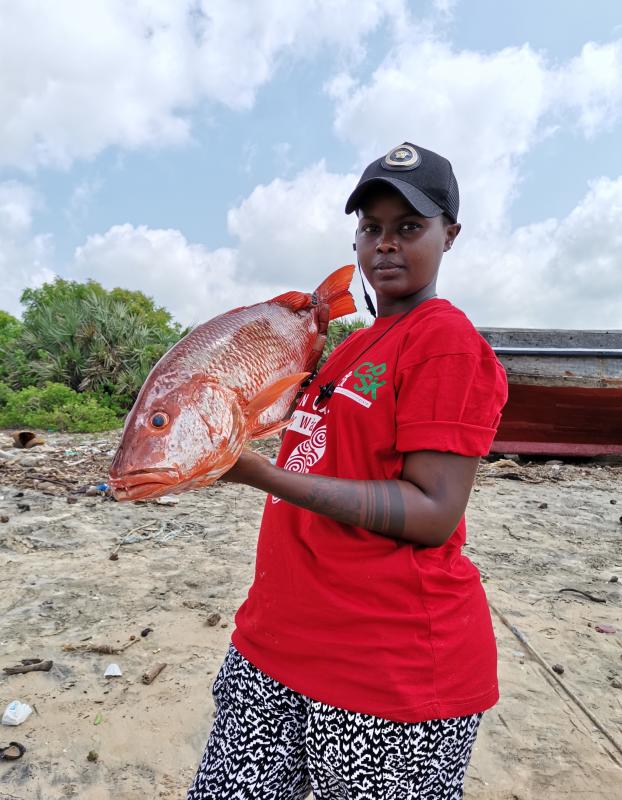 Meet Elizabeth Kinyanjui, a dot com fishmonger who started selling fish in the most unexpected way. In 2016, she was transferred from Mombasa where she worked in a restaurant to Nairobi.
Having been raised in the coastal town, fish was a staple for her, in fact it was street food, cheap and readily available. This was not the case in Nairobi. Since she was new in town, her love for fish made her make trips from Kinoo where she stayed to Mirema along Thika Road every week.
When her supplier unexpectedly left, she sought for ways to get fish and her mind took her to the only place she knew - Mombasa.
"I asked my mother to send me fish from Mombasa and since I am good at preparing, my friends started asking for it. So the next time I brought fish for me and my friends," said Elizabeth.
This is how she began selling fish, from her house and on her Facebook and Instagram pages 'Tamtam Fresh Fish and Seafood'. She worked for one more year at the restaurant then quit. With a loan from her family, she bought a freezer.
Armed with Sh10,000 capital, her efforts made her a successful entrepreneur. On good days, she sells up to 45kgs of fish a day for Sh60,000 and a revenue margin of Sh10,000.
"My business has grown from selling 7kg per day with average average sales of Sh8,000 with about Sh1,000 profit. This was when I was working alone with one rider and delivery on my back pack," said Elizabeth. Through her Facebook and Instagram pages, she sells fresh fish and seafood. Her supplies are mainly for the shoreline of Indian ocean from Kilifi down to Tanzania.
Elizabeth said although she initially had no idea about fish or their nature, she put her effort to learn from the Internet. She also received help from fisheries officials in understanding the difference between farmed fish and naturally-harvested fish.
Like any other business, her business went through trials and at some point, she had to start afresh after a fallout with a partner who according to her wanted to take over the business.
"I looked for money and bought my stock from my partner and started round two from scratch," she said.
After receiving huge responses from consumers, she opened a shop in South B since most of her clients including restaurants are from that area and its surroundings. She manages the social media accounts on her own.
"I re-invest from my profits. Now I have four employees and five riders. On a good week, I can pay wages of Sh25,000 in total," she said.
Elizabeth trades in salmon, red snapper, fillets, prawns, lobsters, crabs, octopus, oysters, sardines and mackerels.
Cost of fish depends on size with imported salmon being the most expensive. A kilo goes for Sh3,500. Prices of lobsters, octopus, crabs and oysters range from Sh550 to Sh3,500.
Like Elizabeth, three other women entrepreneurs, Dorothy K'onyango, Maureen Odira and Peninah Atieno also sell fish online.
Dorothy K'onyango quit entertainment and printing business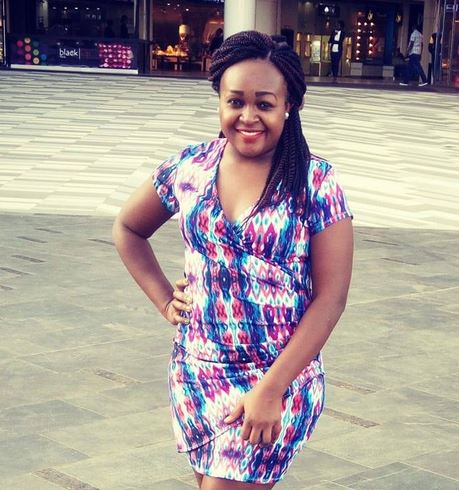 Dorothy started Lakestar Fishmongers last year just when the Covid-19 pandemic had struck. Since her entertainment and printing business were affected, she thought of something that was on demand and food came to mind.
"You know despite everything else people still need to eat, so I felt food business would do well and considering I am in Nairobi, getting fish is quite difficult, especially from the lake (Victoria)," said Dorothy.
She gets supplies from Usenge beach in Lake Victoria and they get transported in refrigerated lorries. She has someone who prepares and fries them. She does home deliveries for free around Nairobi.
"Normally there are refrigerated lorries that bring fish every morning, I organise with someone and I have to wake up very early to get my stock, I got someone who does the preparations and frying and I do the deliveries," said Dorothy.
She thought of social media because through this she would save money she would have used for rent. Facebook and Instagrams also help her reach a lot of people, which is good for business. She however admitted that business has not been good since September last year, orders have gone down and the transportation from Usenge to Nairobi is very costly.
"Initially I would get orders through the week, but now I find that orders only come during the weekends and on special occasions," she said.
Luckily she has contracts with a few hotels and supplies them with fish every two days.
"I realised that if I do fish only I might not be able to sustain the business, considering the logistics involved, that is why I decided to incorporate chicken Kienyeji, every two days," Dorothy said.
She sells mostly tilapia and fillet, with prices ranging from Sh500 to Sh1,000. A kilo of tilapia fillet sells at Sh1,300 and Nile perch fillet goes for Sh800 a kilo.
Maureen Odira: No one should shy away from fish trade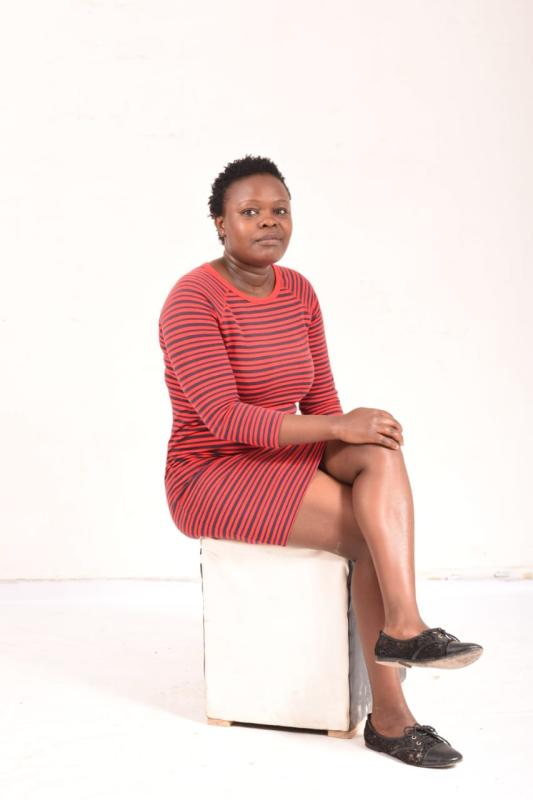 Maureen Odira opted to sell fish to supplement her income but when she realised she could pay bills from the money she made, she turned it into her main hustle.
Asked why she chose the business, Maureen said, "I thought about it because it is food. Initially I had opened a bar but the person who was working for me was not reliable. The fish, I do it myself, it is convenient for me because I do not have to hire anyone and I get to deal with my customers one on one."
Fishmongers have always been considered as low class people in society. According to Maureen, it is not right to judge people on the basis of their occupation, she chose this as it is a challenge for her instead of going for the bar business.
By establishing herself as a successful fishmonger, Maureen wants to turn herself into a role model for society so that no one feels shy to do fish trade.
"When it comes to looking for money you do not really have to think about what people say, by the way my friends keep asking me why I have to go to the market at 3:00 am and some of them when they come to my house they find my kitchen messed up with scales," said Maureen.
She added: "But I really do not mind because at the end of the day what matters is that my son is fed, he goes to school and lives decently."
When asked why fish in Kisumu compared to Nairobi, she said "in the village, the main source of fish is the lake, but here in Nairobi, there are many sources and many fish farmers, so the supply is high but the demand is low." She gets her supplies from Homabay and the prices are fair enough, she says.
Peninah Atieno, CEO Fish for You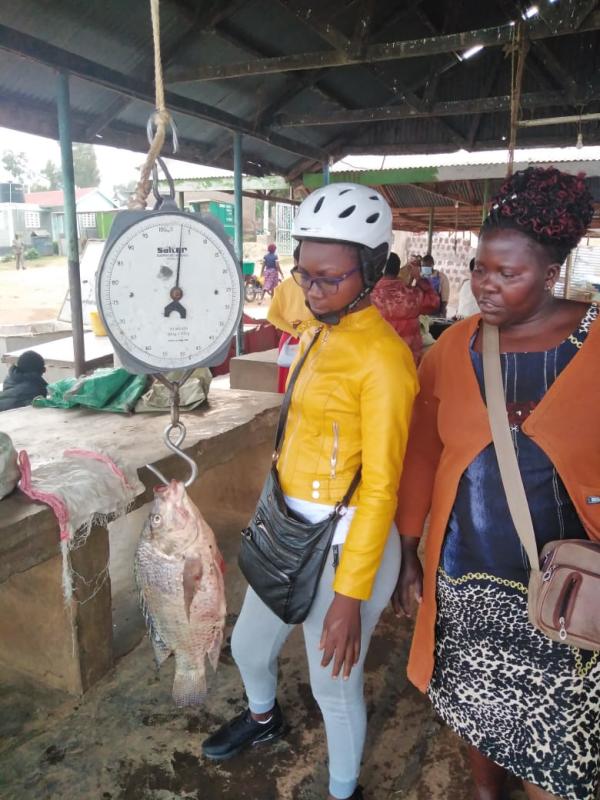 Peninah Atieno started 'Fish for you,' on Facebook and Instagram page one and a half years ago. She says the pages have been good for her business. She says all her clients are from the digital platforms.
Peninah is based in Kisumu and Ugunja in Siaya County. She mainly gets her supplies from Yimbo in Siaya, Pot Victoria and sometimes lake Kyoga in Uganda.
She was inspired to do the business by a friend of hers and she says she has never regretted the decision.
"When I take fish for Sh10,000, I can get a profit from Sh7,000. It all depends who you are selling to," said Peninah.
She noted challenges come when all the fish around the lake is ferried to Nairobi. It forces her to liase with a fisherman to reserve some stock for her and that makes it more expensive.
"I do not get fish from the lake all the time. You see a place like Dunga in Kisumu and along lake victoria, you will get lorries loading fish to take to Nairobi, most of the time I need a fisherman to reserve for me, a lot of times us who are on this sides find it hard to get fish, that is why it gets expensive," Peninah said.
She said she has received a lot of criticism, but that gave her more strength to work harder to make herself a successful entrepreneur to prove them wrong and to change the social norm.