Lonely diseases: The miserable patients Kenyans wish they could forget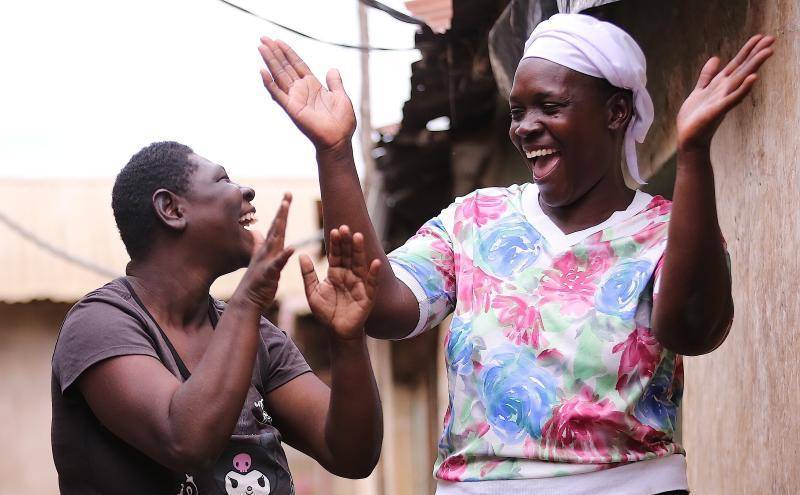 The calmness on Queen Kwamboka's face as she strolls around her Kayole Estate neighbourhood in Nairobi to kill boredom one evening is deceptive.
The 48-year-old woman's heart bleeds with loneliness, low esteem and the stigma of neurofibromatosis disease -- a tumour that grows along a nerve in any part of the body.
The tumour looks like rubber balls protruding from her legs and buttocks, making it hard for her to walk and indulge in normal activities.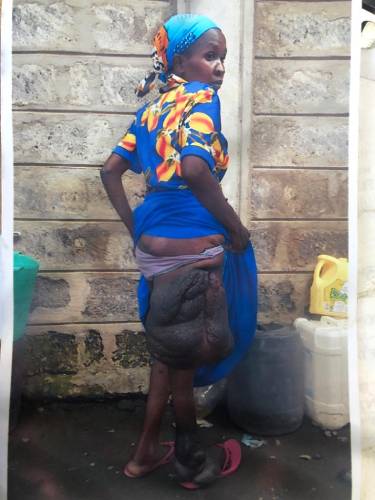 She is in agony and mentally tormented.
"I feel terribly embarrassed by my condition. At times, when people talk whenever I am passing by, I assume they are talking about me," said Kwamboka, looking all stressed up.
Such is her trauma that the condition, which was diagnosed six months ago, forced her to quit her job.
"I cannot walk well because of lack of balance arising from the swelling on my right leg. I mostly fall when I do," she told The Nairobian in an interview.
Kwamboka is fortunate because a Good Samaritan - Ruth Jackson, currently her caretaker, took her in.
"I decided to take care of the patient, because she was not able to raise money for rent. I talked to friends who came for her support," said Jackson.
The tumour began like a small growth on the right leg several months ago, only to swell into a bigger growth.
Prof Nangole Khainga, a consultant plastic surgeon specialist, says the condition can be treated. Apart from disfigurement, and heavy weight, the condition interferes with blood vessels that can grow bigger and even burst, causing bleeding, he says. And if it emerges on the face, it can obstruct the eye.
"The biggest problem with the disease is the disfigurement. It makes inpatients hardly able to walk, because of excess weight. Patients should undergo an operation, to avoid bleeding," said the specialist.
In Kwamboka's case, a well-wisher raised Sh500,000 for her surgery, and she would not be down in the dumps by now had the ministry of Health not cancelled elective surgeries because of the coronavirus pandemic.
Mercy Chepkorir, 15, from Motigo village in Bomet County shares Kwamboka's predicament. The teen is battling neurofibroma, a nerve tumour that developed on her cheeks when she was only five years old. Her condition has subjected her family to emotional turmoil and financial strain, not to mention stigma and discrimination.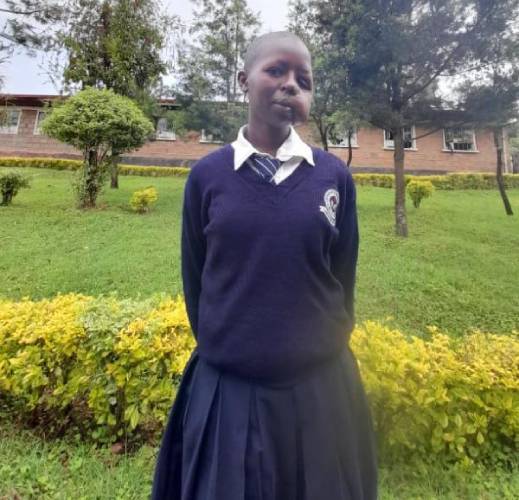 Her elder sister, Beatrice Chebet, told The Nairobian that the community attributes the condition to witchcraft.
"Though my sister is not in pain or shy about her state, the society has been accusing our family. They claim we might have wronged someone who bewitched her. We are viewed as a bad omen," said Chebet.
The condition started with a swelling of the jaw, which continued to enlarge. Chepkorir underwent surgery in 2017 at Tenwek Mission Hospital, at a cost of 85,000, but the tumour recurred A doctor at Longisa Hospital has further advised for a second operation at Aga Khan Hospital, at a cost of Sh365,000.
The family is fundraising to raise the money.
"We have sold all our cows and a section of land to raise money for treatment. Currently, we have no other financial avenue," explains Chebet.
Then there is Zaida Mohammed, 15. Born with microcephaly (smaller head due to failure by the brain to fully develop), she cannot speak well and virtually depends on her mother, Dorothy Achieng.
"It is so draining to take care of my daughter. For example, she has no control over her bladder or bowel movements, and I also have to manage her hygiene when she is on her period," explained the mother.
The condition has left the family psychologically tormented.
After her birth in 2005, her father, who linked the condition to bad omens and curses, just woke up one day and fled.
"The weight of managing my daughter's condition on my own is taking a toll on me. Her father left me, leaving me to shoulder the financial and emotional burden alone," Dorothy said, her eyes welling with tears. Though Zaida requires specialised care and regular check-ups, her mother cannot afford it.
"My daughter has not received medical care save for Malaria and other common illnesses for the last five years," she said.
Dr Lee Ogutha, a consultant neurosurgeon and a lecturer at Maseno University, told The Nairobian that microcephaly can only be managed because it has no cure.
"Children with microcephaly should receive supportive care that incorporates Physiotherapy. Speech Therapy to develop speech for those who have the capacity, Occupation therapy to help them adapt to activities they can do by maximizing their ability," he said.
In Kenya, he said the condition is rare and there is no proper documentation on the affected number of children.
"Some children who have this condition end up with birth defects and congenital effects and die before we get to see them in hospitals," he said.
The specialist said the condition is caused by congenital malformations which can be hereditary such as Down's Syndrome and mother-to-child infections that affect the baby while in the womb.
Other factors include toxins such as mercury in the environment, abuse of alcohol by a mother during pregnancy, malnutrition and exposure to radiation.
The Nairobian also spoke to Onesmas Mwanzi, 45, from Greensteds Estate in Nakuru, who is equally a lonely man.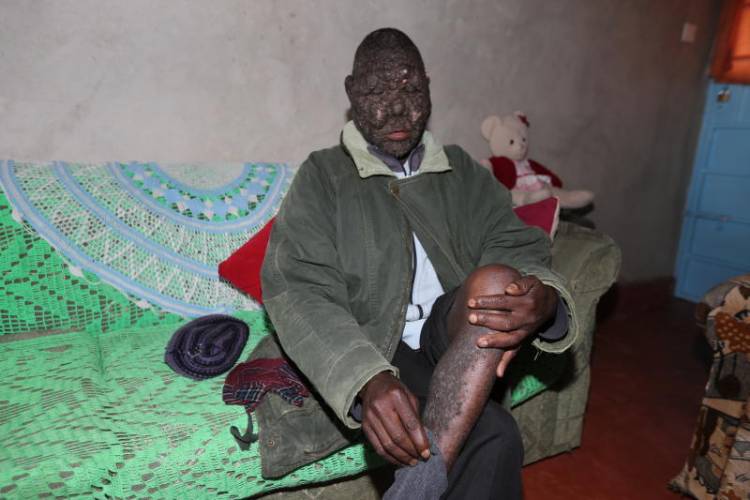 What started as a small patch on his face when he was barely nine has formed extensive skin thickening on his face, scalp and scattered lesions on the body. His skin is also itchy and produces an unpleasant smell.
Mwanzi has been neglected by close family members who claim that his condition is a curse. But according to medical records, Mwanzi suffers from Keratosis follicularis, also known as Darier disease, a rare genetic skin disorder.
Fortunately, his sister Florence Kyalo has been his close companion, caring for her brother who is in constant pain especially when part of his skin starts peeling off.
"I do not get out of the house because people run away from me. At times, I get bitter with life and wish I was dead," said Mwanzi.
Such is the stigma he faces that he vividly recalls a local administrator warning him not to be seen in public because his condition is contagious and a health risk to others. Worse, the administrator undressed him, an indignity that remains fresh in his mind to date.
Unfortunately, he cannot access specialised medical care due to financial constraints.
Dr Beatrice Etemesi, a dermatologist based at the Nakuru Level V Hospital , says Darier is a hereditary disease that occurs between the ages of 10 and 20 years.
"The disease has no cure although it can be treated and managed depending on how severe the patient's condition is," Etemesi explains.
An early sign of the skin disease is formation of simple rushes on the face that further spread to other parts of the body, including the face, mouth, anus, armpits and genital areas.
Failure to access medication results in patients developing severe symptoms like itching and unpleasant smell.
In his 2014 Madaraka Day celebration speech, President Uhuru Kenyatta promised to set up a fund to enable patients with rare diseases, majority of whom can't afford specialised treatment.
That promise remains unfulfilled nearly seven years on.
I hope society will one day accept me- Teresia Njeri
Teresia Njeri is 16 years old. She suffers from hirschsprung disease.
The Form Two student at Joy Secondary School in Thika uses colostomy bags, and is unusually reserved, unlike her peers.
"I am at times bullied by my peers for wearing these bags. I hope someday the society shall understand me," narrated the teenager who wears a sweater more often to hide the bags.
The student was diagnosed with the disease at Naivasha Hospital, at ten years.
According to Dr George Wabomba, a medical surgeon at Naivasha hospital said hirschsprung is a condition that mostly develops after birth caused by the absence of nerve cells in the bowel of a newborn, that result in difficulties to move food to the rectum after digestion.
An operation (stoma- opening of the tummy) is done to move stool because of the absence of nerve cells.
"Lack of nerve cells causes muscles in the bowel to lose the ability to move stools to the intestines during the digestion process," said the doctor.
Symptoms of the disease include constipation reported after birth whereby a child fails to excrete as expected. Others include swelling of the abdomen, fever and vomiting
The disease has left the teen's mother discriminated against by the society.
After writing her Kenya Certificate of Primary Education (KCPE) last year, despite 100 per cent transition by the government, it was hard for Njeri to secure a secondary school.
"Most secondary schools refused to admit my daughter saying her condition would scare other learners," said her mother Esther Nyambura.
Colostomy bags are also expensive, with a single bag selling at Sh2,000, in private chemists.
"I buy about 10 bags after every two weeks to sustain my daughter. It is truly tough to manage this condition," says the mother, who is employed to sell clothes.
Diseases have nothing to do with witchcraft or curses- Dr. Kariuki
A psychiatric clinician at Kisumu County Hospital, Raphael Wambura, said a major challenge facing patients with lonely diseases and caregivers is anxiety and depression.
He said the diseases are associated with spirituality and witchcraft.
To combat stigma, he observed that sensitization on the conditions should be done.
"People with rare diseases face stigma from the community due to lack of clear information on the cause of the diseases. With the right information, patients will easily accept their condition," said Mr Wambura.
He added that families and caregivers need to develop a strong support system, for mental support.
Rihanna officially a billionaire
Her vast wealth has come mainly from her beauty empire Fenty Beauty which she founded in 2017 and owns 50% of, and her highly successful music career.