What's in a name? Let the kids call your boyfriend by name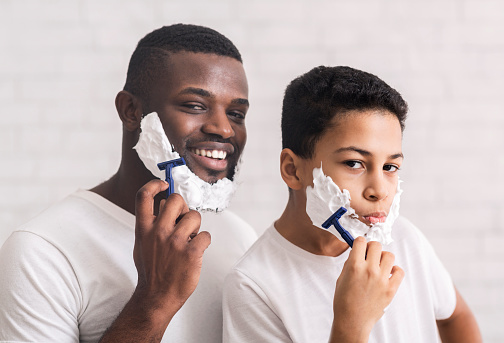 This thing of single mothers forcing kids to call bae "daddy" or "uncle" is arrant nonsense. First, are you sure the kid(s) like him enough to call him anything other than his name? Is it time even?
Thing is, relationships are so complicated these days that you can't really be sure who will stay and who won't. Ni kama gas! You use it to cooker dinner nicely, but the following morning you are met with ptssss just when you have put mayai ya jicho onto the pan. That's Kevo for you. He takes you to heaven at 3am as usual, then wakes up, craps in your toilet, showers and leaves never to return. Mteja! What will you tell your kid who calls him daddy? And what happens when the next service provider wanders in like a lost goat?
Women are an amazing lot! One or two lunch dates here and there, a lot of diabetic names, dinner, whisky and some nyamcom, a pair of heels, ice cream and a few romps in some dingy lodgo and she's already introduced Obadiah to her children. Telling them to call him uncle or even daddy or baba. The audacity! So, just because he gives you toe curling Os, he suddenly is the SI unit of fatherhood and you think that's the best your kid(s) can have and call daddy – when they have and even know their biological fathers?
And this Uncle thing… who told women that its cool for kids to call every male that comes by "uncle"? Watchie is uncle. Your brother, uncle. Your colleagues. Msee wa nduthi, uncle. The school bus driver. The local barber, then Njoro wa butchery. Your boyfriend also! Now, what could make the tois differentiate who the real uncle is? Too much already for the little minds who already enough headache with piles of CBC homework.
What makes it worse is it is not easy to date one man at ago, especially if you're a woman trying to find an appropriate lifetime partner, those ones of for better and mostly worse.' Kwanza hii Nairobi! A woman will be having a Johnte for rent, Jemmo for electricity tokens and Kamaa in office for lunch and other small-small things. Earth is hard and woman must survive, we know.
One or two, or all of these boyfriends will at some point pop in, and the kids told, "Endeni mcheze nje" (wink). You have a kid(s). And they've grown knowing that any male around them is an uncle. So when eventually one of them passes the tests and settles for good, how do you tell them that uncle Jemmo has graduated to baba or daddy? Tricky, huh?
Sisters, normalise our children calling the men in our lives by their names. Also minimise not introducing them too fast too soon. And when they eventually meet, allow the little ones freedom to use whichever name or title they're comfortable with, as you juggle to see if things will eventually fall in place, or fall apart.
Kids are not stupid. Let them decide. Give them his name on day one. Let them get acquainted, figure the guy out. Because the day little Angel in PP2 will go school and teacher Mary during a lesson about family, tells them that an uncle is a brother to mum or dad; then your Angel remembers how many uncles who are not her mom's or dad's brothers visit and spend the night in your bedroom, is the day you'll know kids are not kids.
And why even is the man sleeping in your bed, creating maps on your sheets when you have another man's child or children in the house? He wants some, let him pay for a hotel room, not lodging.
Our children know things we assume they don't. They know when you're dating and when you're not. Most of them are aware that sex happens when two people of the opposite sex lock themselves up. So you'd want still your baby to wake up in the morning from her room and tell your boyfriend; ''good morning Uncle Pete!'', yet she knows that your brother sleeps on the sofa when he visits?
I know some would argue that a kid calling their partner by name is a form of disrespect, but what is more disrespectful than forcing your child to daddy a stranger, who might be gone tomorrow, when their real father, however kumbafu, exists?
The title of father, or daddy is not necessarily biological. It is earned. When bae earns it, the kids will decide to call him daddy. In the meantime, he remains Habakkuk.
@deemalkia