A majority of young women out here stay in bad relationships because they saw their mothers braving it out through worst times with their fathers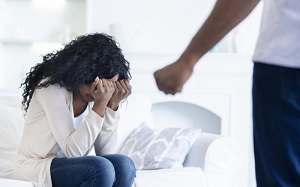 My neighbour recently found out that his wife has been cheating on him with multiple guys. He went through her phone with the eye of Sherlock Holmes and found damning evidence of the multiple affairs that happened in the span of their four-year marriage. He calmly confronted her with it, packed a bag and was about to walk out when she threw the most dramatic fit I have ever witnessed.
The wife locked the door and threw the key out from the third floor, begged the guy to react…to beat her; even kill her if he can, swore to commit suicide if the guy walked out, reminded him of his vows before God, cried, scratched her eyes, pretended to pass out. All that just to get the guy to respond, but he was done. He sat in a corner, called the caretaker for a spare key and drove off.
Now, don't get me wrong. The guy ain't a saint. He had cheated on her several times too, as she 'graciously' reminded him during the fight. But like most women, she didn't leave him. Instead, she stayed on and looked past it. But now she found herself hopelessly cornered and deeply shamed for something he had done himself in the past, only his reaction was way different from hers.
If there is anything to learn from this whole incident, it is that men are very smart creatures. See, they know who their real enemy is. The enemy in any cheating incident is the person you share your bed with, it is the person who broke off their vows to you. The other person involved in it has absolutely zilch responsibilities towards you as a spouse. They didn't wear matching vitenges with you and swear to be faithful to you for the rest of your life in front of God, family and friends, did they?
Now, I can bet if the tables were turned and it was the wife who found damning evidence on the husband, the first thing she would have done would have been to go after the other women. She would have texted them to leave her man, gone on social media to call them out or hang their pictures out to dry for all to ridicule on Kilimani Mums, cast her wig aside and let her nails do the 'talking' as she confronts them physically. She would have done all these in the name of protecting her territory. Sheer stupidity…that is what that is.
Women never leave. They'd rather dismiss the man as a community husband in public, but would be quick to forgive, especially if he is moneyed. A woman would make a thousand excuses about how she stayed for the sake of the kids. It's familiar nonsense, which is a big lie by the way. You stay for you. You stay because you cannot imagine someone else sleeping in your bed, taking your place in his heart.
You stay for your own selfish reasons and in the long run, the toxicity of that relationship eventually affects your kids. A majority of young women out here stay in bad relationships because they saw their mothers braving it out through worst times with their fathers. They are out here aping the same toxic cycles they saw their parents go through. Men cheat because well, their fathers did it and there were no consequences. Girls stay because their mothers experienced worse, but they held on to that last shred of hope to the very end.
A Kenyan man will cheat a 100 times, and each of those times, he would get a hero's welcome back in the bed. Every single time, the woman would question her own inadequacies, the other woman's morality and Satan's interference, but never the man responsible for all that pain. "Why can't I be enough?" she'd ask herself as she refuses to grapple with the reality of what is happening before her. She'd then pray endlessly for him, cook him the best meals, learn new techniques to keep him interested in the bedroom, even stop asking him to contribute around the house because maybe that's what sent him to the other woman's arms in the first place. But the day the woman cheats, just that one time, the matter ends in one simple step. He leaves. And in the rare circumstance that he stays, he will never touch her again. His ego just won't allow him to. In his eyes, she will simply be a slutty piece of trash and no amount of cat-walking in lingerie around the house will get him sexually going.
So, women, it is time to face this issue head on. When a man cheats, hold him solely accountable. No making silly excuses, no attributing his bad behaviour to the Satan, the poor devil is already being blamed for so many things! Let the evil guy barbeque sinful souls in peace, and hold the real culprits responsible for their actions.