Romance shouldn't end when marriage starts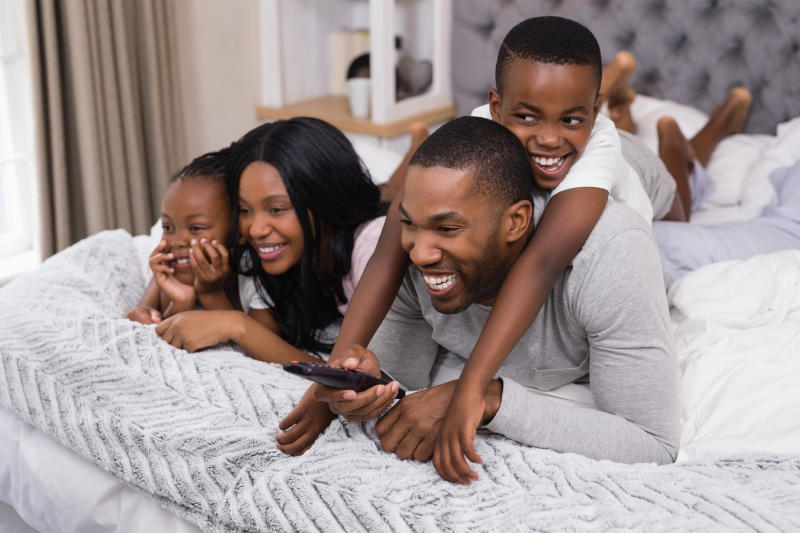 There is a way to treat your stay-at-home wife that'll make her feel loved and appreciated around the house. These women break their backs daily to ensure the house runs smoothly, hence need as much pampering as anyone else. As a man, taking care of bills alone is not enough. You need to put more effort to nurture the relationship with your wife.
A good husband must first be a good father. The song 'Love me, love my dog' by Pete Shelley comes to mind. Always get home early before the kids go to bed. You need to catch up with all their madness and build a bond with them. At the end of the day, kids don't remember the money you brought home, but the time you spent with them. So, don't be too busy to create memories with them.
Men complain that they don't look forward to going home because they receive a cold reception. Uhm, maybe its coz you walk into the house with nothing but your shrivelled balls! You must carry some present, even if it's just the sugarcane or roasted maize we buy by the roadside. This is called positive conditioning. Your family learns to associate you with sweet memories, hence they'll always be hanging at the door waiting to give you a grand reception.
At home, once you settle down after a session with the kids, it is time to dedicate exclusive time for your sweetheart. No TV, no phones, no nothing. It is time just for you and her to talk about anything and everything - from neighbourhood gossip to the school PTA meeting she attended. After dealing with the kids all day long, she needs a fellow adult to offload on.
Your wife is not your sister. She didn't leave her home because you can provide for her better than her parents. She left her parents because she needed to feel the touch of a man. Sasa wewe, now you pretend to be too busy because you are the super provider till you feel sex with her is a waste of time. Yaani, a woman is so sexually starved mpaka she orgasms when a feather grazes her skin? Utaibiwa!
Romance shouldn't end when marriage starts. Ati campaign period is over, so no more niceties? You can't even take her to a nice dinner and only remember her birthday when prompted by a Facebook notification. Shame on you! That woman deserves time away from the confines of the house she stays in 24/7 to rejuvenate her soul, especially if she just had a kid. It is good for her mental health and even better for your relationship.
Women are creatures that need affirmation of their appearances quite often, especially if they have insecurities with their bodies post-kids. It doesn't cost anything to tell her every morning that, "I am the luckiest man in the world to have you as a wife." Compliment her smile and remind her the reasons you fell in love with her. Tell her you love her as often as you can to make her feel special like a protagonist in a Mexican soap. In this social media era, you should be very afraid coz currently, there are men camping in her inbox waiting for you to slip up.
A housewife doesn't have an income, so clearly she will depend on you for funds for personal effects. If you can, give her a monthly stipend just for her personal use. Hii mambo ya kuacha only Sh100 daily then complain that your wife doesn't care for her appearance is a damn shame! Give her extra cash for her hair and grooming, not just the paltry loose change to prepare ugali-sukuma for supper.
Many housewives feel belittled as society makes it sound like they contribute nothing in the household. Trust me, if you were left at home to do what those women do all day, you'll have a receding hairline by noon. So, tell her how proud you are of her for making that sacrifice and remind her that she does matter.
Contribute even in the little way possible around the house. Housework and taking care of kids is exhausting. So, at least clear the table after a meal if her hands are full. During weekends, offer to stay up late with the baby for her to have uninterrupted sleep and watch as her love for you swells to unimaginable levels.
Always have a united front in the house. Do not yell at her in front of the kids if you don't agree on certain things. Iron out all issues in the bedroom so the kids won't feel one parent is lesser than the other.
Importantly, take care of yourself for her. Shave your pubes, work out, wear unstained sexy boxers and please use deodorant so you don't smell like a bloody pig sty!