There are some things that men do that completely throw us off our game and make us cancel the sex date, even if the wheels are already rolling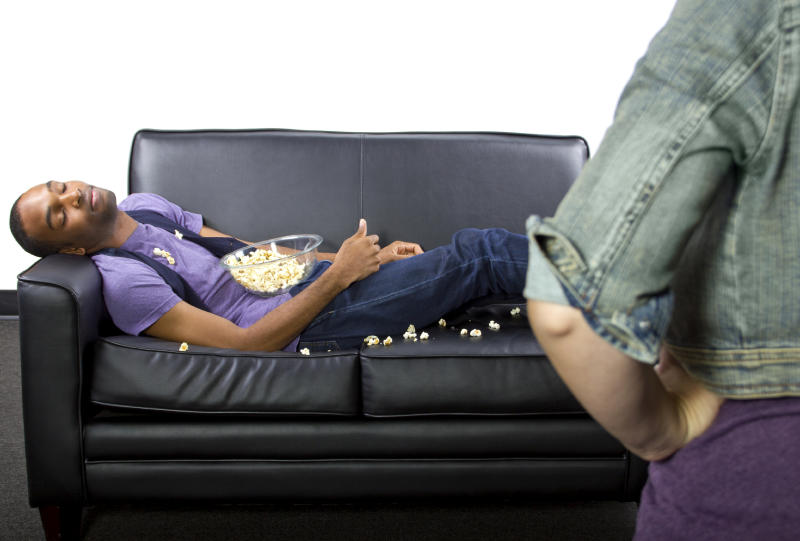 We all yearn for that perfect, mind-blowing sex. I mean, we can't suffer out here with bad economy, suffer under our bosses at workplaces and still suffer in our bedrooms, while eternal fire awaits us. So, when we plan for a sex date and we show up looking our best, we expect the man to reciprocate. How you look and carry yourself will ultimately determine whether you will enter the promised land, or like Moses, just see it, but get denied access.
There are some things that men do that completely throw us off our game and make us cancel the sex date, even if the wheels are already rolling. These are the things you should avoid in the sack, or else you'll be kicked out to nurse your blue balls elsewhere.
Ipake mate iteleze: I don't know where this idea came from. Nine out of 10 Kenyan men have used this silly spit-and-shove-it-in technique on a woman. Maybe they learnt it from scenes in pornography or borrowed sex advice passed down from the era of cave men. But honestly, this is the most disgusting thing you can ever do to a woman. It's a complete turn off. Other than proving you are a lazy bum - because clearly if you need lubricant, then your woman isn't ready for penetration. Using saliva as lubrication is cheap, demeaning and doesn't even work in the first place, as it dries out quickly. If you must, buy a decent sex lubricant and save us the sore sight.
Dirty disgusting home: If a woman is coming to your home for a sexcapade, the least you can do is tidy up. It's such a turn off when you walk into a house and dirty dishes from last Christmas are still stewing in the sink, while your bedding have turned brown from sweat, and dust billows from the sofa with every butt shift. I know some men may use that as a trick to get women to cleaning up their houses because it's kinda a natural instinct for woman. But hey, I am your lover, not your mother! I came there to have fun, not start warfare between cockroaches and my slippers. As a woman, just that sight alone will send me out of your home and into the wind faster than a sponsor running from positive pregnancy test results.
Bad hygiene: No one is exempted from this. Hygiene and good grooming is a must for every human under the sun, not just for men about to have sex. The mouth, your body and even smaller details like your fingernails must be clean. Nothing makes a woman want to hop off the bed than the sight of a man with long, dirty fingernails trying to shove those unkempt monstrosities inside her honey pouch. That's the kind of thing that gives women nightmares. Vaginas are sensitive and germy hands shouldn't come anywhere close to them. Oh, and men need to shave their pubes. Some Kenyan men were born way too hairy, that it's a peril giving them blowjobs, as afterwards, you will be subjected to an embarrassing job of digging out hairballs from your teeth all night long!
Bragging: These are the big talkers. We all know a guy like this. Before sex, they are all over you, making cocky comments about how they will make you cum so hard, your legs will turn into jelly and get you all juiced up with their big guns. But often, it's just nonsense...zilch. Women have been massaging these men's egos and they stupidly believe they are endowed sex maestros. Just shut up and show us what you are made of. We will be the judge. Most men who brag are lousy in bed. They think great sex is about hard pumping and aggressive strokes. Then they ask, "Did you cum?" How clueless!
Bad kisser and lousy romance: Great sex often starts with great kissing. A man who can't curl your toes with a kiss is not worth your time. With every bad kiss, passion ebbs away and the desire to be with the guy fades. Too bad in most case you can't even teach the guy how to do it right. Old dogs just can't learn new tricks. And if he makes no effort at foreplay, just lying there as if the woman's orgasm will be delivered by nduthi, call the whole thing off.
Deathly silence: There's nothing that kills the joy like you giving your all, working on a guy, but he is just there looking at you quietly. Can't you even give a sign? Is she doing it right or wrong? Are you enjoying it or not? Do you want her to stop? And don't bite the pillow to muffle your moans. It's not embarrassing to show the lady you are in fact enjoying her sexual artistry and finesse. Scream in joy if you want to. In fact the sound effects builds up some kind of excitement and can be very good for intimacy.