The main reason men get caught is their behavior change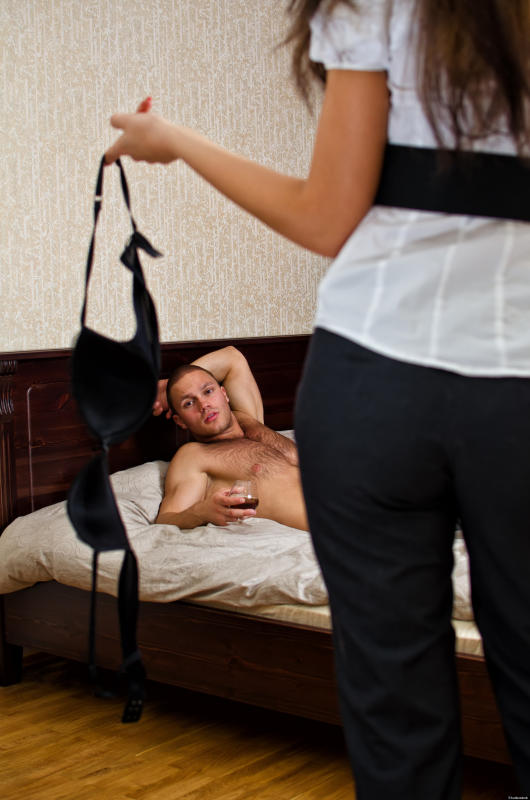 Though both sexes cheat equally these days thanks to social media, men are the sloppiest of cheaters. They just must get caught for some reason. If you haven't been caught, it is because your woman is living in denial. If Beyonce, with all her brains, talent, wealth, beauty and god-given assets can be cheated on, who are we? In the beginning of every relationship, I normally find myself giving my men lessons on how to successfully cheat. Yes, I know you are doing it, but damn it, do it well so I wouldn't catch you so easily!
First things first, do not save her number on your phone. I mean, are you a moron that you can't grasp the 10 digits of her cellphone? Saving her number with aliases is also a stupid idea; clearly a man must have come up with it! Now how would you explain when Kimani wa mutura calls you at 9pm when you are in bed with your wife? Just don't save that number, at least when she calls it'll be a strange number that you can pass off as a wrong number or your boss calling to tell you to report to work early.
You will also need to be creative with the conversation. Make up something even if it doesn't match what the woman is saying on the other end of the line; don't be out there, phone to ear, eyes roving suspiciously, reciting all vowels like "ah, eh,ih,oh,uh!" If the woman is smart enough, she will know it's time to hang up.
If you aren't meeting in her house (which I advice you shouldn't), always book the accommodation in her name. Or rather give her the money and let her find the accommodation herself and put everything in her name. Don't walk in there with her; just be the visitor who pops in and out. Trust me; you don't want to leave traces of you anywhere. You don't want the situation to arise where during a calm Sunday dinner with the wife and kids, a strange number calls you to say they are from the hotel and were wondering where you left the remote because they can't find it!
Another thing, do not dare friend her on any social media platform. Block her if need be. Women are smart; we know how to single out the person who gives us bad gut feelings, so rather keep her at an arm's length. You should make vault apps your friend, to hide the other apps that raise eyebrows, like Tinder and Badoo. In the evening, before you get home, get rid of all suspicious activity, but do not scrub everything like a surgeon. A phone with zero calls and zero messages is similar to a thief wearing a reflector jacket! In these situations, you want to hide in the open.
The main reason men get caught is their behavior change. Normally, you'd come home, dump your phone on the table and shower then chill with the family. Now, if you suddenly start carrying an umbrella to the shower to keep your phone close, or isolate yourself while giggling like a schoolgirl throughout the night with your phone glued to your ear, then iko kitu!
If you lose your mind whenever a kid touches the phone, you'll be adverting your guilt. You no longer love your wife; you become arrogant and angry around her, yaani doing almost everything in your power to show her she is dispensable. If you want smooth sailing out there, respect your wife. And if it's the side dish lodging a wedge between the two of you, leave her. She isn't good for you. You should be with someone who also has something to lose, not a woman who will storm your house at 6am to fight your wife!
Do not carry evidence home - unused condoms, bar receipts with tabs of girly drinks, lodge receipts etc. That's basically carrying a big placard saying, "I am a filthy cheater!"
Do not start making drastic changes in your schedule, personal hygiene, appearance etc. Ati suddenly you are wearing cologne when it's something you hated before, or you have a new collection of boxers, different from what you used to wear, or you start coming home later than usual. Mara you start telling your wife to wear thongs and lacy lingerie, when you previously didn't take notice of what she wore.
And please, do not introduce a very new thing during sex and be an expert at it. The introduction should happen gradually and not necessarily in bed. Say, while with her start searching sex positions online and point to some while laughing it off like, "Naah, this will break my back!" Knowing women, she will want to try it.
Finally, before you hook up with your mpango, tell her to shower and get rid of all scents on her body so you won't have lingering perfumes all over you, because after you are done with your side piece, you don't want to shower. You have been at work all day; you can't walk home all squeaky clean, freshly smelling of soap. After the deed, wash your privates and face. If you went muff-diving, that fishy stale vagina smell on your phone isn't something you want to walk home with.
Cheating women make for good wives
Everything is about cooperating these days. Just think of the second husband as your helper. Someone who assists you with everything on days you can't