If you want a peace of mind, let wifey have the extra set of balls to play with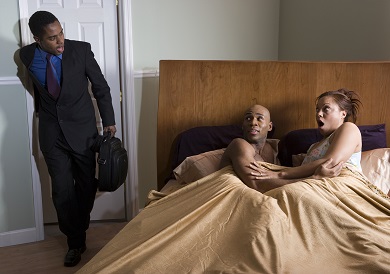 Davie, a boda boda rider in Kitengela, told me of events that led him to find out that Jane, his wife of two years, was actually married to another guy. Throughout their marriage, the wife claimed to work the night shift at a manufacturing complex. So, every evening, she would leave the house for 'work'. But in reality, she was spending her evenings at the other husband's house.
The second husband was also being played. As far as he was concerned, the wife worked an 8-5 job, so he never really questioned her daytime absence. So, Jane would spend her days with the Davie and it worked perfectly. Since boda boda hours are flexible, he had time to come home for a little hanky panky and messing around with the wife, before returning to his work.
Eventually, Jane got pregnant and Davie thought it wasn't a good idea for his heavily pregnant wife to continue doing the night shift. So he asked her to quit. And that was the day he came home to find her gone. After a bit of searching, he came to know of the other man, with whom she currently lives. Davie confesses that the deception aside, those were the best two years of his life... and their marriage was lit! He admits that he wouldn't mind going down that path again given a chance.
Now I am no doomsayer, but I have a feeling Jane's current marriage won't last for long. I'm pretty sure the husband keeps wondering why his wife has changed from a breezy to a fussy wife, who keeps asking him where the hell he is, who he is with and always wants to snoop in his phone, not to mention an insatiable appetite for money. Jane would also start noticing things that she didn't mind before, and she would increasingly get disgusted by her husband. The second husband was like a third cooking stone that kept the pot stable. But with only two stones left, the pot will keel over and pour out its content.
Clearly, the ultimate secret to a happy marriage is polyandry. Men always say they want wives who would give them peace of mind. Here's the thing: any woman who doesn't nag, doesn't pester you for money for a new dress or shoes and is never bothered with your unbecoming behaviour, is getting some on the side. If you go MIA for the weekend and return back to a hero's welcome, my friend, you either have a 'deputy' or you are it. But if a cheating wife can give you bliss, why not make it official and enjoy the happy marriage?
Men should let their wives marry second husbands. Hell, invite the other man to live in your spare bedroom or servant's quarters to help with mortgage and provide security in your absence. It's unfair to expect your poor woman to bear the burden of your heavy belly once a week and still expect her to be a happy wife.
Everything is about cooperating these these days. Just think of the second husband as your helper. Someone who assists you in everything - from household responsibilities to munching your honey pot on days you can't. It's only fair that your wife gets to sample different offers for you to be perfect. Imagine this: Kevo with his six-pack, good sex and good genes, combined with the loving, hardworking Sammy with all the brains and vision. Now that would be the household of dreams.
Take the example of a poor family in India that embraces polyandry. I bumped into a documentary about the life of an Indian lady who was married to three brothers. The man treated all the children as their own individually. This guaranteed the kids of a father even if one of the men died. There wouldn't be inheritance tussles with uncles since the family is unified by the woman. The lady had this lovely smile on her. She was sexually satisfied and the brothers did all the toiling to bring home some bacon.
A woman who gets enough and good sex is the best companion you can ever have. Ladies change for the best when they get some from the side. Contrary to what you might think, she would never neglect you. She would be happier, hence less of a nuisance. She would be so happy, she wouldn't have the energy to look through your phone or nag you. The afterglow of her daily orgasms will keep her relaxed and loving. She doesn't even have to worry about what will happen in case you drop dead.
If you want a peace of mind, let wifey have the extra set of balls to play with.