Premium
I was thoroughly vetted by my wife's family before marriage - Aden Duale
FEATURES
By Benjamin Imende | Jun 4th 2023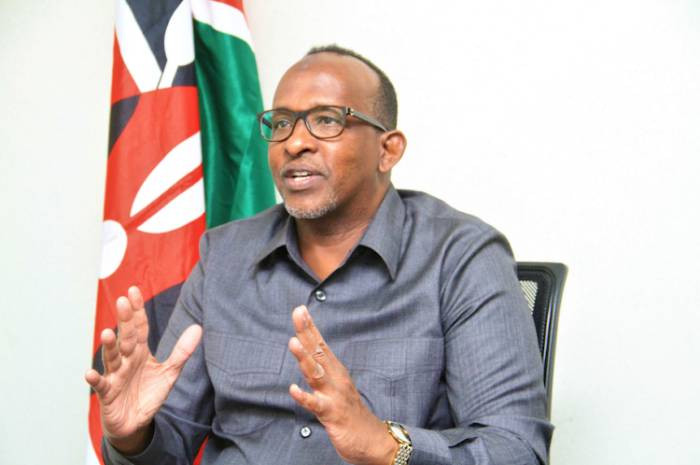 Defence Cabinet Secretary Aden Duale's parents, realising that he had become an eligible bachelor, set out to find him a suitable bride in the neighbourhood.
The former National Assembly Majority Leader Garissa Township MP explains that his family approached General Mohamoud Mohammed's family.
Duale in his book, 'For the Record: The Inside Story of the Power of Politics, Lawmaking, and Leadership in Kenya', says that they told her parents that they had an interest in their daughter on behalf of their son. Duale was still at Moi University, studying teaching.
"Sometimes, even the son doesn't know that the family has gone on that mission," Duale explains, admitting that he came from a peasant family while the former Chief of General Staff's family was feared and treated like royalty.
He says in the book that it was at this point, the future wife's family started vetting Duale's family to find out their commitment to religion, upbringing, and, although it is often not stated, the ability of the family to take care of their daughter.
"The young man and woman are usually not in the picture. The deal will be reported to them once they are ready," he notes.
Duale seeks Sh7b House approval for KDF's peace support operations

Aden Duale confessions: By fair or foul means, State agenda had to pass

Galana puts up case against Njeri's claim to Sh17b diesel import

How Ngilu bargained her way into the 2013 Uhuru, Ruto deal
Duale says that as soon as the vetting was done, it was upon him, while still on campus, to woe the young woman and win her.
"As soon as that was done, it was upon him to woe the young woman, sweep her off her feet, and remove any doubts about their suitability as husband material," he said, adding, "I knew the girl, we had met a few times."
He goes on to say that the general's family knew him well because he had helped him get into Moi Forces Academy, had lived with his sons in Nakuru during teaching practice, and had pestered the brother, then a minister in the president's office, to help him pursue law.
"They had vetted me closely, and it seems I checked all the boxes," Duale adds.
He says that many outsiders unfamiliar with the Somali culture and Muslim traditions regarding the value of family in marriage frown upon traditional marriage, how the groom and bride are chosen, and the arranged part.
"They often miss the bit that marriage is not often a two-person affair. Two people from different backgrounds come together to start a family under one roof," Duale adds and notes that families often feel obligated to help out with money, gifts, and marital advice.
"There is also the unending handholding to help the newlyweds transition from singlehood to marriage," Duale says.
Lavish wedding
Stay informed. Subscribe to our newsletter
He explains that when she completed secondary school after sitting the Kenya Certificate of Secondary Education, KCSE, in November, their families quickly planned a Somali wedding, with all its opulence and platefuls of delicious food.
"Every time I introduce my wife, or whenever people see me with General Mohamud Mohammed, the question that lingers in their minds is how a boy from a nameless, destitute background managed to marry a beautiful woman from the general's household, which really, royalty in our hood," he says, adding, "The answer lies in Somali culture and Muslim tradition-the role of the family in betrothal, wedding, and marriage."
Duale says he thanks God because they got married when they were young, and their love flourished to the extent that they are growing old together and loving it.
He further adds that they started dating at a pretty young age.
"If there's anything that kept our relationship stable, then it is the post office - I used to send her dozens of letters expressing my undying love, saying how much I missed her," he says, adding, "She also wrote to me. Her letters are sprayed with exotic scents, drip with adolescent romance, and have the urban finesse of a beautiful girl in love with a hardworking and intelligent village hustler."
He also reveals that they met during holidays, and when he went back to campus, he would spend the better part of most evenings at Moi University standing outside the red telephone booths near Ngeria hostels, warding off those who wanted to make calls.
"I am waiting for an important call right now," I said as I hogged the booth, narrates Duale.
He adds that he had to keep the line free so that when she got the chance to call, she did not find the other end busy.
On other days, he just sat next to the booth, waiting for the appointed hour to catch her at the school phone booth.
Also, the CS recalls that if she was at home, they planned the phone calls so that her father never mistakenly picked up and heard them being all lovey-dovey on the phone.
"Together we have raised five sons with a lot of promise; they make us proud. They may be children of a politician and fairly reputable businessmen, and grandchildren of a famous general, but they must live their lives, " Duale says, adding, "I particularly love their disinterest in politics."