Premium
A city within a city: Inside Pastor Ezekiel's New Life Prayer Centre and Church
FEATURES
By Joackim Bwana | May 10th 2023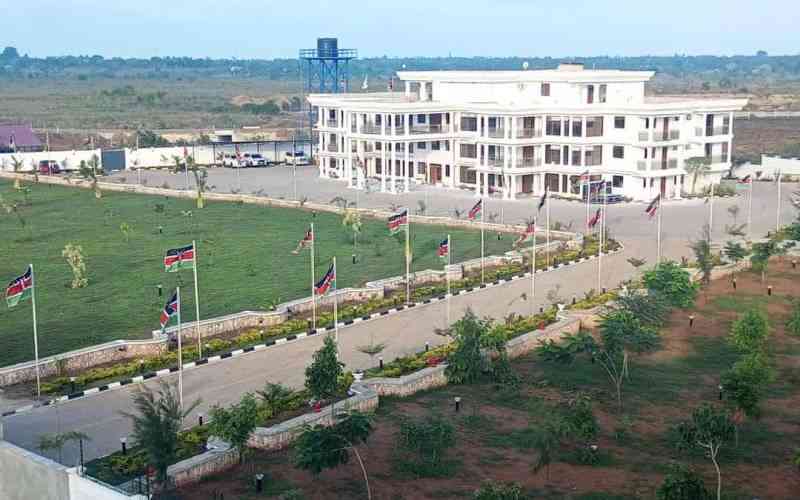 Pastor Ezekiel Odero's New Life Prayer Centre and Church, which sits on a 65-acre parcel of land in Mavueni, Kilifi North, literally dominates the skyline of the small town and a neighbouring settlement.
After his arrest over deaths at the church and alleged links with Malindi Pastor Paul Makenzi, journalists got a rare chance to tour the expansive and palatial centre that has been in the public limelight in recent days.
Its gleaming, magnificent exterior, outlined by bold, imposing designs, speaks of keen and thorough workmanship driven by a desire to bequeath the place of worship a unique appearance.
It has a grandeur entrance that exhibits its opulence. A white building with a red roof near the resort serves as the church's official residence.
From the gate to the church, a one-kilometer tarmacked road is well-lit, and flags of different nations are mounted on the sides, bringing forth an impression of a statehouse.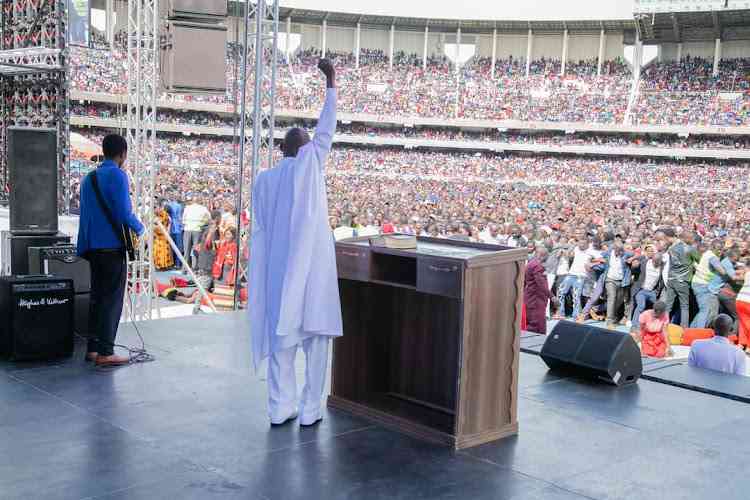 Unmasked: The foreign hand in Shakahola cult

Mass sackings loom at NHIF as new management takes over

How Makenzi's deceptive tactics lured followers

Team censures Nakhumicha and Kindiki for blocking key witnesses
The compound boasts six streams of churches huge enough to host over 40,000 congregants per mass, according to the church administrator Samuel Dungah.
It also has a four-story staff quarter, a world-class hotel and restaurant, a petrol station, and Sh5,500-a-day cottages for church guests.
But it is the presence of a bank inside the private church compound that has also sparked some conspiracies given that detectives have linked the cleric to money laundering.
And to accommodate the huge traffic of people attending masses, the compound has a huge parking lot that can accommodate up to 2,000 vehicles.
Pastor Ezekiel also owns over 10 buses that commute to people visiting the church.
His expansive land also has a mall where guests and followers can shop when they camp at the ministry.
The compound has thousands of washrooms in a one-story building that serve a massive number of churchgoers.
The ministry also boasts of News International School for primary and secondary students.
The compound also hosts a 'white house' - a mansion with 31 bedrooms that is alleged to be Pastor Ezekiel's official residence.
Stay informed. Subscribe to our newsletter
Some have christened it a city within a city, others a palace, but for Odero and his followers, the complex is a befitting house of God where thousands with faith, even of the size of a mustard seed, have received miracles.
Those with no faith have also died on the altar. Ezekiel's lawyers claim 15 have died in the church compound but the state and the owner of a nearby morgue say the number is higher than that.
Born into poverty on an island in Lake Victoria, Ezekiel struggled with school and worked as a fisherman before taking to the pulpit 15 years ago.
Wealthy televangelist
Now he is a wealthy televangelist who draws huge crowds of followers from across the globe.
Though casting himself as an ordinary man without political connections, Odero has shared the pulpit with prominent figures.
They include Dorcas Gachagua, the pastor wife of Deputy President Rigathi Gachagua, who joined him at a service that filled a 60,000-seat Kasarani stadium in Nairobi last December.
His rising profile and ballooning wealth have captured media attention, forcing the preacher to take journalists on a tour of his church last year and insist that he had nothing to hide.
Pastor Ezekiel officially opened his church doors in March 2022 after relocating from Shanzu in Mombasa, where he first established the New Life Church in 2010.
Officials interviewed said the buses are used to transport members to functions like crusades. Other amenities under construction at the compound are a rehabilitation centre, a helipad, and cottages.
Currently, there are reports that the leadership is planning to build a university, a student rehabilitation centre, a shopping mall, and an airstrip.
Dungah disclosed that the church has about 40,000 congregants.
''We have church services the whole week except on Monday,'' said Mr Dunga.
Ezekiel also owns World Evangelism TV and New Life TV, all registered under New Life Communications Ltd, and runs a YouTube Channel. Notably, he owns New Life Communications Ltd which was closed down by the Communications Authority of Kenya last week on allegations of airing exorcism teachings.
As investigations take centre stage, on Monday, angry residents vandalized Pastor Makenzi's church wall.
The church was abandoned in 2019 after the State closed down his church on allegations of radicalization.
The religious edifice has without doubt become a beacon of hope and an enduring symbol of faith in God among its many followers across the country and even abroad.
Man of God drives a Lexus LX570 priced at Sh17,599,999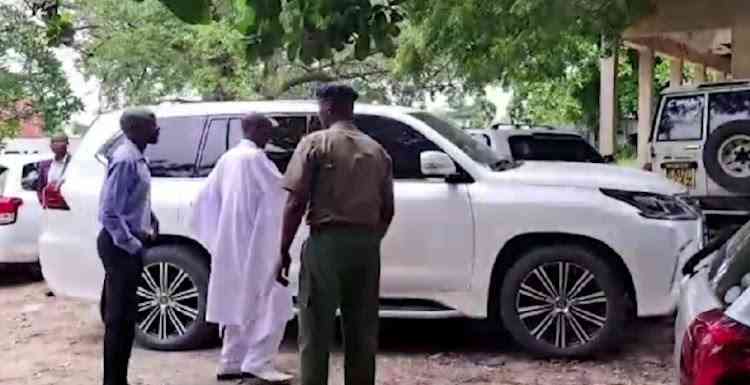 Ezekiel arrived at the Coast Police headquarters on Friday last week driving a white Lexus LX570 priced at Sh17,599,999.
His teachings have received widespread acceptance as witnessed by the huge multitudes of worshipers from different parts of the country as well as from Uganda, Tanzania, Rwanda, Sudan, Ethiopia, Sweden, the United States, and other European countries who continue to troop to his church.
During a court appearance at the Shanzu law courts on Tuesday, hundreds of his followers conducted prayers outside seeking God's intercession.
Pastor Ezekiel's 'living water' is also sold from a designated stand within the complex, near a waiting bay where sick people seeking healing are housed before meeting with the self-proclaimed miracle healer.
Grace Jepchumba is a staunch follower and claims she got employed after Ezekiel prayed for her in December last year.
''I received the grace from this church's pulpit and within a month, I was employed after nearly ten years of tarmacking," said Ms Jepchumba, adding that the devil is tempting God's servant and that there is no truth in the prosecution's case.
Gabriel Katana is a choir member at the church and also alleges many people's lives have been restored amid sickness and life troubles.
''The church entrenches the fame and position of Kilifi as the cradle of Christianity in Kenya having been the place where pre-colonial Christian missionaries pitched camp and set up their first church at Rabai in Kaloleni," he said.
Miraculous healing from serious conditions like HIV/Aids
Some of his followers say that Ezekiel discourages them from seeking modern medicine and instead urges them to rely on miraculous healing from serious conditions like HIV/Aids, cancer, and other lifestyle diseases.
''There are many things the Bible forbids and that's what Apostle Ezekiel is preaching is nothing less or more'' said a follower in a condition of anonymity.
Pastor Ezekiel's main theme is anchored on marriage and luck.
He tells his followers to embrace the use of anointing oil for healing and through this, he has been selling the oil and hankies to his followers.
Ezekiel has also changed the fortunes of the Mavueni shopping centre. Residents say business is booming and the area is now a 24-hour economy.
''Mavueni is no longer known as a place of selling roasted cashew nuts and peanuts, The place has really grown. There is even a bus that carries people from Kisumu direct to Mavueni,'' said Juliet Karisa, who operates an eatery outside the church.
Pastor Ezekiel's presence has also boosted Standard Gauge Railway services as many people who travel over the week are his followers who come for prayer.
Early this year, he spent Sh6.6 million to sponsor 103 bright but needy students from Kilifi County to join high school.
However, a section of preachers in Kilifi has vehemently opposed the doctrine of selling holy water.
''Pastor Ezekiel is forming a doctrine out of tangible things like oil and people have begun trusting the oil instead of reading the Bible and knowing true God's intention,'' said a local pastor.