Premium
Gold rush: Kakamega gold mines claiming lives as locals seek to escape poverty
FEATURES
By Nathan Ochunge | Mar 21st 2023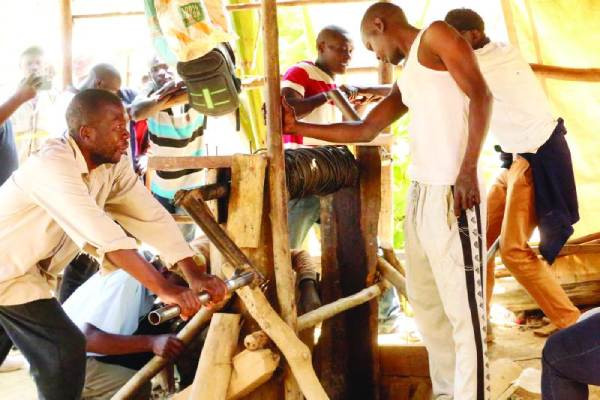 It was a bright and sunny day. The dappled sun shone through the trees, creating mysterious shadows. The blue sky was dotted with fluffy white clouds that drifted lazily in the gentle breeze as we made our way to the sleepy village of Lirhembe in Kakamega County.
Streaks of sunlight streamed through the windows of Carline Chumba's house, an artisanal miner who survived death by a whisker four years ago after falling into a 50-feet goldmine in Ikolomani sub-county.
"After sitting the Kenya Certificate of Primary Education (KCPE) examination in 2018, I joined my friends in gold mining fields to look for the precious metal in order to fend for our families," said Chumba.
All seemed well and the future looked promising until the life-changing incident happened, leaving him permanently crippled.
"It was July 27, 2019 around 1 pm and I was in the mine shaft as my colleagues pulled out the soil I had dug up using a pulley system. Suddenly, the springs snapped leaving the loaded bucket hurtling down. It hit me on the head," recalled Chumba.
The 28-year-old said due to the impact, his spinal cord was severely affected. He ended up losing function of the lower part of the body.
Unless he is in his wheelchair, Chumba cannot move from one point to another and he is also unable to pass urine. The urine is now drained by a pipe through the abdomen.
"After the accident, I was admitted to Mukumu Hospital then to Moi Teaching and Referral Hospital (MTRH) in Eldoret for specialised treatment. My legs are paralysed and on my back, I have an artificial spinal cord," he said.
When he became incapacitated, Chumba's wife left together with his twins aged six months old, leaving the burden of taking care of him solely in the hands of his mother, Sophia Lugonzo.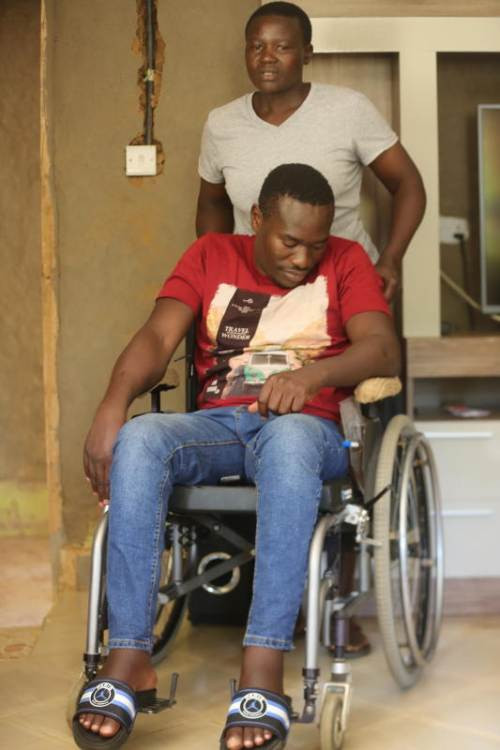 To keep Chumba alive his family spends about Sh8,000 on drugs every month. According to Lugonzo, following the accident, they have spent over Sh500,000 on his treatment. The money is raised through selling their cows and trees as well as contributions from friends and relatives.
Stay informed. Subscribe to our newsletter
At no given time can Chumba be left home alone. "All of us cannot leave the homestead, at least someone has to remain behind to take of him since he cannot clean or relieve himself; he has to be assisted," said Lugonzo.
Source of livelihood
Most families in this hamlet heavily rely on mining for subsistence as well as investing in their modest properties. In spite of the risks involved and ever-lurking danger, locals are not about to stop prospecting for gold.
Not far away, in Sigalagala, Museno sub-location, we met Peter Munyasa, who has been bedridden for the last two years. On April 6, 2021 he was in a container that snapped while being lowered into a 90-feet shaft.
The 53-year-old broke his spinal cord and was left with paralysed legs as a result of the accident.
"My colleagues rescued me from the shaft and took me to Mukumu Hospital for first aid before being transferred to Kakamega County Referral Hospital where it was discovered that my spinal cord had been severely injured," recounted Munyasa.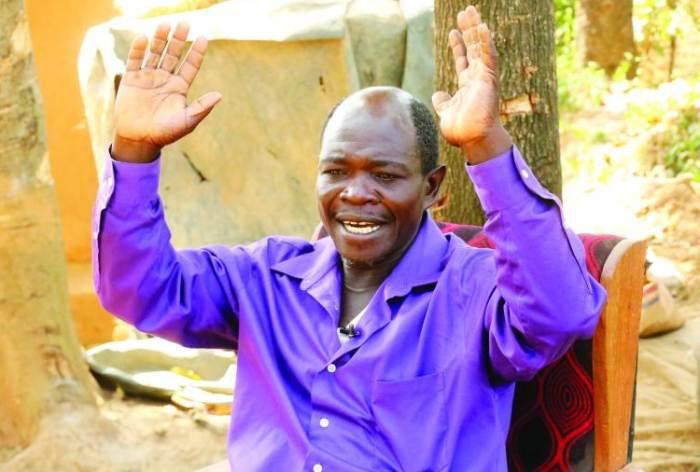 Munyasa said he was then referred to MTRH for specialised treatment that left him fixed with an artificial spinal cord to aid in walking.
"For two months, MTRH remained my home, not because I was on treatment but I had no money to pay the hospital bill to be allowed to go home. Luckily, my fellow miners fundraised money and got me discharged," noted Munyasa.
He went on: "At home, there was no food. My wife could not fend for the family alone. My children dropped out of school and others got married early. My family disintegrated but thank God after two years of being bedridden, I have started walking again by aid of crutches."
Munyasa spent over Sh600,000 on treatment and in order to fend for his family. He went back to the mines where he does light menial jobs earning between Sh200 and Sh300 a day.
Munyasa's predicament mirrors that of many families within the Lirhanda corridor that has gold deposits worth billions, but due to government bureaucracy, locals continue to suffer as a few individuals benefit from gold mining activities.
In the last two years, at least 20 people have lost their lives in gold mining fields in Kakamega and Vihiga counties respectively while looking for the precious metal leaving behind young families languishing in poverty.
Just three weeks ago, five miners died at Sigalagala after they were buried alive. The deceased were identified as Festus Shilibwa, Edwin Tsisika, Vincent Shianga, Godfrey Shikoti and Cornelius Bulinda.
"It's so devastating that you died and left me a widow at a very young age. Death took you away from me before we lived together for long and enjoyed the fruits of our marriage. You are everything to me, hardworking, responsible and outgoing," said Ivyne Indoshi while eulogising her husband Shilibwa.
The 21-year-old woman got married to Shilibwa in August last year.
"My dear, you have left a big gap in the family, and no one will be able to fit in your shoe. Had I known you were not going to return home alive the evening you bid me goodbye to me as you left for work, I would not have allowed you to go to the goldmine," added Ms Indoshi with tears rolling down her cheeks.
Sponsors disappearing
It is not uncommon for locals driven by poverty to risk their lives despite being paid handouts by exploitative middlemen.
But whenever deaths or injuries occur, the middlemen who are referred to as 'sponsors' never turn up to lend a helping hand in terms of footing funeral expenses or treatment bills.
And amid the huge wealth beneath them, local miners live like paupers while the middlemen swim in opulence.
Villagers claimed some of the fatal accidents go unreported, and are normally handled in secrecy.
The Lirhanda corridor has at least 1.31 million ounces of gold deposits valued at Sh171 billion according to Acacia Mining, a British exploration company. The corridor stretches from the counties of Kakamega through Vihiga, Siaya, Busia to Kisumu.
While Shanta Gold, an East Africa-based gold producer and explorer, estimated the gold deposits to be worth Sh200 billion along the Kakamega-Busia belt, which covers about 1,160 square kilometres.
Apart from the accidents, another danger is lurking. As a result of mining activities, many houses have cracks and dangerously stand underneath goldmine tunnels. When there is heavy downpour, water seeps into houses through the cracks.
The miners sell a gram of gold to brokers for between Sh1,500 and Sh2,300 but the same when taken to the upscale markets, fetches around Sh6000 and Sh12,000. Majority of the middlemen are from Migori, Kisumu, Tanzania, Uganda and Somalia.
According to Alloys Lichotio, who provides security services at the mines, gold from Kakamega is of high quality.
He claims it is the reason attracting brokers there in pursuit of the gold, which is in high demand in the Middle East and Europe.
"Many artisanal miners do not have the capital to buy the equipment needed in gold mining; they remain labourers in their own mining fields and at the mercy of middlemen who determine price," explained Patrick Makhule, the Kakamega County Artisanal Miners Secretary General.
He added: "The only way to help us is for the government to acquire modern gold mining equipment instead of just coming to collect taxes without minding the poor working conditions and exploitation we face."
Mining Cabinet Secretary Salim Mvurya has pledged measures are being put in place to ensure miners are protected from exploitation.