Premium
Juja Dam: The newest hideout for drug dealers, secret affairs
FEATURES
By Hudson Unguku | Feb 3rd 2023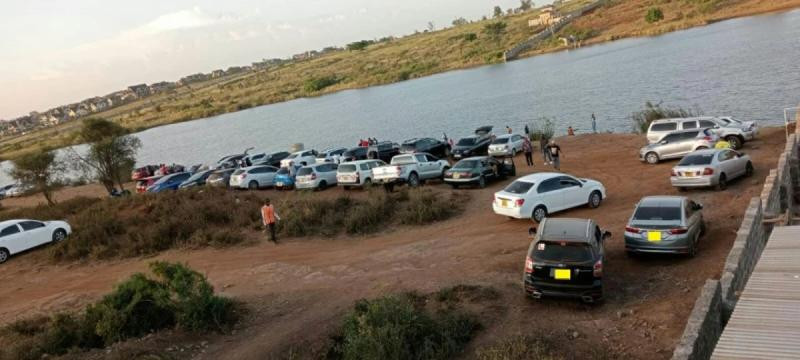 The death of Tirus Maina and Fridah Warau Kamuyu at Titanic Dam in Juja, Kiambu County, has lifted the lid on what exactly attracts motorists to the shores of the dam.
Until Tirus and Fridah died at the dam on January 17, it had become a trend for motorists to drive to the place to "enjoy" the breeze the cool waters offer.
And to spice up the fun, some carried alcoholic drinks to the location that has now turned into a crime scene following the death of Tirus and Fridah. The Nissan X-trail the two were in plunged into the dam on January 17 at around 7:30 pm.
But as police continue to investigate the circumstances under which the car slid into the dam, it is now emerging that the place is preferred by drug dealers who troop there as a hideout to carry out their illicit trade.
Apart from the drinking spree that takes place there, an insider has revealed that most of the people are drug traffickers meeting their clients. The traffickers are usually in the company of ladies used as conduits.
"Why is it that we have good hotels along this dam but these people don't want to go there? It's because they have a hidden agenda which they could be exposed yet they sell all manner of drugs inside their cars under the guise of drinking," said a source well versed with the happenings at the place.
Parents' eulogy to woman who drowned alongside lover in Juja dam

Former school head sent hitmen after husband due to apparent relationship with M-Pesa agent

In-depth details of woman who died alongside boyfriend in Juja dam car plunge

Man who died alongside 'girlfriend' in Juja dam car plunge identified
The dam is surrounded by tens of hotels, bars, and other entertainment joints where revelers throng especially during weekends to sample life there.
Still, as you drive along Kimbo-Kiganjo Road which offers a view of the dam, you will notice the upcoming gated communities among them Daykio Bustani where some senior government officials live.
Not so far away from the dam, there is Titanic Resort and another resort sitting on about two acres where people flocking to relax.
"If it's drinking, most of them could be coming here on weekends and enjoy their time and good breeze at dam. But these groups come here almost on a daily basis, anytime of the day and leave past 10pm," said our source.
Stay informed. Subscribe to our newsletter
According to the man, the men and women usually meet in an open field behind a popular college in Kimbo - possibly to target the students as well as those from nearby university.
"Its high time that the police officers in Juja and Ruiru sub counties team up together and fight these groups, they should not be encouraged at all, if one needs to relax which I think isn't case. We have good hotels they can go and spend," he said.
It is turning out that this could be an ideal location for drug dealers. In the recent past, Juja, Ruiru and Thika where drug dealers are said to be targeting students from universities and middle level colleges.
Sporty cars
It is believed the the drug barons and traffickers who use sporty cars such as Subaru, Toyota Crown and Toyota Mark X, lure young women with money.
Tirus was said to be a businessman, eking out a living selling engineering machinery. Other sources, however, indicated that the man was among the drug dealers and had recruited Fridah in the business.
Shortly before they drowned, Tirus and Fridah are said to have engaged in an altercaration prompting those around to intervene.
"Although I do not know her, I believe the woman who was with my husband that night was a friend, he had so many friends because of the nature of his business," Tirus's wife Sarah, told the media after their car was retrieved from the dam.
The late Tirus led a flashy lifestyle and that with a steady cash flow, the man used to party a lot with college girls, according to those who interacted with him.
Even after the tragedy, motorists have not stopped going to the place. A visit by The Nairobian found about 30 cars parked at the dam with 'revelers" drinking and enjoying music from their cars with some locked inside while others dancing to music from systems placed on top of car boots.
Safe distance
"The death of two was an isolated case. We come here often and keep a safe distance from the dam. The incident should not make police spoil our fan moments and we shouldn't be linked to drugs," said one of the men when about what brought him there.
Even though the man described the incident as isolated, authorities have frequently retrieved bodies from the dam. According to Martin Ngugi a senior diver from the fire and rescue department of Kiambu County, they have retrieved countless bodies since when COVID 19 in 2020.
Not long ago, two students from a collage in Nairobi drowned while shooting a music video. The victims reportedly slipped into the waters as they danced at the edge of the dam.
The dam located near GSU Recce Company, is one of the biggest among seven located along Kimbo -Kiganjo road, just about two kilometers from the busy Thika superhighway.
Previously, the dam was used by some coffee farmers for irrigating their expansive coffee plantations before farming in the crop collapsed.
One of the expansive farms is owned by the late Defense minister Njenga Karume. Few metres from the dam, one is met by piles of beer bottles.
"This place offers revellers an alternative from the expensive bars. Most of them buy their drinks elsewhere at low prices then come here to have a good view of the dam as they sip their drinks," said a taxi driver who ferries ladies to meet their lovers there.
According to Simon Mwangi, a boda boda operator in the area, the dam was not a popular site until Covid-19 struck.
"Since bars were closed people, this became an ideal location for young revelers who sometimes drown as they party," said Mwangi.
Juja sub county police commander Phyllis Muthoni has sent a warning to partygoers and other idlers to vacate the place or risk arrest.
"We are not interfering with right of people to enjoy, but we cannot allow people to continue dying in the name of partying. The dam is among many in the sub county posing danger as it is not manned," said Muthoni
The police boss said it is their work to protect lives of every Kenyan by restricting access to the dam. "We have officers on site and I can assure you that we will arrest and take them in court," she warned.