Premium
Nairobi phone theft syndicate is a complex web of trained, tech-savvy individuals
FEATURES
By Benjamin Imende | Nov 21st 2023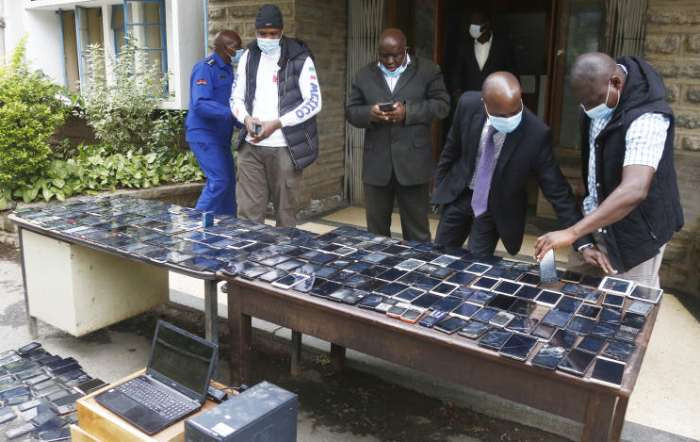 It is no longer dirty urchins and crooked men stealing mobile phones on the streets. The syndicate now involves beautiful women who no one can ever suspect of being criminals.
The police's recent arrest of three women, one of them from neighbouring Uganda, brought to light how sophisticated and attractive the phone theft syndicate has become.
"Malumasi Aisha and Agaba Anestus Majuni both from neighbouring Uganda were arrested alongside Sarah Njeri and her sister Mary Wangui in an intelligence-led operation conducted by detectives within the busy Nairobi Central Business District," said the DCI on their Twitter handle.
Malumasi, who was the first to be cornered, was found with a parcel of 13 smartphones believed to be destined for the black market in Uganda. She then led the sleuths to shop E17 located at Munyu Business Centre, where her accomplices Sarah Wangari and Mary Wangui were busy receiving other stolen mobile phones," the DCI explained.
"After a brief but detailed interrogation, the miscreants then led the detectives to a fourth suspect, Agaba Majuni, who was waiting for the package destined for Uganda at the Simba Coach bus station."
Some of the female criminals operate in entertainment joints where they drug revellers before stealing their phones.
MPs seek audience with Ruto over insecurity in North Rift

Court records reveal finer details of the G-to-G oil imports deal

Police arrest seven terror suspects in Siaya

President Bio says leaders responsible for military barracks attack arrested
Apart from selling the handsets, these criminals also withdraw cash, obtain loans, and borrow money from banks and loan apps using the stolen phones, and then resell the phones after configuring identity by changing International Mobile Equipment Identities (IMEIs).
In a country where hundreds of phones are stolen on a daily basis, this is turning into a lucrative illegal business in which criminals make hundreds of thousands on each stolen phone.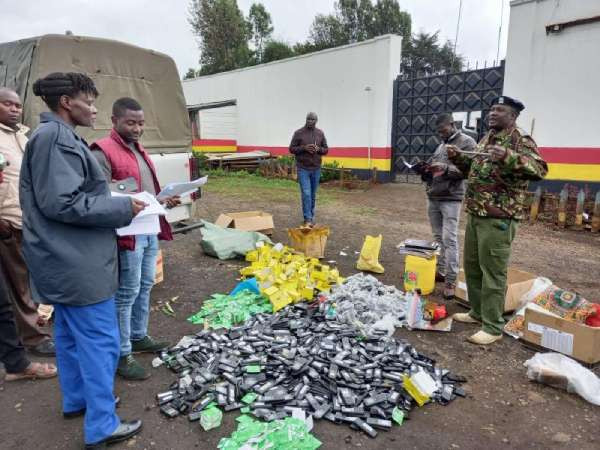 Clandestine industry
In the shadows of the bustling mobile phone market, a clandestine industry thrives, driven by skilled individuals who exploit the vulnerabilities of technology. These shadowy figures, known as 'flush people,' possess the ability to hack any phone, irrespective of its make, origin, or year of manufacture.
Operating under the radar, they handle dozens of phones daily, fetching as little as Sh2,000 each and as high as Sh5,000, depending on phone make and reason for flushing.
Kama (not his real name), a self-professed small player in the larger scheme and a phone thief, reveals that young recruits undergo months of training in the city's Dandora estate before being strategically deployed across the city centre and residential areas. They are meticulously trained in the art of theft, given assignments such as snatching or robbing phones, all under the protection of the police, who turn a blind eye when they are stealing or robbing.
"We are trained for weeks and assigned on specific streets. Each street or place has our person looking for phones to steal," explains Kama, stationed at Odeon in Nairobi. "We are trained in the full process, on how to time, how to snatch, how to understand those people looking at us, and how to disappear in crowds," he adds.
Their bosses, who recruit them, are also on the streets to supervise and ensure their safety. "Our bosses also have businesses on the streets like hawking and shops, which they have assigned other people. When you are cornered by the mob, they (bosses) call the police who come to save you on the pretext of arresting you," reveals Kama.
This criminal ecosystem extends beyond the "flush people" in a complex web of illegal and dangerous activities that spread across the borders of Kenya. A dealer familiar with the stolen phone business explains that genuine business people are suffering heavily due to the many stolen phones flooding the market.
Stay informed. Subscribe to our newsletter
"Some of these phones are even rebranded in boxes before being resold," reveals another dealer familiar with the phone theft syndicate. He states that while there are many hackers, they always consult two mysterious flushers when they come across phones that are difficult to configure.
The recent arrest of a notorious thief sheds light on the extensive entrenchment of this criminal enterprise that has led to injuries or death. "Phone accessories have gone down because many phones are stolen daily," laments a mobile dealer highlighting the direct impact on legitimate businesses.
"Phone spare parts have also gone down because many phones are stolen daily," laments another dealer.
The syndicate also involves IT-savvy experts colluding with rogue Safaricom staff to target M-Kopa phones.
Safaricom Communication boss Wachira Kangaru when reached over the matter promised to get back but never did by time of going to press.
Police and policymakers
Protective Security Industry Association (PSIA) chairman Cosmas Mutava said the situation is worse since people on the streets appear more skilled than the security agencies. He is concerned that despite having laws on handling stolen phones the problem lies with the police and policymakers.
"With a low police-to-citizen ratio affecting service delivery, there is a need to empower security guards, numbering 1.2 million, to assist in apprehending phone thieves," observed Mutava, adding that with many educated and skilled people being jobless, the situation will worsen.
The recent arrest of Jeremiah Mbugua, suspected to be a mastermind behind a phone theft syndicate, underscores the widespread nature of this criminal enterprise. The police explained that his second-hand mobile phone shop, once considered a legitimate business, was a hub for stolen devices.
In another operation, 417 suspected stolen mobile phones were recovered in Nyeri, leading to the arrest of a 32-year-old man linked to the theft. The recovery followed interrogation of two suspects who had snatched phones from shoppers.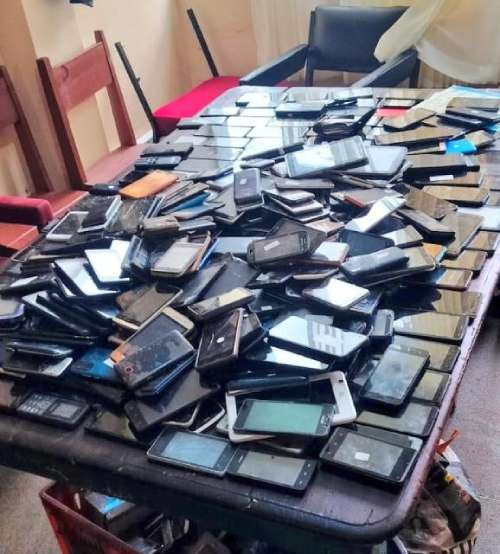 "John Kariuki and James Thuita were nabbed on November 1, 2023, before detectives proceeded to Gatitu shopping centre where their accomplice David Thinwa Ngatia who operated a mobile phones repair shop was ambushed and the recoveries made," said the DCI.
Other items recovered and suspected to have been stolen include two TV sets, three laptops, two cameras, 47 mobile subscriber sim cards and an HP printer, among others. These were all seized and kept as exhibits."
Last month, 11 suspects were arrested in Eldoret, following an intelligence-led operation conducted by Eldoret-based detectives that led to the recovery of 156 mobile phones, 45 TVs, 41 laptops among other items.
Backed up by Eldoret Police Station officers, the detectives raided Petresha Building within Eldoret Township where several electronic repair shops believed to be confiscating stolen items were searched and assorted electronics without prerequisite ownership receipts recovered.
156 mobile phones, 41 laptops, 45 TVs, 25 gas cylinders, 8 fridges, 5 microwaves, 3 gas cookers, 3 water dispensers, 5 woofers, and 1 Canon camera were among the items recovered.
Those arrested were Anthony Barasa, Patrick Oduor, Ruth Rono, George Maina, Emmanuel Ejiko, Onesmus Kisuye, Emanuel Loyapan, Kelphas Omar, Joseph Mugo, John Waweru and Joyce Wachira.
Despite the DCI vowing to support mobile service providers in investigating fraud cases committed through their networks, hundreds of phones are stolen daily, as per data collected in 96 Nairobi police stations, with each recording not less than five stolen phones each day.
"Director of Criminal Investigations Mr Mohamed Amin acknowledged that techno-savvy criminals had taken advantage of the rapid advances in technology to further their activities, which necessitated a change of strategy between the service provider and security agencies," the DCI said
The collaboration was aimed at leveraging on technological advancements to thwart the activities of tech-savvy criminals. However, the underlying issue of law enforcement capacity remains.
"There are two top flush people who can hack any phone irrespective of the manufacturer and the source. They are well known to the police and sell tens of phones daily for as little as Sh2,000 each phone," reveals an insider.
"There are other experts who can also flush phones and are all protected by police. The poor mechanisms of awarding licenses to those repairing phones have allowed crooks among them to hunt for stolen phones for spares or resale," added the insider.
According to the insider, the perpetrators are so skilled that they are now targeting M-Kopa phones so that owners do not pay back after taking the phones on credit.