Some christian couples are locked in unhappy and violent marriages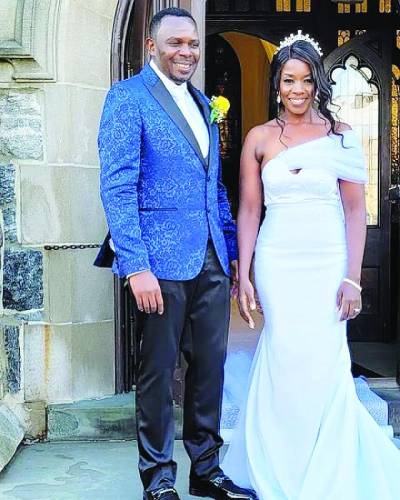 The recent death of Nigerian singer Osinachi Nwachukwu following an alleged assault by her husband, Peter Nwachukwu, ignited fierce debate on the options for Christian couples locked in unhappy and violent marriages.
While Eulogising Osinachi, Kenyan gospel singer Gloria Muliro, a divorcee, urged women to quit abusive marriages, saying, "Don't wait to die! Thank God I'm alive, happy and loved."
In reference to her own scarred marriage to Pastor Eric Omba Miko whom she divorced before marrying Evans Sabwami six years later, she sought to explain why she stayed for five years.
"I was determined to make it work. I am not saying I tried my best, no. I did my best in fact," Gloria told the Standard in a past interview. "I was trying to hide it all to protect my husband as a servant of God till I could stand it no more."
In a past interview, Pambazuka na Yesu singer, Pastor Joan Wairimu, explained that she remained in an abusive marriage to a church bishop for about 17 years because she was a public figure and feared being judged.
"For the sake of people who knew me as a role model, and the congregation, it was hard for me to walk out. I would smile and pretend all was okay, but I wasn't," she said in a Kikuyu interview, on YouTube.
Though signs of a dysfunctional relationship emerged at five years, she was determined to make it work, for the sake of family. But when her bishop husband denied being the biological father of their three children, Wairimu finally walked out of the marriage and settled in Canada.
In Eulogising the late Osinachi on Facebook, Wairimu wrote: "Do our churches have clear legal guidelines on how to deal with Gender-Based Violence? Do we have capable servants with the right knowledge to handle Gender-Based Violence cases in families?"
This is the same question that confronted Jane Wachira barely five years into her marriage 12 years ago. Her home had become a battlefield and she and her husband could no longer see eye to eye, prompting her to share her marital troubles with the church. But fellow churchgoers simply told her that "foolish is the woman who destroys her house with her own hands".
Determined to fix her marriage through endurance, she hang on, through her husband's multiple extramarital relationships, a depression that lead to a miscarriage and a brutal beating that left her bedridden before she finally called it quits.
Why would a woman endure such suffering for years despite advice from family and friends?
Catholic Diocese of Eldoret Bishop Dominic Kimengich says although marriage is guarded by strong Christian values, there are instances when couples are advised to separate, for example when there is cruelty, until the stubborn party gets back to their senses through counselling.
"One of the beliefs in the Catholic Church is that marriage is in-dissolvable. Once spouses exchange vows, there is a bond created for life. The Bible says, 'what God has put together, no man or woman can put a sander'. Marriage is for life. It is not only as per the church, but it is in the Bible," said Bishop Kimengich.
Pastor Yobes Nyagaka, of Mlolongo District Seventh Day Adventist Church concurs, saying, Biblically, divorce is discouraged in both Old and New Testaments. However, although the church does not acknowledge divorce, parties are allowed to make their own choices.
"We advise that divorce is not an option, but when there are challenges where, say, one partner is threatening or assaulting the other, the church cannot say that you can divorce. It is an individual choice. That is what we advise," Nyagaka said in an interview.
"There is no way we can defy what the church says about marriage. Marriage was a gift. God gave Eve to Adam, that meant marriage was to exist," he said. "It is a project for life."
It is not just the Church that frowns upon divorce.
Among the Kalenjin community, for instance, it was assumed that marriage should work, and there was no divorce, nor separation.
However, Kalenjin Council of Elders chairman Major (Rtd) John Seii, said only cruelty would lead to divorce, as it was not tolerated.
"Traditionally, among Kalenjin community, there was nothing like 'I am divorcing', unless there was an element of cruelty. Cruelty was considered a very serious offence in our culture," said Seei, who is also and the National Council of Elders chairman.
But Bishop Mark Kegohi of Jesus Celebration Centre (JCC), Kisumu, argues that despite strong biblical teachings on marriage, his church does not allow people to stay in toxic relationships.
"Divorce is not the end of life, and it does not mean divorces will not see Heaven. The church should therefore not throw somebody into the dustbin just because they have gone through a divorce".
"The church has no personal right to judge somebody because they are divorced, we need to know and help them heal out of that trauma. Divorce is not the end of life, and it's not the end of salvation," Kegohi said.
He, however, emphasised that before divorce is granted, a stringent process is followed, including church counselling and evaluation.
Who should do the dishes?
It may seem like a non-issue. It may seem trivial, until one person returns from work, catches sight of a mountain of plates rising from the sink and starts demanding a refund for their cows.