Prof Judah Ndiku: Free primary education is the most important thing that ever happened in Kenya
FEATURES
By Nathan Ochunge | May 12th 2022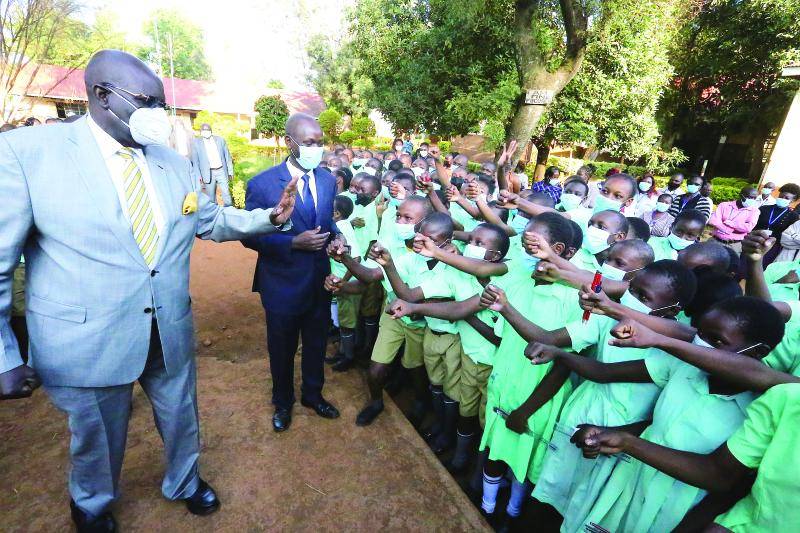 It's only 7:30am at Kakamega Primary School and the school is already a hive of activity.
Standard Seven and Eight pupils are already in class for the first morning lesson while the rest are outside cleaning the compound before starting their classes at 8am.
At the school's gate, there are several parents in cars, tuktuks, and on motorbikes who have brought their kids, especially those in the kindergarten. Parents routinely drop off and pick up their children in the morning and evening, respectively.
Some have hired the services of boda boda riders who drop off and pick up their kids on a daily basis.
Two decades ago, Kakamega Primary School was among the top primary schools in the country that mainly attracted children of middle-income earners like teachers, county council employees, doctors and businessmen. It was a prestigious school and a preserve of a few.
But with the introduction of free primary education in 2002, Kakamega Primary School, Machakos Primary School and Bungoma DEB Primary School and others around the country lost their prestige after children from all walks of life trooped to these public schools thirsting for education.
"Kakamega Primary School has a total population of 4,150 pupils and in the 2021 exams, we had 501 pupils sitting the KCPE exam. This year, we have over 600 candidates," said Dickson Wanyangu, the headteacher.
Mr Wanyangu added: "Our facilities have been overstretched but parents keep bringing their children to get education for we are a leading public school in the county. When free primary education was started, our numbers hit the roof."
Bungoma DEB, on the other hand, has a population of 3,766 pupils while Mumias Central Primary School has over 1,300 pupils.
"The introduction of free primary education in Kenya in 2003 was in tandem with the efforts of the international community who had adopted the six Educations for All (EFA) goals at the World Forum held in Dakar, Senegal in April 2000 and the Millennium Development Goals (MDGs) in 2000 that called for increased access to quality basic education by all," said Catherine Aurah.
Dr Aurah, a senior lecturer and the International Relations and Academic Linkages Director at Masinde Muliro University of science and Technology (MMUST), said the government had since independence been committed to providing free primary education but its strategies had failed until 2003 when it was successfully rolled out.
"Free primary education was introduced to address low enrolment rates occasioned by high school levies. To allow for a seamless transition to secondary school, free day secondary education was introduced in 2008," said Aurah.
She added: "This was to also boost enrolment in secondary schools. Encouraging transition to free day secondary school ensured children completed the basic education cycle when they were mature enough to join the labour market."
According to Aurah, the quality education that was being offered by then had been the concern of all countries worldwide since literacy levels were very low and, therefore, the need for affirmative action.
Bold step
She said the late President Mwai Kibaki took a bold step in initiating the noble programme, a move that saw other countries like Uganda, Malawi and Lesotho follow suit.
Literacy level is one of the parameters of quality education as documented by the Kenya National Assessment System and the Kenya Education Sector Support Programme (Kesspp, 2005-2010).
The 1999 population and housing census classified 4.2 million adults in Kenya as illiterate.
This was four years before the introduction of free primary education and eight years before the introduction of free day secondary education.
Aurah, a former high school teacher, said that the literacy rate in the country was 72.16 per cent in 2007, 73.73 per cent in 2014 and had risen to 82 per cent for people older than 15 in 2018.
"Between 2013 and 2016 when tuition-free education being implemented, pupils' completion rate increased from 78 per cent to 82.7 per cent and the primary to secondary school transition increased from 76.8 per cent to 82.3 per cent in 2018," said Aurah.
She added: "Quality basic education can lead to poverty eradication. Abolishing school fees was one way of assuring universal access to education, enhancing equity, and breaking the cycle of poverty."
Aurah said that although prevalence of poverty remains high in Kenya compared to other lower and middle-income countries, there has been significant progress in poverty reduction which could be attributed to access to education.
She said in 2005, the World Bank reported that 46.8 per cent of people were living in poverty while in 2015, it was reported that 36.8 per cent of people in Kenya lived below the international poverty line, set at $1.90 dollars (190) per day, adding that the gradual reduction in poverty levels may be due to the ability of Kenyans to utilise skills and knowledge acquired at basic education level for improved livelihoods.
Most important thing
Judah Ndiku, the Director Curriculum Review and Development at MMUST, said that free primary education was the most important thing that ever happened in Kenya.
He said the introduction of free primary education was in line with the United Nations Charter of 1948 that declared education as a human right and as well as the Organisation of African Unity (now African Unity) declaration of 1961 that called for compulsory education for all.
"I am a beneficiary of free primary education under the Kanu regime that started in 1974 but this noble idea was killed when many levies were introduced for school-going children. This saw many children drop out of school," said Prof Ndiku.
"Many levies meant that parents had to shoulder the burden of financing learning, hence the huge number of dropouts, leading to low completion rates. This led to poor learning outcomes as children were in and out of school most of the times and majority of the schools had no textbooks," he said.
He said the most hit areas were the arid and semi-arid areas, saying regions with high poverty rates like North Eastern and Eastern had high dropouts and by 2002, only 62.8 per cent of Kenyan children could access primary education.
"Research shows that increasing access to education can significantly contribute to economic growth. This is because when learners in marginalised areas can access school, they acquire basic literacy and numeracy skills, which they can utilise for economic empowerment," said Ndiku.
Ndiku added: "Education is therefore a critical component of a country's human capital because it increases the efficiency of each individual worker and helps economies to move up the value chain beyond manual tasks or simple production processes."
But free primary education has had its fair share of challenges. It has led to increased transition rates from primary to secondary schools from less than 80 per cent to 100 percent, thus over-stretching the available infrastructure.
According to Ndiku, by 2002, a class would have between 40 and 45 pupils but under free primary education, that increased to 100 pupils, putting pressure on teachers and making learning very difficult. He added that with very limited classroom control, teachers could not give individualised attention to every child.
"Free primary education has affected the teacher to pupil ratio which should be 35:1; currently the ratio stands at 50:1 and is likely to affect teachers' effectiveness," said Ndiku.
He said cases of indiscipline have been high due to overage pupils who went back to school, reduced homework completion courtesy of the high numbers and parents' failure to support their children on grounds that education was free.
He said parents refused to buy school uniforms for their children as well as lunch and could adamantly tell teachers that education is free and everything has been provided for by the government.
"Some headteachers had not managed big number of pupils and this gave them a big headache. Some didn't have knowledge on how to spend the money that was given out to support free primary education and ended up using it for other things," said Ndiku.