Sparing the rod: Caning no longer works on young students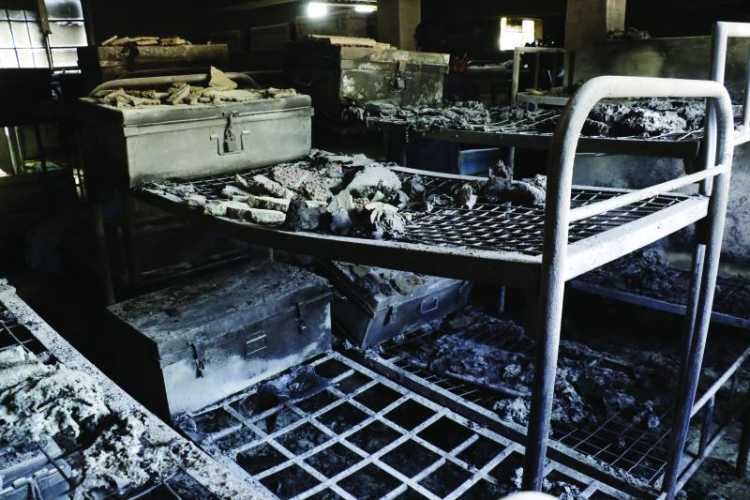 School fires have reignited the debate on whether corporal punishment should be reintroduced to tame rising indiscipline among learners.
The anarchy has led to the closure of about 40 secondary schools just a few weeks into the second term. In the meantime, school administrators, parents, guardians, experts and stakeholders are wondering what might be driving students to run wild.
Not surprisingly, many want corporal punishment, which was banned 20 years ago, back to "restore sanity and discipline in schools".
Following the ban, the Education Ministry said teachers would employ guiding and counselling to nurture a closer relationship with students.
However, frequent violence witnessed in schools suggests that this has failed as an alternative to the cane. That fires keep erupting in public schools is a pointer to deeper underlying problems.
National Parents Association chairman Nicholas Maiyo says guiding and counselling failed because most teachers are not sufficiently trained to manage complex cases while Peter Ndoro, CEO, Kenya Private Schools Association (KPSA), insists a closer teacher/student relationship is the solution to indiscipline.
Both Maiyo and Ndoro blame the anarchy on high handedness towards the leaders; a view shared by Dr Kirimi Arimi, a clinical and counselling psychologist, who cites authoritarian leadership as the source of the chaos.
"The problem is how to address it (anarchy), and one key approach is for every administrator to create a non-threatening and non-judgemental atmosphere upon which these students or their representatives can express their feelings, frustrations and how best this can be addressed," argues Kirimi.
But even as many Kenyans demand that the caning ban be revisited to curb indiscipline, those against this form of punishment argue that it amounts to physical abuse of children.
Among those who want caning back are leaders affiliated to Federation of Evangelical and Indigenous Christian Churches of Kenya.
"It is high time caning is allowed in our schools to instill proper discipline in our children. Even the Bible avers that you spare the rod, you spoil the child," said Bishop Samuel Njiriri during a fundraiser in Kahawa Wendani.
The corporal punishment ban was later strengthened by the legislation of Children Act in 2001, which recommended that no child offender be subjected to corporal punishment.
Returning the cane, therefore, requires amendment of the Children Act through introduction in Parliament, of an amendment Bill. The Act protects children against all forms of physical punishment and abuses.
"No child shall be subjected to torture, cruel treatment or punishment, unlawful arrest or deprivation of liberty," states section 18 (1) of the Act. Section 18 (2) further shields the child from capital punishment or life imprisonment.
Sociologist Dr Francis Kerre links the indiscipline to laws tailored to protect the child. "Children can't be punished and in most instances, parents team up to demean teachers and managers citing these laws," says the Kenyatta University lecturer.
Maiyo, Ndoro and Kirimi argue that caning could be counterproductive.
"Caning may not make any difference other than instilling fear. All we need is to teach students to express their feelings responsibly and respect school property," says Kirimi.
Education Cabinet Secretary Prof George Magoha has in the past attracted praise and condemnation for advocating for a return to corporal punishment.
But Maiyo points out that unlike private schools, public institutions are boot camps where teachers exhibit dictatorial tendencies. He claims teachers hardly listen to or deal with grievances raised by learners and that it is the icy relationship between teachers and students that is fueling riots because tutors are too detached to detect looming trouble.
"We have done our investigations. High handedness among teachers plays a role. I can assure you ninety per cent of the cases could have been prevented were the learners listened to," observes Maiyo, adding that students resort to violence to send a message and release pent-up anger.
A decade ago, senior officials in the ministry of Education engaged a consultant security firm to prepare a proposal on security and safety in learning institutions.
The officials, led by Joseph Indire, had sought an expert opinion from Executive Protection Service (EPS), following a wave of violence in public schools. EPS headed by George Musamali was to conduct security awareness training programmes in schools.
"We found out that, in most schools and colleges; there was a general assumption that security and safety is the responsibility of security guards. There lacked a sense of collective responsibility," says Musamali.
Then Education Permanent Secretary Prof James Ole Kiyapi had given EPS the go-ahead to come up with an implementable proposal. But nothing went beyond the consultative boardroom meetings to lay the groundwork.
"Unfortunately, when it came to funding, some of the ministry officials started creating excuses and coming up with demands until we gave up," says Musamali.
Rarely is an audit conducted in schools to establish a level of safety and emergency preparedness he adds.
"It can't be that all students can collaborate to burn the school; it is a few disgruntled students causing the violence and that's why we intended to come up with the proposal that would have assisted school administrators in detecting warning signs," says Musamali.
Indire, now a retired career educationist, cites need for freedom, social media and fear of exams as factors fueling lawlessness in schools.
"It is not fair to blame teachers and school managers. We are dealing a different generation that does not want to do things the old way," observes Indire.
Accident cost me my wife, livelihood
After seeing that I had been incapacitated and that I was no longer able to make daily bread, my wife simply packed her belongings and went back home.