The new face of morticians: Young, beautiful, classy and smart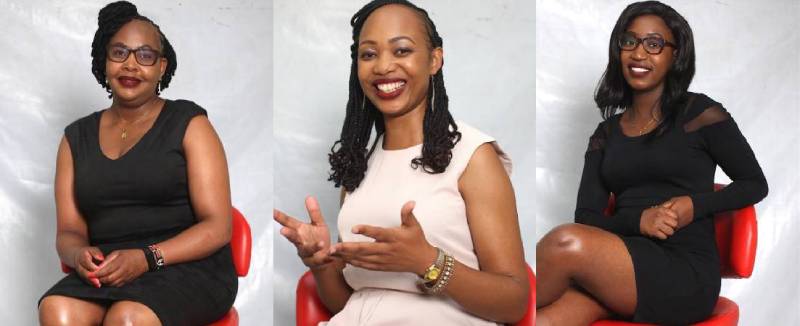 They are beautiful, stylish and well-spoken. Interacting with them is such a delight. They are bubbling and a ball of energy. It is hard to imagine they spend their days and nights interacting with the dead. No fancy dresses or heels to the office, but a pair of boots and long hanging jackets. They have made peace with it.
The most common question they receive is what drugs they use to help them cope with their daily work.
And definitely don't call them 'undertaker', as many people do. It is considered a derogatory term in the industry.
And the worst? "Someone might ask you, 'Is that not similar to working at a dumpsite?'" one of them told The Nairobian when we spoke to six morticians from different counties regarding their work.
Teacher by profession and a mortician by passion
Catherine Njenga, 41, from Kiambu County is a mortician at Nairobi Women's Funeral Parlour, Adam's branch.
"I am a teacher by profession and a mortician by passion. I am a proud mortician. I got started when I lost my father to stroke in April 2018. That is when I gained the passion to deal with the dead," she says. After they buried him, she quit her job as a teacher, which she had been for 15 years, to become a mortician in 2019.
"The treatment he got at the first facility was not very welcoming. When we took him to the second facility, the reception we got was awesome, so I thought I could be the person to bring change to the profession and give decent and respectful sendoffs to the deceased," she says.
To become a mortician, one studies Mortuary Science and Human Anatomy. It was a long-term passion for Grace Wangechi, 25, from Nairobi Country. She works at the Nairobi City County Coroner (City Mortuary).
"Whenever my sister asked what I wanted to do when I grew up, I would shout, 'A mortuarist!' I didn't know it was supposed to be 'mortician'," she says.
"I was very curious about how a dead person should be taken care of. Before I learned that there was a course for the job, I would look for a job in different mortuaries, without qualifications. I worked in one mortuary then learned the course existed, and that's how I trained. I love the job."
She would binge-watch Forensic Files
Petite Ng'ang'a, 31, from Murang'a County, is a mortician at Muriranjas Sub-county Hospital.
Growing up, she would binge-watch the crime show, Forensic Files, so by the time she was done with high school, she really wanted to study Forensic Science.
"I didn't know where I could do it in Kenya though, so I studied Bachelor of Commerce (Accounts). But the passion was too much, so I tried applying abroad to study being a funeral director but I was denied the visa three times," she says.
"I went to Chiromo to ask if I could get the job and they let me know that I could study Mortuary Science here in Kenya, so I did and here we are."
I always wanted to see what dead people looked like
Mary Muchiri, 30, is from Nakuru County and works at the Gilgil Sub-county Hospital Mortuary. She was an IT technician but her passion was to be a medical lab technician.
"Since I was a child, I always wanted to see what dead people looked like. Eventually, I did mortuary science. The curiosity is over but I love the job. I wouldn't trade it for any other job regardless of the salary," she says.
Grace Waiyaki, 33, works at the Nairobi Adventist Hospital Funeral Home.
She was a human resource practitioner but had always wanted to work in a funeral home since she was a child.
"I always wanted to become a pathologist but I wasn't able to become a doctor, so I thought maybe I would become a mortician. So up until 2016, I was a human resource practitioner, then I quit my job, went back to school and trained for mortician work," she says.
Inspired by family
Josephine Njoki, 31, is training to be a mortician.
She was inspired to do it after watching her sister, Mary Muchiri, who The Nairobian also spoke to.
"Before this, I did Bachelors in Business Management. I wanted to be a surgeon but the dream didn't go through. I had also heard about how badly bodies were treated, but after watching my sister, I realised what I had heard was not true," she says.
The dead are harmless
All six are either dating or married. The specific people they are dating have no problem with their professions, but they say that some men are usually afraid of them.
"But there is nothing to fear because the dead are harmless, says Catherine. "Assume we didn't have mortuaries in Kenya. If the mortuaries went on strike, what would happen?"
"There is not as much stigma as there used to be because we come across as normal like for me this is not the only course I have done. Most men fear you but they don't look down on you. I wouldn't say it is that bad," says Petite Ng'ang'a.
About how they explain their jobs to their children, she says, "The first time you tell them they are shocked, but with time they understand that it is just a job like any other. Especially when you lose a family member and they see what you do it becomes something like, 'Mum is a superhero'."
They all want to do it for life, and in fact, start their own funeral homes, but what was it like the first time? Does it affect them? In an internship, maybe.
"The first time, you might get shocked because you have never seen so many bodies at once. And then I remember the second day a child was brought. I cried and ran away. Until today, working on babies gets me worked up," says Grace Waiyaki.
Morticians also cry
The consensus among them, however, is that they usually aren't affected, but working on children still gets to them. It is the one thing that one does not get used to, however, long one does it.
"Also seeing a parent crying because they have lost their baby, especially men, really moves me," says Ng'ang'a.
Some of the worst cases they have seen are bodies that have been in bomb blasts, a skinned body with eyes, tongue and private parts cut out and were never recovered, burnt bodies, bodies of road accident victims which they have to reconstruct after getting the remains in bags.
"You have to understand anatomy to reconstruct it since during the postmortem the pathologist will ask you 'Where is the liver?' 'Where is the gall bladder?'" says Waiyaki.
Seeing bodies, in general, does not scare them, but when it gets tough, private facilities usually have a counsellor who debriefs them, especially on the first days of the job and during tragedies like the Dusit attack. Public facilities are however a different story and if affected, the individual has to get themselves a therapist, even while having to condole a grieving family themselves.
Strange requests
Sometimes they get strange requests due to beliefs and customs. Ng'ang'a remembers a time, when she was in training and a family said that they did not believe that the person had died a natural death.
"So they asked that we bring water to wash the body so that they could collect the water as we cleaned the body. Their intention was to prepare food with the water and make people eat it at the funeral so as to catch whoever had killed their kin. We refused to give them the water," she says.
Some people will ask that they remove a tooth from the deceased so that when their descendants are born their teeth won't fail to grow. For others, if the person died by suicide they are buried with all their items. They give their best in their job, as they are very passionate about it.
"Throughout the process, the last image of one's loved one is the one that matters most," says Njenga.
"Because you can decide to make them heal or make them troubled for the rest of their lives. So what we do is to impact healing upon the bereaved families so that they are able to cope and life goes on."
Why are we always forgotten?
However, they do not have enough support, especially in public facilities where storage can be a problem, and equipment is inadequate. Morticians in Kenya have a registered association, of which Njenga is the vice-chairperson. Morticians and Allied Professions Association of Kenya (MAPAKE).
"The thing that I would like the government to consider is giving us facilities of training and making us known," says Njenga.
While some would consider it a morbid job, they insist that it is a profession like any other and they are just like any other working person. "When you see me doing this work, don't assume that you will never go through death. People only realise that we do a good job when their loved one dies. Death will happen to everyone so kindly respect whoever mortician you find," says Ng'ang'a.
Waiyaki agrees, saying that morticians are usually forgotten.
"Learn to appreciate the mortician. Like during the vote of thanks at a funeral, they thank the doctors, the committee, but they forget that there was someone who took care of the deceased between the point of death and burial. So people need to appreciate the mortician and the work that we do. It goes a long way," she says.