Sleeping in the same bed: what to do when your partner snores, farts in bed?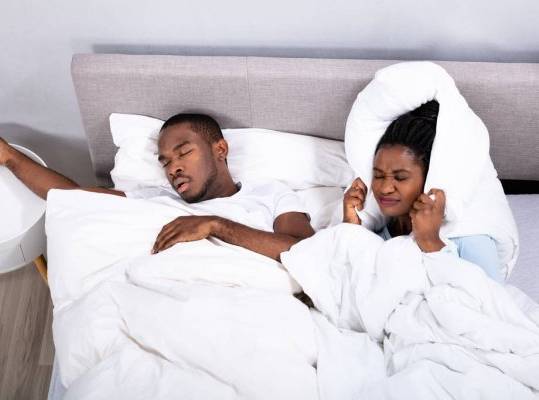 Sleep is vital to every human being, as it relaxes the body and mind. But how sufficient is sleep among married couples, who share a bed, staying snug in each other's arms all night?
Beatrice Mwaniga, a resident of Kahawa Sukari in Nairobi tells The Nairobian that though she shares a bed with her husband, she suffers sleep deprivation.
"Though I share a bed with my husband, I do not enjoy enough sleep, because he snores," she says.
"On several occasions, I have pleaded with him to allow me to move to a separate bed, or sleep in a different room, but he perceives it as running away from him," narrates Mwaniga, barely two years into the marriage.
Her dilemma mirrors challenges facing many married couples, who are unable to balance between sleep hygiene, and intimacy, both key components in marriage.
Purity Chemutai, a herbalist at Kapsaet village near Eldoret International Airport, says sharing a bed is encouraged, as it helps couples to bond emotionally.
"It is not fair to sleep in a separate bed just because your partner snores. Medically, sharing a bed provides warmth, and that soothes sleep," says Chemutai.
At her clinic, Chemutai examines and treats people with sleeping disorders, among them, snoring.
"Sharing of a bed is encouraged, and it is not a sin to have intimacy," she adds.
But according to 70-year-old Yusuf Keitany, couples should sleep in separate beds to promote sleep, and avoid marriage-related problems.
He says sharing a bed leads to sexual intercourse, which then results in unplanned pregnancies, which was discouraged among some Kalenjin sub-tribes.
"In Kalenjin culture, majority of couples sleep in separate beds, a practise that does not ruin intimacy, as they would come together in times of need," says the Keiyo sub-tribe elder, who also owns a separate hut.
"We were brought up understanding that couples sleep separately, but there is no mistake in sharing a bed," he says.
According to a 2017 report by the National Sleep Foundation, about one in every four married couples sleeps in separate beds.
Dr Edith Kamaru Kwobah, a Consultant Psychiatrist at Moi Teaching and Referral Hospital in Eldoret, believes it is advisable for married individuals to sleep together.
"It is good for couples to share a bed, to bond and to have sufficient sex, and catch up on a few things, so that they agree in marriage," says Dr Kwobah.
Further, Kwobah discourages behaviours where couples sleep on a couch whenever they disagree over issues.
According to her, sleeping on a couch is a declaration of war, caused by poor communication skills.
"Sleeping on a couch is a way of protesting and saying we are not okay but it is not healthy. It is okay to get angry, because we are human, but when that happens, there should be a way of communicating, to solve the dispute, instead of communicating by sleeping apart," she observes.
For couples who snore, Dr Kwobah says the solution is not to run away from them, but to seek Ear, Nose and Throat (ENT) specialists for treatment.
"It is good to talk to a specialist to reduce a snoring problem, than to run away from it," she says.
"Most people who snore are not aware of it and running away aggravates the problem. This can lead to depression among other health problems," adds the specialist.
People take vows, to live together, for better and worse, and snoring should not be a reason to separate a couple.
Kwoba advises couples disturbed by snoring to seek help from ENT specialists. Those disturbed can also create alternative time to sleep, for example, take a nap during the day.
Adults are encouraged to sleep between seven and eight hours.
"Couples should invest in clean, comfortable beds. A bed should smell nice, to promote sleep," says the expert. "As much as we invest in electronics, phones and clothing, so should we with sleep.
Our bodies can only function when re-energized, through good sleep patterns," Deprived sleep is also sign of mental problem, for example, anxiety, depression and use of alcohol.
Bishop Paul Korir of the Anglican Diocese of Kapsabet says that in some Kalenjin sub-tribes, as couples aged gracefully, they would reside in different houses.
The older men would be in the same cottage with younger men, teaching them culture, ways of life, enjoying storytelling and would have enough sleep.
"Separation was a way of appreciating that the couples have now aged graciously and could hardly engage in conjugal rights, as such would result into tear and wear of human anatomy," explained the clergy.
He says sleeping on the same bed would trigger intimacy, which was believed to be enjoyed by the younger generation.
"As people age, they become sexually inactive, and having them sleep on the same bed would make them feel sorry, and invite deaths earlier, as they are not able to."
But if a man was strong enough, he would marry another wife, with permission of the first wife.
"In Kalenjin culture, elderly couples would remove sex from their agenda, and enjoy what God had blessed them with, including livestock and children," observes Korir.
However, modernisation, Christianity and infiltration of other cultures has eroded the culture.
Bishop Korir says sleeping in the same bed or separately does not guarantee healthy sleep.
"There is need to interrogate reasons why we experience some type of violence among couples. People sleep separately, yet they still have disputes, they kill each other," he says.
Traditionally, a man would construct a hut in the compound, that he would sleep in, away from his main house with the wife. Construction of a hut was a symbol of prosperity and wealth. Moving out was common at 75 years.
According to Korir, as couples age, they have more stories to share, and such would deprive them sleep. A husband, who was not able to construct a separate hut, would relocate to a corner within the house, or room, and sleep alone.
The intention of having a separate bed was to honour the man, who was viewed with dignity, as he was to be clean all the time.
"A Kalenjin woman would sleep with children, but a man was viewed as an outgoing person, and would enjoy seep," says the clergy.
"The more we think we are civilised, the more we lose our values, like sleep - people sleep in the same bed, but what is accelerating so many fights, and violence?" he says.
Bishop Korir says there is need to conduct a study to find out what is depriving people of sleep hygiene.
"You may be surprised to realize that even in some homes, some people sleep in the dining room, and yet, you want to think they are okay. Traditionally, it was an arrangement, that was seen okay," he quips.
Adding, "We appreciate our older generation for appreciating sleep and giving it a priority. the number of separations and divorces are worrying."
Dr Fredrick Kairithia, an obstetrician and gynaecologist, says that sharing a bed with a baby, especially for the mother, plays a key role in bonding.
However, depending on the age of the baby, it is advisable to have them sleep in a separate bed, for the safety of both the mother and the baby.
"Sharing a bed with a baby helps in bonding. However, a tired mother cannot take care of a baby, reason to why there is need for them to separate as the baby grows, to allow each one of them to enjoy sleep," Kairithia said.