Unmasked: The secret world of Nairobi sugar babies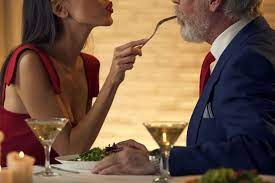 The sugar daddy once preyed on nubile girls. That was long ago. Today, Nairobi has seen the emergence of the sugar baby. She is bold, considers herself a 'tigress' , knows her 'worth' and isn't afraid to show off her beauty, to all who care.
She is 20-something and aggressively hunting for a moneyed old geezer. Slowly, the hunter is now the hunted. The sugar baby does not call him sugar daddy. That is so old school, so 1980. The sugar baby calls him more gisty names depending on his age bracket: sponsor, mheshimiwa, fossil, ancestor, mubaba, zaddy.
Money talks
Campus girls as The Nairobian has found out, are the most agile of sugar babies. They don't go for their male age mates. Or new jobbers who are slightly older. To the sugar baby, a campus dude or a newly employed bank teller (smelling the taste of money but not actually having it in real life) is not her type.They have no money to burn.
Take Cheryl Obara. She is a third-year student at a local university. The 20 -year old is dating a 'mheshimiwa.'
Don't be confused. He is not a politician. Just that Cheryl's 'cherry' has the poise of one.
"He likes politics, and has that look of a politician," says Cheryl,adding, "You see, he walks around with bodyguards, and goes out only for show. He doesn't need them," she says.
"He spoils my friends and I like, and he likes a crowd. Whenever we go to a pub, he wants to sit in a group and he does the talking... Of course, he's married," she revealed.
Cheryl says for a campus sugar baby to pick a 'mheshimiwa' it boils down to knowing what she wants, where to find them. For Cheryl, a famous club in Eldoret was the hunting ground and, "I only had to show up in that club thrice, sit on the counter and look important, it was done."
Cheryl prefers her 'mheshimiwa' since he is willing to spend on her and has less time to follow on her every move. They meet once a week.
In any case, the 'mhesh' is not for marrying, but dating and when time comes for settling down, she will dump him.
Ancestors hit the spot
While Cheryl goes for a 'mheshimiwa,' Michelle Aluoch, a student at a university in Nairobi, prefers men she calls 'ancestors.'
These are retired 'generals' shrugging 55 and inching towards the 60 age plateau. They have already planned a future for their families, reasons Michelle, who, at 22, might as well be their daughter's college mate. Michelle knows the retired 'general' is not out for marriage, but only needs sex to spoil his sugar baby.
"I'm with three of them, all former civil servants," offers Michelle. "Well, I'd say they are modest, but have fetishes, things they dreamt of trying out."
'Ancestors' are older than Michelle's dad and that was how the nickname stuck.
These ancestors love "Live band clubs", especially these ones that play Rumba or Lingala. They're stuck in the '70s and '80s and you just have to match that. Of course, they don't visit these clubs with their wives so, lucky me," says Michelle who likes them as they can "afford to take me to high end hotels and destinations when I want. So that's like any girl's dream answered."
Michelle's cavorting with 'ancestors' will end when a more loaded 'ancestor' who's willing to spoil her shows up.
Michelle told The Nairobian that older 'ancestor' clocking their '70s and octogenarians were called 'fossils' who, owing to their being loaded, preferred pricey hotels, clubs and beach resorts.
Michelle confesses that "I've accompanied a few friends of mine to the Coast. On the beach are very old men who don't look very appealing. They've seen it all so all they want is some young girl to make them feel a little younger. Yes they have money."
But why are sugar babies hunting for sponsors, fossils and ancestors?
Cheryl says the sugar baby's role is to 'hunt for the joint' they frequent and the men will do the rest since the sponsor, fossil and ancestor hardly go to joints.