Dancing at the grave: Do we mock or mourn the dead?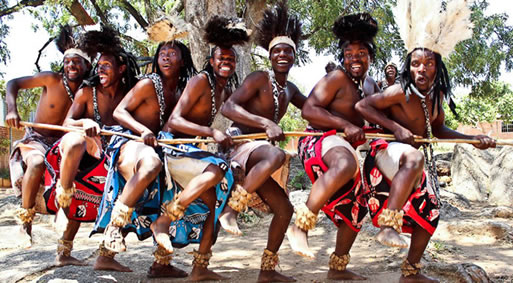 When someone dies in a traditional African home, it is only the first part of a long journey that will eventually see them laid to rest. There is the period immediately after, when the grieving family receives guests who have come to offer their sympathies.
There is the intricate, lengthy and extremely stressful process of preparing for the funeral. And, of course, there is the river of tea that is going to flow in that homestead, and generations of chickens that will be slaughtered. There is the wailing.
The thing that marks a proper funeral, however, is the dancing. A funeral is not just a period of mourning; it is also a celebration of life, and there are few things more befitting of that kind of celebration than dancing.
"There is an expectation in my culture that when you attend a funeral, you will eat, drink and dance," says Rachel Maloba, a nurse from Kakamega.
"The perception has always been there. A good funeral has plenty of food, enough for people to take home, and it has good music."
While the funeral itself is undoubtedly sad, it is usually bookended by a party where guests and family alike dance their sorrows away, deep into the night.
When her grandfather died, Maloba was only 13. But she remembers a party that went on for days.
"I just remember our homestead was always full of people," she recalls. "From morning, people would be coming in and others leaving, sitting with my parents and eating.
"Even after he was buried, the visitors kept coming. During the day, there would be a lot of food. In the evening, someone would play music. Those dancing sessions increased in intensity until the day of the burial, before eventually slowing down and stopping."
While she has not partaken herself, Maloba understands how important the parties are.
"In a way, it postpones the moment when you have to deal with your loss. It's like, you have fun for a few days, so that the memories you have are not only bad ones," she says.
Richard Atilo has been to no less than five funerals in the past six months. The Covid-19 pandemic ran rampant in his broader family, so much so he has been numbed by the loss.
"There was a time when it felt like I was getting phone calls every other week. It got to a point I dreaded looking at my phone in the morning. Uncles, distant cousins, even family members I did not know I had… all were succumbing one after the other."
It was a testing period for Atilo's family. But even though they were soon completely strapped for cash, they did their best to send their relatives home in style.
"Even with reduced numbers, people still expect to celebrate, not just to come to your home and mourn. It has been a difficult few months, but I remember the people who came to celebrate with us, and I am grateful for them."
Dancing is an expression of emotion, just as wailing is.
When a group of uniformed pallbearers from Ghana shot to prominence back in 2017, it was because of their unique way of carrying the coffin. They danced. They did stunts. It was striking because it dared to demystify death, something we have been cultured to fear. Closer home, we have certainly seen our fair share of shenanigans.
From women beginning their wailing as soon as they come within sight of the compound, to others ripping their clothes in agony. There is even the fabled 'disco matanga', a unique melting pot of music, culture and madness.
But is dancing important in the context of grief? Mueni Wambua, a Grief Recovery Specialist, believes that dancing represents a desire for emotional expression.
"People dance at funerals due to cultural, social or even religious reasons," she says. "Music accesses our deepest emotions, and dance can be seen as a way of expressing that which cannot be freely expressed in words. The emotions which arise from loss and grief are intense and music helps us regulate those in a safe way."
She adds that: "As a way of coping, dancing is cathartic. It provides psychological relief, just like exercising releases endorphins which in turn alleviate stress."
But according to Professor Johnson Mbugua, a Professor of Christian History and Practical Theology, the whole idea of celebrating the dead stems from our fear of what comes after we die.
"We have this belief that our earthly body is the one which will be resurrected, which is why we insist on a complicated funeral. It is a false belief, neither based on religion or traditional African culture."
"I can say confidently that 95% of the people today have no idea what the traditional practices were. Even older people. What they think are their communities' traditions are things we have adopted from colonization and other cultures.
To use the example of the Kikuyu of old; they had no regard for the human body at all. The body would be thrown away to be eaten by hyenas. At the same time, when burying an elder, we would slaughter a goat, and that meat had to be eaten.
It could not be thrown away. They used to say, 'You can throw away a human body, but not the body of a goat.' That's how unimportant the human body was."
"Traditions have changed so many times over the years, so even what they think is traditional is not. Pre-European, Pre-religion, we had distinct traditions, most of which have been forgotten. Religion did away with a lot of these customs.
But we now adopted other traditions, like taking the body to church, hiring motorcades, putting our dead in the newspaper… a coffin costing most more than the average income of your family."
Dangerous traditions
Dr. Caroline Oreng, a Psychologist, believes that a lot of what we consider traditions needs to be done away with.
"There is a dangerous aspect to blindly following such cultural practices. 'Disco matanga', most notably, features some practices that are harmful. The activities that go on have little to do with the funeral; drinking illicit brews, fornication, even rape and passing around of girls. These are things we should be doing away with.
The new practices we have seen following the pandemic are indicative of what should be the new norm. It is difficult to shed years of culture. From a practical standpoint, you would have to involve area chiefs, for example, to root out disco matanga culture."
This is not to say, however, that people should not grieve:
"Grieving is extremely important. If you lose someone, there are people you can talk to who will help you through the loss. Some cultures even discourage crying or any outward signs of mourning. But you need to mourn."
Mueni agrees:
"There is no right or wrong way to grieve. There is no typical way to deal with loss because there is no typical loss. We grieve as individuals and therefore the ways to grieve are as many as there are individuals."