Spinning the decks: chapati business booming thanks to wheat lovers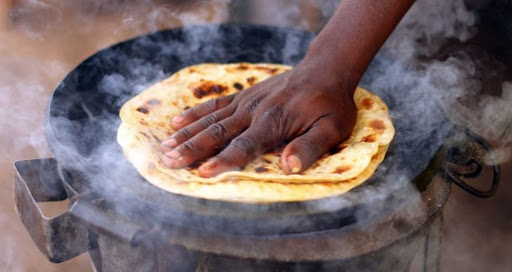 For almost three years, the proverbial early bird always found Patrick Gachie tossing chapatis in his pan, a few early risers flanking him, waiting for the first batch of the snack to be dispatched into their waiting palms.
Until Gachie's back protested and he quit last week. He was used to cooking chapatis on the roadside every day, starting as early as 5 am and closing an hour to midnight, his back aflame. All day long, he stood rolling chapatis, often skipping meals. Everyone in Mirema, Kasarani, who wanted to know him knew him.
"In a day, I could make up to 300 chapatis," he says.
They were not enough. People started calling to place orders. Latecomers found an exhausted Gachie who could only promise to do better the following day, and a cooking pan that grinned back and hoped the day never came.
The 25-year-old is among thousands of Kenyans who make money off chapati making skills.
Over the weekends, Erick Odhiambo, 27, walks into houses to make chapati for families. Around Ruiru bypass, he is a familiar figure. In one weekend, Odhiambo could visit four houses. Through social media, including a Facebook group called Chapati Club, he advertises his trade.
"I started three years ago and have done a few events. People love chapati and before (the Covid-19 virus) pandemic, the orders were overwhelming," he says.
Chapati is, like many other starchy foods, a food, and a snack, that many Kenyans love. In every street, there is someone kneading dough. In every hotel, someone has their sleeves rolled up, with a stack of chapati sitting in front of them, certain that customers will wolf them all down.
Beloved delicacy
Chapati is so hallowed to Kenyans that it has gotten to a point where some men use chapati-making skills to determine if their girlfriends are "wife material". Not many would pass this test. The artistry behind mixing the ingredients, kneading the dough, rolling the paste into nice, circular shapes, and then watching them cook into the golden-yellow chapatis whose aroma the streets love is elusive to many enthusiasts. In the end, every neighbourhood has its chapati-making experts.
Few master the art. As such, the chapati-making geniuses are celebrities of a kind. "I used to make chapatis that were soft and layered," says Jacqueline Mbugua of a trade she tried in 2017. "I used to prepare the dough in the morning and leave it till evening. I would cook then, and it would rise very well." It was a profitable business that she left for school.
Gachie used to make carrot chapatis, and unlike many who make them on the street, he made them thick and sold one for Sh15. The chapati makers have to include something special in their culinary artistry to stand out.
From a two-kilo packet of wheat flour, he made 30 chapatis. The working class loved his chapatis, and were it not for space limitations (he was operating in front of a milk shop), he would have brought other chefs on board. Since he left the job owing to a perennially aching back, he has received numerous calls, customers unhappy he left.
When supplying families, Odhiambo manages to make 27 chapatis from a two-kilo packet of wheat flour. The demand for the services has been so good that the self-taught cook, who loved experimenting with cooking devices from a young age, now wants to go for training so he can perfect his art.
In Chaka, Nyeri, Isaac Mwangi makes chapatis in a small eatery that sits off the bus terminus. Mwangi is a familiar name among workers in the small town. A fast-growing Nyeri county town, there are a lot of construction works ongoing in Chaka, and the new matatu terminus has just been completed. Casual labourers have been increasing by the day, and business has been good for him.
"I am able to cook up to one bale of wheat flour a day," he says.
That, considering one packet of wheat flour yields up to 28 chapatis, is more than 330 chapatis.
"On Wednesdays (market days) we have a lot of people coming in to buy the chapatis. That and weekends are the busiest days of the week," says Mwangi.
He has three cooking shifts. Between 8 am and midday, 1 pm and 4 pm, and 5 pm to 8 in the night. In between, he takes hour-long breaks. It is tiresome, he says, but profitable.
Rose Nyanchama's food kiosk in Nyamira town, her regular customers flock to enjoy her chapatis.
She revealed Covid-19 has affected her business and she now has to make maximum profits from a single packet of flour.
Her chapatis are paper-thin and are small.
"I even joke at her how she has mastered the art of photocopying chapatis! But at times we also understand the dynamics," Okiro, a photographer in Nyamira town says.
Her chapatis sell at Sh10 and the price has remained so for more than 15 years.
"We reduced the size instead of increasing the prices," she confesses.
A Christmas must-have
Kenyans obsession with chapatis is almost maniacal.
The reminder that the Yuletide season was around the corner came in a special way. A group of boys knocked on the front door and once allowed in belted Christmas carols with the poise of seasoned performers. They then gratefully collected coins from the households in which they performed, and within a week could afford wheat flour.
Lawrence Kibaara Njagi, the chairman of the Kenya Publishers Association and Managing Director of Mountain Top Publishers, was among them. In his Kaanwa home, in Chuka Tharaka-Nithi County, this was the annual trend.
"Once we bought the wheat flour, we went to the bushes near the river and cooked chapatis. We ate one each," he says. That was in the late 70s and very early 80s.
After the ceremony, the boys rushed back home where their families were preparing "the real chapatis". Here also, it was impossible to get more than one chapati.
"I used to envy my grandfather because he used to get two chapatis. He could not finish them, and neither could I," he says. He wished he were in his grandfather's place, nevertheless; the appetite was high.
Njagi says that the chapatis then were so big one would have to stitch together close to 20 of what we cook nowadays to get one of what was cooked then, which was done in a sufuria.
Wheat flour was only available in the shops during the Christmas season. Exe, by Unga Limited, was the only brand in the market.
"Very few people grew wheat, and those that did were focused on selling, almost to the last grain," says Njagi.
Staple food was githeri and ugali, and Njagi and his friends painfully waited for Christmas for the special treat. Njagi says that in spite of changes that have made chapatti commonplace to a point it is consumed more than ugali, it remains a special delicacy, especially when the chef manipulating the dough is skilled.
"In my house, chapati day is a good day because my wife makes very good ones," he laughs.
Now, he says, things have changed. Back then, when he had the appetite for the chapatis, he did not have enough money and could not afford it. Today, he has the money, but with the doctor advising for moderation, he can only eat one or two chapatis.
Njagi, like many others, can only chuckle at the seesaw of life. Also the seesaw of chapati; from big to small, from hallowed to commonplace.