Father's Day: Celebrating the men who step up when dad is gone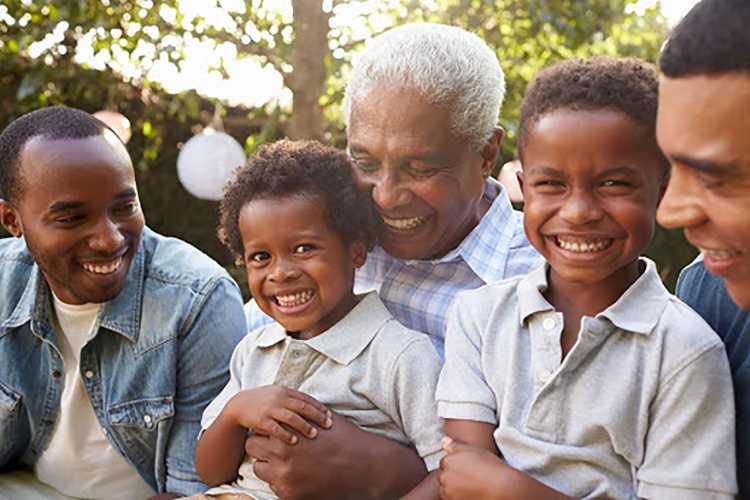 It's that week of the year again, when fathers are dusted up from the cupboard and celebrated by millions for standing up for their families and sacrificing their all to raise children often in hostile and difficult conditions.
But it is also the week when another set of dads are desecrated by scarred children, wives and baby mamas for being absent, irresponsible, violent – basically crap. There are those who have nothing to celebrate, except that desolate grave in the corner of the compound where those who brought them forth to the world rest, hopefully in peace.
Mary Njenga, a psychologist, says the death of a father can be termed as a relationship loss which leaves a child lost, helpless and vulnerable.
"A father's death can have a very deep impact in a child's life. A child whose father has died might be angry at the father for deserting them. This could create long term trauma, even in adults who lose their parents with grief causing anger and denial," she says.
According to USAID report released in 2021, there are an estimated 2.6 million orphans and vulnerable children in Kenya, of whom 650,000 are orphaned by AIDS. It is estimated that over 1 million households care for an orphan.
Data from Kenya AIDS Indicator Survey 2012 shows that there were 2.6 million orphans and vulnerable children in Kenya in 2012, of whom 1.8 million were orphans and 750,000 were vulnerable. Among orphans, 15 per cent were double orphans. Over one-third of all the orphans and vulnerable children were aged between 10 and 14 years.
Yet these orphans are sometimes the lucky ones, for there are millions more who never knew their fathers. Luckier still are those for whom a brother, uncle or grandfather stepped in to become Father, filling that yawning, painful gap, somehow.
Alex Njora Njeri, a brother who doubles up as a 'father', says his parents deaths left him as the bread winner of their family.
"My mother died in 2018 and since then I'm the one who takes care of my siblings. I'm their father and I have to make sure that they have their basic needs even though putting food on the table is a struggle. It's not easy raising them because I have to take two casual jobs so that I can feed them and pay their school fee.
"My focus right now is to make sure that they complete school and get good grades. I will be at peace knowing that tomorrow is going to be bright because of the sacrifices I have made for them. Playing the father figure is not for the fainthearted because I have to keep on guiding them and keeping them in check because I don't want them to go astray," says the 26 year old.
Njenga, the psychologist, says it is tough when a sibling steps into a father's role because a child taking up the responsibility of the dead male parent thrusts them into an unfamiliar role. Njora, a tourism and management student at Muranga University, agrees.
"I had to adjust my life for the sake of my siblings. I'm their source of hope and they look up to me as their eldest brother. Even though they are my siblings, sometimes I'm forced to become a bit distant so that respect reigns in the house," he says. Reinhard Atela, a businessman who was raised by his brother, appreciates the struggle brothers who assume the role of father figure and raise their younger siblings go through.
"I lost my dad at the age of four. My eldest brother took over the role of a father when he was only 18, immediately after his fourth form, sacrificing his all to ensure my needs were met. I remember him emptying his wallet when I was in high school to give me bus fare, leaving him without food for his young family.
"He lived with all the nine of us in his two bedroomed house, denying himself to see us happy while he was struggling raise a small family with his meagre income from hawking clothes. He shaped me into the person I have become because the way I reason, my character, and strength were shaped by his wisdom. My being overly ambitious is a virtue I learnt from him and by watching how he lived. I can't remember having anybody I'd refer to as a father except him," he says.
Daisy Wambui remains grateful to her grandpa who stepped in when her mother passed on when she was 8 years old.
"After my mother's death, my grandfather took up the role of bringing us up. He made sure I grew up like any other child, selling trees and coffee to pay for my fees. I faced many challenges, but grandfather stood by me and always encouraged me a lot. He is my father figure," she says.
Fredrick Barasa, a preacher, was brought up by his uncle.
"My uncle has played the role of a father figure very well because he raised me and paid for my school fees. During my wedding he is the one who played the role of a father. He has always been there for me and showed me the path to lead in life. I cherish him a lot.
"I never saw my real father; I came to learn that he died when I finished high school. When I was six months old my mother left me and got married to another man. That's how I was left under the care of my uncle who has never abandoned me till now," says Barasa.
-