Kenyan road a mess as construction takes shape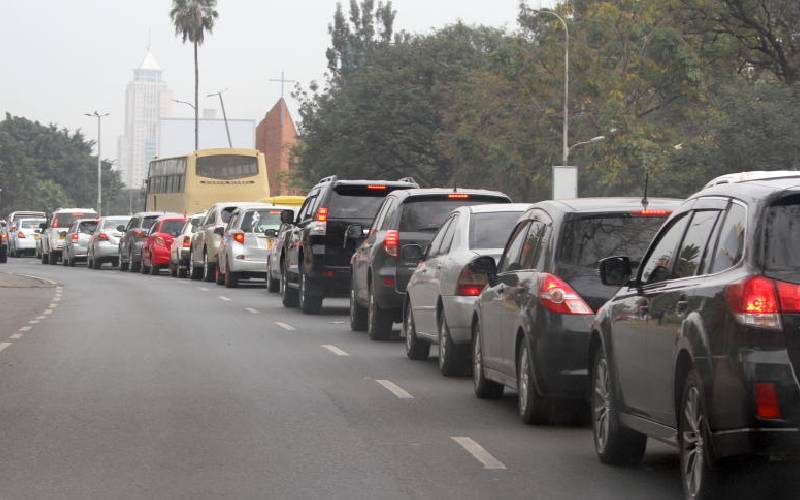 City lawyer and politician Silas Jakakimba could have died on May 13.
"During the heavy rains that caused so much havoc and accidents around Nairobi, I got involved in a near-fatal road accident by the DoD/Kobil round-about, after leaving a health club in the evening.
"The front left tyre of my car hit a deep pot-hole that was hidden underneath the raging floods, adjacent to the roadside pavement. I don't know how I survived and escaped unscathed from my nearly written off road machine after it hit metal bars and swerved severally, stabilising a distance away. It did not roll, or things could have been worse," he shared on his social media pages.
Question is, why was the road flooded? And what was that pothole doing on a major road in one of the more affluent parts of Nairobi, which is not to suggest that the wretched of the earth deserve any less? If the government demands that Jakakimba and all motorists pay taxes on their vehicles, are insured and licensed to drive and that they obey all traffic rules, doesn't the government, by default, have a duty to ensure that roads are safe for drivers and other road users?
This is the questioning plaguing Nairobi motorists who are spending butt-numbing hours in traffic, navigating perilously on the narrowed roads and diversions resulting from the massive road construction projects in the city.
The gridlock on Mombasa Road starts as early as 4 am. The earliest birds are rewarded with a position at the front of the traffic snarl-up, but it is impossible to avoid it entirely. By 10 am., the entire stretch from General Motors to town is a virtual car crawl.
"If I need to get to town by 10 am., then I have to leave home as early as 7," says Faith Munira, a commuter. "It is nearly impossible to plan for anything and be sure to keep time if it involves using most of the roads within and outside the city. The only way I can plan for my day is by using alternative means like the train, or boda boda if I'm caught in traffic."
In recent months, Nairobi has become a major road construction site. As a result, road users have to deal with a series of crude and maddening diversions, stalled accident vehicles, poor drainage, missing road signs, unstandardised road bumps and the absence of pedestrian walks.
Geoffrey Kihiu, a motorist says, "Road signs are vandalised for their metal. Some have graffiti from the last election campaign pasted on them and the drainage system is non-existent. Where there is drainage, it is clogged with garbage Some bumps are way too high; you can even see scrap marks. A bump is not supposed to stop a car completely rather slow it down to a required speed.
John, an Uber driver, blames the management of traffic flow in city roundabouts for worsening the pain of motorists.
"Manning of roundabouts by traffic police in this day and age is outdated. As for roads, it's simple: We have no roads. I think we are a very resilient lot because we get very shoddy services at the expense of our cars breaking down," says John.
The taxi driver is particularly incensed by the patch-up jobs, flooded and potholed sections of roads undergoing reconstruction all over the city.
"It is depressing. On Mombasa Road, "U" turns have been pushed further, some diversions are nearly impassable and you have single lanes where three vehicles used to pass. There are bottlenecks all over the place. It all boils down to poor planning and disregard for motorists," he fumes.
Nothing explains this disregard for motorists other than the 1Km stretch between Kondele and Mamboleo in Kisumu which was inexplicably abandoned by the firm contracted to construct the Kisumu-Kakamega highway. For years, motorists had to crawl on the poorly maintained and rocky diversion at 10Kph until President Uhuru visited the area. The diversion was fixed overnight, which suggests it could have been done all along, except nobody gave a damn.
Mairura Omwenga, Chairman, Town and County Planners Association of Kenya, says we are in this mess because the city planning, development, operation and management is not well integrated and coordinated.
"The roles of the national and county government in the roads sector are clearly spelt out in the constitution but yet you find too many governments institutions with roles that are not well integrated and coordinated. While the expansion of the roads is most welcome, the road transport sector can greatly be improved through effective traffic planning, management and strict enforcement of the traffic code.
He adds that "greater attention must also be focused on pedestrian and cycle traffic by improving the non-motorized transport infrastructure and making the same part of the road transport infrastructure. It is also important to note that the improved road transport system requires all to be part of the solution and working together in integrated and coordinated manner.
According to Levy Mnanga, an official at Eldoret Shuttle, unroadworthy diversions has been the major cause of traffic jam in the city.
"Old vehicles and unroadworthy diversions have created all these mess. The routes and the roads are still the same; there is need of alternative routes if we are to end the traffic jam in the city. The National Metropolitan Services should survey the area and sit down with matatus Saccos to come up with solutions.
"The lanes should be increased along the highways to reduce congestion and structures along the road reserves removed. Traffic control is also a major problem. If we can have a smooth operation in terms of control then this issue will be solved," Mnanga says.
Nimrod Mureu of Ungwaana Sacco, on the other hand, blames encroachment of roads by traders for the disorder on our roads.
"The jam has increased because traders have camped along the road turning the city into chaos. We are spending a lot because of fuel as we try to navigate the snarl up. The only time we experience jam is when we are departing from the city centre. Sometimes, it can take an hour before you get to the highway," he says.