The rise of Mugumo tree: Nairobians give Kenya's iconic fig tree new lease of life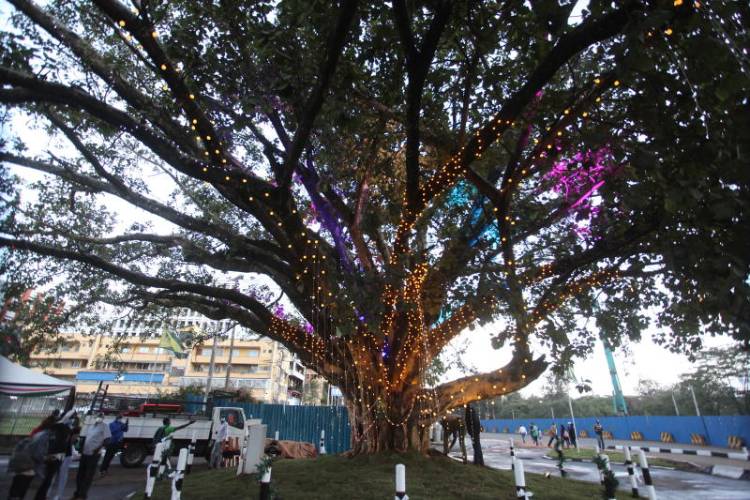 The iconic fig tree along Waiyaki Way, which was saved from being uprooted to clear the way for construction of Nairobi Expressway, has now being used to hold government meetings and other public events.
Like the stone, which the builders rejected, the Mogumo tree has turned to become the cornerstone. The tree's wide branches offer a cool shadow, big enough to host events, with the latest having been held on May 24 by the Ministry of Tourism and Wildlife.
The Mugumo tree came in handy during the launch of new Kenya Meetings Incentives Conferences and Exhibition (MICE) brand identity, which was graced by Tourisms and Wildlife Cabinet Secretary Najib Balala.
"That was not the only event to be held under the Mugumo tree canopy. The tree made a name after attempts to uproot it, since then many people who pass by the area stop by to admire it and take photos" Andrew Mucheru told The Nairobian.
"Sometime even the tourists make impromptu stop overs, it was not like that before, its seems attempts to uproot it was blessing in disguise," added Mucheru.
Towards the end of lasts year, the tree was adopted by the Nairobi Metropolitan Services (NMS) for preservation as a beacon of Kenya's cultural and ecological heritage.
This was after President Uhuru Kenyatta unveiled a Presidential Declaration on the tree noting that conserving the tree, Kenya was reaffirming her commitment to the nation's cultural values of coexistence, peace and unity.
The Head of State added the Mugumo tree, which is estimated to be between 125 to 150 years, links Kenyans with the country's past, present and future.