Overlooked handcarts essential to Nairobi business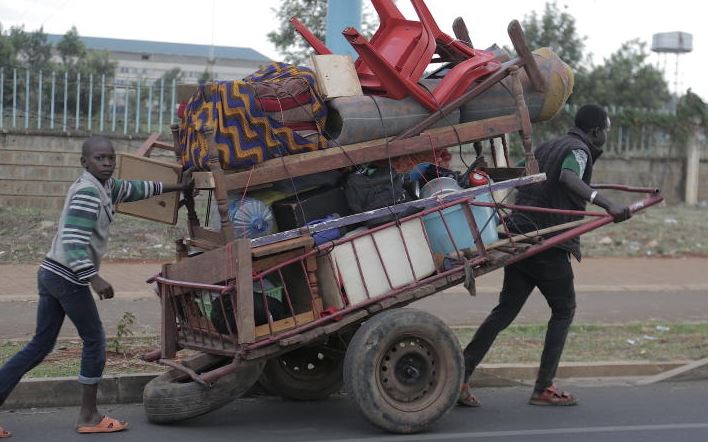 The mkokoteni is a key pillar of the informal business not only in the heart of Nairobi but also other major Kenyan urban centres and towns as well.
The handcarts are easily available and a cheap means for traders to ferry heavy goods from one place to another. The carts are hauled by young men desperate to put food on the table.
At any given moment in time, thousands of handcarts will hit the road, ladden with farm produce and all manner of retail goods and luggage, the men toiling and sweating in the sun, weaving through traffic and blocking vehicles as well.
The business starts as early as 4am when the men strategically position themselves on Nairobi's sleepy streets waiting for customers so that they can ferry goods to and from various bus stages.
At the periphery of Muthurwa market, we meet middle aged Daniel Mwaura who is pulling a cart packed with sack of potatoes towards the city centre.
"This job is challenging; lazy men hawawezi toboa. You have to make many trips in a day for you to meet your target. You can't afford to choose jobs in Kenya. But if you keep off drugs, alcohol and women, there is a lot that you can achieve with a mkokoteni," Mwaura shares.
Peter Njoroge, who has been the coordinator of Trolley and Cart Pushers Association for more than five years argues that the mkokoteni sector is not just the backbone of the city's economy but a big employer as well. Without the two wheeled pushcarts, he says, many of the men who haul them for a living would be languishing in poverty, or ensnared by drugs or worse, rotting in prison.
At the moment, he manages 317 hand carts and 2,608 trolleys operating within the Nairobi city centre, which he leases to those who cannot afford to buy their own.
George Wafula says he hires a handcart at Sh100 and makes between Sh800 and Sh1,200 a day carrying bales from Gikomba market to OTC stage.
" I wake up at 5am and head to Gikomba market where I transport goods to various bus stages. I charge Sh100 to carry the goods from the market to OTC and an extra Sh50 beyond OTC," he told this writer.
In Nairobi, a trolley costs between Sh4,000 and Sh6,000 depending on the size while the handcart crosses Sh10,000 depending on where one buys it from. Thus, many investors across Kenya buy and lease them out at a daily fee.
On a good day, Njoroge says a cart or trolley puller can make between Sh800 and Sh1,500 or even more within the city centre.
"This is because with time, consistent pushers have developed loyal clients who entrust them with goods and luggage on a daily basis like parcels on transit through the city,"he says.
Mwaura laughs off the assumption that most people who pull handcarts for a living are drunk sodden vagandonds.
"Many of the hand carts pushers you see around this city are fairly well educated but have just never landed white collar jobs. That is why some of them blow the money they earn on alcohol and women to forget their frustrations. Can you imagine how they feel bumping into former classmates or well-off friends on the streets while they are pulling a handcart?" he poses.
While scoffed at by pedestrians and motorists who consider them a nuisance on Nairobi's busy streets, Njoroge says that without mikokoteni, Nairobi would be chaotic because of people carrying heavy loads on their backs, heads and shoulders. Besides, he argues, transport of hand luggage, merchandise and farm produce from one point to the other using taxis and pick-ups would have been expensive.
Samuel Mwangi, who is a taxi driver, agrees, observing that trolley and handcart operators have with time eaten into their customer base.
"The increasing numbers of mikokoteni is affecting our business. The competition is so stiff that sometimes we go for a day without making a single coin. These days, we depend on passengers only," he shares.
But Mwaura argues that mikokoteni are a win-win for everyone because in they mimisise traders' expenses, therefore, making goods affordable for buyers.
"We play an important role in this town and without us many people would be suffering. For instance, a number of people order rice in bulk from Mwea and other regions through matatus that terminate the journey along Accra road.
"Since County laws do not not allow upcountry transport operators to proceed to Railways Station or Machakos country bus station, traders opt for carts or trolleys which cost only Sh100-Sh250 instead of taxi which charge double or even more," he explains.
Previously, handcart operators were taxed Sh50 by the County askaris whenever they were spotted transporting goods or pieces of luggage from one point to another within the city centre.
"We petitioned Governor Mike Sonko and he agreed that taxing cart pushers was not fair because sometimes one would be taxed up to five times in one day day thus losing almost all their day's work," says Mwaura.
Susan Mueni, a businesswoman who frequently uses the services of a mkokoteni to ferry goods to her shop, is all praises, saying handcarts have eased their burden because they used to carry goods on their backs which was tiring.
To curb cases of theft of luggage, Njoroge says that just like matatus have designated spots for dropping and picking passengers, carts and trolleys too have their termini, which are managed by a chairman who oversees operations.
Bernard Gitau, a cart puller based at Tea Room stage, says although his job puts food on the table, it comes with risks.
"Most of us suffer back pains and are exposed to traffic accidents especially during rush hours," says Gitau.
Benson Dawa, 63, a trolley operator within Kamukunji, has been in the business for more than two decades. When he opened shop, he used to charge as low as Sh5 to ferry goods but today he has increased the fee to between Sh50 and Sh100 depending on distance.
"I have trained many young men how to survive in this business and I don't plan to quit soon. We control the economy of this city despite people looking down upon us," he told The Nairobian.