Kenyan women who dumped ugali to pound yam for Nigerian men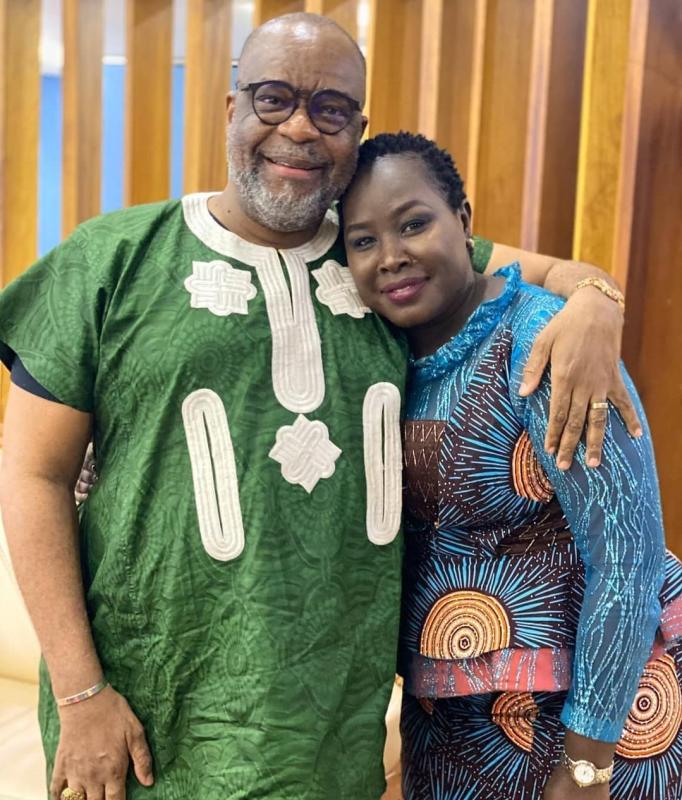 Last Saturday, Deputy President William Ruto's daughter, June, made headlines. It emerged that she is set to marry a Nigerian man after daddy hosted a colourful engagement ceremony known as 'Koito' in Kalenjin at his plush Karen home.
The engagement came six months after the DP publicly challenged his daughter to get married.
"June's father kept the event small, simple and family-focused. His position as Deputy President was relegated as he played the role of a father. Ruto and his wife were great hosts," said Nigerian politician Osita Chidoka, who was head of the Nigerian delegation.
Though their relationship sparked a lot of debate online, June is not the first Kenyan to get married to a Nigerian oga.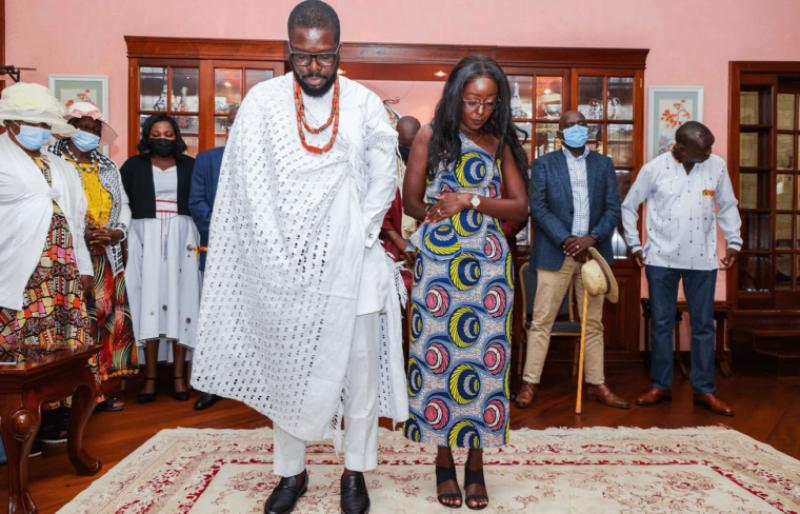 Emmy Kosgei tied the knot with the Revival Assembly Church pastor Anselm Madubuko
Seven years ago, gospel musician Emmy Kosgei tied the knot with the Revival Assembly Church pastor Anselm Madubuko. It was a year after the Nigerian pastor had lost his wife of over 20 years.
"Do not panic for me, I'm a grown up. I'm sorry but I could not have got married to all my admirers. I'm very happy. He treats me like a queen, respects my career and understands what I go through since we are in a similar field," she said at the time.
Last year while marking their seventh wedding anniversary, Emmy praised her husband, saying she was glad to be married to him.
"Wow! #7yrs today oh thank you Jesus! You have kept us, thank you for peace! Love! Thank you for walking with us! Thank you drawing us closer to you. You have been faithful in this year of completion we give you praise! @amadubuko my love. I love and appreciate you so much. You are an amazing husband, thank you for taking care of me for protecting me! Thank you for showing me Jesus, thank you for treating me like a queen that I am looking at 7yrs back, I'm glad I said yes! I have grown spiritually, emotionally and otherwise we are not where we were to more years of grace! #Daalu nkem!" Emmy posted on social media.
Ruth Matete wed her Nigerian boyfriend, Pastor John Apewajoye
Two years ago, Tusker Project Fame 5 winner Ruth Matete wed her Nigerian boyfriend, Pastor John Apewajoye at a colourful ceremony held at Great Wall Gardens. The couple had been dating for two years and Ruth had broken up with the pastor 38 times.
"I dated you for 2 years 8 months and you broke up with me 38 times but today you are my wife for life. This first week has been so amazing. It is like I just met you. I'm so glad we never gave up on each other, I remembered how you fasted and prayed for 40 days because of me. My life will never be the same again. I love you Luxo," said Pastor Apewajoye.
Sadly, four months after tying the knot, Apewajowe died. "He was involved in a gas fire accident on March 30 in his house at Great Wall Gardens, Athi River," said Ruth's dad Abel.
Kenyans and Nigerians are seemingly the new mashemeji. And as more West Africans swap Lagos for Nairobi, they are deepening the dating pool in the city. Their appeal is not lost on Kenyan women, many of whom are willing to cross the border for the sake of love.
But what is the nature of that appeal? Why are Kenyan ladies flocking to the ogas? What does it say about Kenyan men that their ladies are flocking to ogas?
People get excited with something new
According to Prof Halimu Shauri, Associate Professor of Sociology at Pwani University, novelty plays a big role in this dynamic.
"People get excited with something new," Prof Shauri explains. "Whether it is new clothes or a new car, or even a new scar on your body that you cannot stop scratching. For some Kenyan ladies, seeing those Nigerian men is a new experience."
"It is also about the perception that Nigerian men can offer them a certain lifestyle, thanks to the image most of them portray."
"Nigerians are by nature 'big'. They talk big, dress big. They display a fancy lifestyle which is presumed to be reality even when it is not. Women are attracted to this; it is very close to the kind of lifestyle men from Nyanza present."
It is not just the women falling for the male visitors either; the romance happens the other way around as well. Popular vlogger Ijeoma Kola married a Luo man, Jonathan Kola.
"Obviously I'm biased, but my husband is the most amazing man on earth. Ok maybe tied with my dad. But Jonathan is absolutely nothing like the man I envisioned I'd be married to. He likes to joke with me that I probably never expected when I met him freshman year of college that I would be married to him now. And the answer is no way! I would have bet my life savings, that I would never ever date him, let alone marry him, but alas here we are lol. Isn't God funny?" Ijeoma shared on her blog.
She also changed her last name to his, "Although I fully support women who choose to keep their maiden names socially. I knew that I wanted to take on my husband's name socially so that all of us, including the kids, would have the same last name. Having a large extended family and two brothers, I didn't feel like the Eboh family name would be lost if I didn't maintain it, and I didn't like the way a hyphenated Eboh-Kola sounded," said Ijeoma.
Anthony Chinedu, and his estranged Kenyan wife, Joyce Akinyi
While some Kenyan-Nigerian marriages have been successful, others have ended in premium tears. Nigerian businessman, Anthony Chinedu, and his estranged Kenyan wife, Joyce Akinyi, are still exchanging bitter words a decade after they parted ways.
The couple met in 1998, cohabited and sired two children before formalising their marriage in 2004. In 2009, the couple treated the public to drama when they bitterly exchanged words over the ownership of Deep West Club in Nairobi. In 2013, Chinedu was deported from Kenya for involvement in trafficking narcotics. But in 2018, a court ruled that Chinedu owns 70 per cent of the premises, while Akinyi owns 30 per cent.
Sekani Rich Opeyemii and reality star Bridget Achieng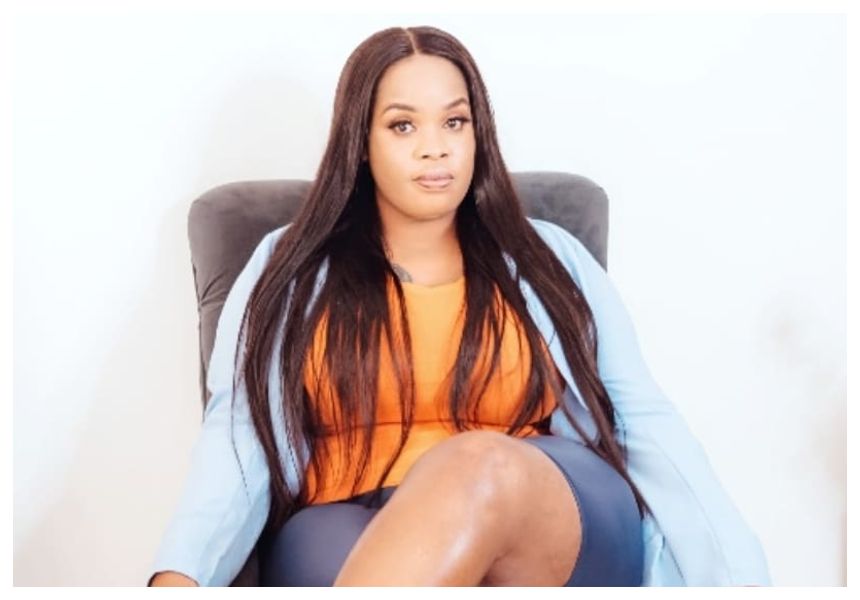 After the birth of her first child, Sekani Rich Opeyemii, reality star Bridget Achieng opened up about being dumped by her Nigerian baby daddy while two months pregnant.
She said the Nigerian man wanted her to have an abortion, which left her heart broken, traumatised and depressed.
"Since I got pregnant, I haven't been taking interviews because I don't want my story to be twisted. I got abandoned with the pregnancy at three months old...I don't know why God chose you to be my child's father over the other guys who treated me better. Wherever you are, I just want you to know that I will never hold it against you. But I just want to say thank you for giving me my son," she said.
Lisa Gaitho broke up with Nigerian boyfriend
In 2019, vlogger Lisa Gaitho made headlines after breaking up with her Nigerian boyfriend and opted to go celibate. The vlogger ended the relationship and flew back home from Nigeria, adding that it took her time to realise that she was treating her boyfriend as an idol.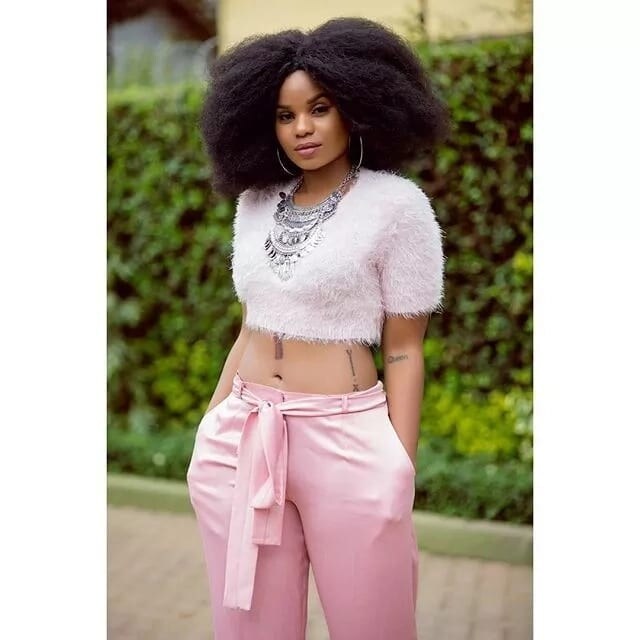 "I was praying and fasting around October, September last year; you know when you hear something so clearly like you cannot even doubt it? That is what it was. It was telling me no; this is not the relationship that I have for you. It may look perfect, good and you may be seeing through those tinted glasses but this is what I have for you." adding, "When I was reading the Bible, the story of Shadrack, Meshack and Abednego, God showed me that bowing down is not just to the king. It's compromising. And I said if I have sex and ignore what God is saying I would be bowing down to my idol and at this time, this man had become my idol," said Gaitho. The break up came months after the vlogger urged women to bathe their men.
Prof Shauri cautions against expecting the grass to be greener on the other side.
"It is an idea, a perception, that most people fall for. But we have all seen stories of people getting married to foreigners and things not ending well. I have seen several people go down that path myself, some high profile people, and it even ends in jail for some of them. What we fall for is the impression. In reality, there is nothing definitive we can use to say Nigerian men are more romantic than Kenyan men," says the sociologist.
Hide your knickers
Hanging your underwear on a public clothesline makes them public property