Hunger pangs: Police, NYS recruits eat like kings, brainy comrades boil omena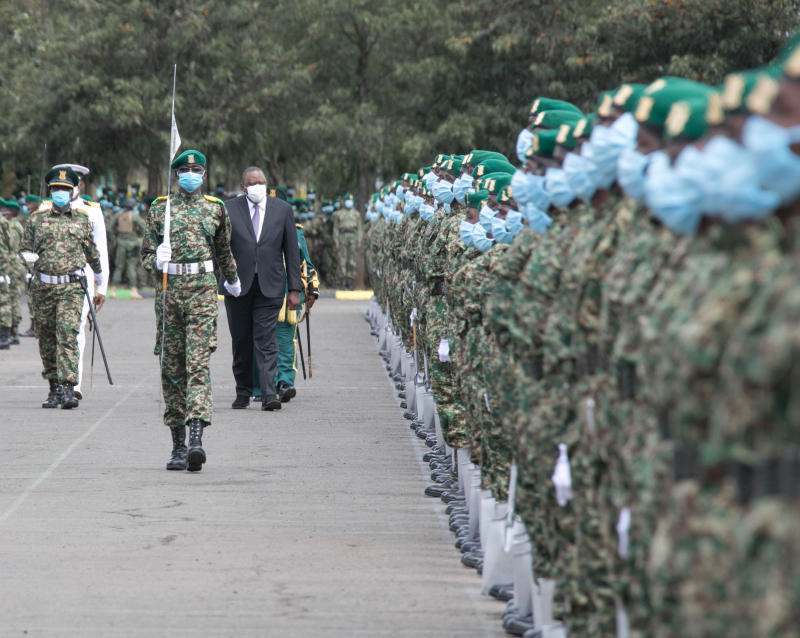 They worked their socks off and their sweat paid off with sterling performances in the 2020 KCSE exam.
They want to be doctors, lawyers, IT professionals, and engineers – top tier careers that not only call for those with top brains, but which reward those who triumph handsomely.
But what the top grade students don't know yet is that run down and ill-equipped universities await them, and for those from poor families, the next four to six years will be a harrowing journey of cheap, decrepit rentals and so many hungers.
As a matter of fact, while some of these 'A' students who gain automatic entry into university soon find themselves scraping by, sometimes on a single meal, chicken thieves languishing in prison will always have something to eat daily.
Meanwhile, National Youth Service (NYS), police and army recruits who scored D+ will be treated to three square meals and a healthy, balanced diet for the duration of their training. What's more, for the army and police, a job awaits them after 'graduation'. Hillary Akola, an Engineering student at Multimedia University, argues that the government has been unfair to university students because most comrades survive on one meal a day.
"It's unfair because the meals in campus are pay as you eat. You get to campus hoping that life will be smooth but you end up frustrated because of hunger. Most students skip meals because they can't afford," he says.
"Chapo goes for Sh10, rice Sh20 and ndengu Sh20.Beef and chicken is the most expensive because it goes for Sh40 and Sh60 respectively. The prices may look cheap but it's a lot of money to a hustler student. Hunger in campus is a kill joy for many students who think that going to campus life is a bed of roses.
You can't manage to eat three meals a day; its way too expensive. The government should treat us equally and come up with a way of making meals free for campus students just like it is in NYS and police colleges. Most people sleep hungry."
An ex-soldier, who declined to be named, said diet in the military is a key priority. "Recruits are given a balanced diet to ensure that they are healthy and strong. They are given food that can sustain life. When going for a mission they are given packed foods. In the barracks they eat good foods and fruits," he told The Nairobian. Morris Kaberia, an ex-police officer, says meals at Kenya Police College, Kiganjo are equally splendid because the training too requires a balanced diet.
"Tea with buttered bread in the morning, rice with meat or githeri with meat for lunch and ugali and meat for supper. The college has a canteen where one can compliment the diet with whatever they like except alcohol," he said.
The ex-cop also revealed recruits are placed on salary immediately after joining Kiganjo and their meals and bedding are deducted from their pay.
"Sometimes, they slaughter college cows and there is nyama choma and meat eating at such times. I would say meals at the police college are good," he said.
The situation is no different at the NYS. Enos Muyera, an NYS officer, says recruits are fed pretty because they need strength and energy.
"We have the normal diet which comprises of Ugali, beans, cabbage and rice and the special diet for those who develop health problems while they are already in the service. This diet is mainly milk, eggs and chapati and it's for few individuals. Sometimes, however, this diet is given to motivate recruits," Muyera said.
But while many bright university students endure hunger pangs, prison is one place where no one sleeps hungry.
Boniface Mzima, an ex-convict at Kamiti prison, recalls the tough prison life, but he also appreciated the relative benefits he enjoyed while on death row.
"An inmate is taken good care of in prison in terms of feeding. It's the only place that you are guaranteed three meals a day without working and taxation. They provide you with basic needs and makes sure you feed well to keep you healthy."
Even while the rest of the country is groaning under the weight of an increased cost of living, an inmate never has to worry about that.
"For all the years I spent in prison, I never missed a meal or slept hungry," says Mzima. "Plus, you are served food with enough nutritional value. In the morning, you take porridge for breakfast and at around 11.am you are served with ugali and sukuma wiki or cabbage for lunch. Wednesdays and Friday are the most exciting days because inmates eat meat. Everyone looks forward for these days."
Hide your knickers
Hanging your underwear on a public clothesline makes them public property