It is harder for men from poor backgrounds to marry upwards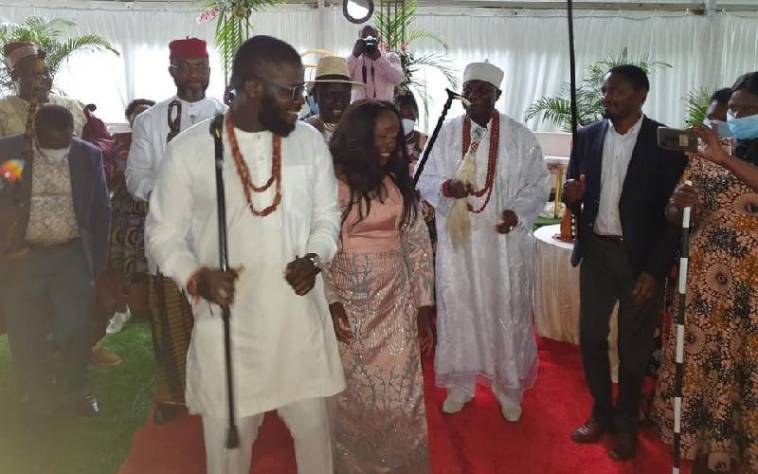 It is official that June Ruto is off the dating scene. One more time, she is on her way to Nigeria with her academician husband to be; joining Kenyan sisters like Emmy Kosgei Madubuko, Singer Amani and Ruth Matete who chose to settle abroad.
June who represents Kenya as Charge D'Affaires in Poland is now engaged to Nigeria's professor identified as Dr Alexander Ezenagu. Ezenagu is an assistant Law Professor at the Hamad Bin Khalifa University.
This is after Deputy President William Ruto hosted hosted prospective in-laws from Nigeria at his Karen home on Saturday May 8. Not much is known about Dr Ezenagu or where he met DP William's daughter, but one of the guests at the Saturday's dowry negotiation was businessman and Nigerian politician Osita Chidok.
As we congratulate the newly engaged couple in town, one fact sticks out like a sore thumb: The rich almost always marry the rich. There is a sub-culture within the upper class where they go out and settle down with their own clique, rarely allowing the lower classes to break into their exclusive circles. Like a dude from Kayole trying to date and marry Ngina Kenyatta - the First Daughter. Tough luck!
Indeed, when Ngina's elder brother married in 2016, his choice was Fiona Achola - scion of the Omamos and whose patriarch was politician William Odongo Omamo.
The tragic tale of Omar Lali and Keroche heiress
It comes as no surprise, then, that in the rare cases when cross-cultural unions happen, they make the news: The late Keroche heiress Tecra Muigai and her lover and fiancé, Omar Lali, were subjected to the worst kind of scrutiny when she died in May this year. The conclusion arrived at was that, Lali, a coxswain, could only have been there for her quid.
There is the tendency to fit people neatly into boxes, be it tribal or social, and this carries on into our relationships and marriages where someone's class and prospects thereof, have a bearing on how affairs play out: Muthaiga is across Thika Road from Mathare Valley, but near zero chances that Miss Mathare can catch the eye of a love-starved bloke in Muthaiga.
Harder for men from the bottom to marry upwards
And while women sometimes hack it marrying upwards, it's harder for men from the bottom drawer classes to sit at the table of men in elite circles through marriage.
Indeed, dating someone from a different social class is often a challenging affair. Take the experience of Elvis Luvira, a 24-year-old economist in Nairobi.
"I once dated a girl from a well-off family. Everything we did felt like it was meant for Instagram. She would take trips to Nanyuki or Mombasa on a whim. She never spent weekends in the house. I come from a simple background, and it was always uncomfortable for me. My idea of fun was something quiet at home, like a movie, but I was too embarrassed to even bring it up. I loved her, but I knew we would never work out."
While dating goes up to a certain point when folks, mostly of the richer party, don't know how far one is down dating, the same is not the case in a marriage set up. Social class may seem like a small issue, but it informs how the couple views finances, investments, education, friends, extended family and even lifestyle. More often than not, this gap is too big to bridge.
Marry close to your social class: Expert
"In any marriage, you're getting together with someone who is very different from you, they have a different upbringing and culture from you," says Dr Taji Shivachi, a sociology lecturer at Rongo University.
"If you can disagree with siblings with whom you've grown up, how about that stranger you met when you were both adults?" he poses.
These differences come out in many ways, from arguing about which part of the toothpaste to squeeze, to spending money. All these perspectives come about depending on how you were raised, and your social class.
Dr Shivachi admits that social class plays a huge role in the power dynamics within a marriage.
"Social class only becomes a problem in terms of self-security, especially for men. It's about power systems, the balance of power within the marriage. Power follows money. When you have money, power comes with it.
"Men will feel insecure when they marry someone who has more money and therefore more power," he explains, adding that "it's not about provision; provision is about what you can afford vis-à-vis what you think you can afford and what your peers can afford. The balance of power is a bigger concern for men."
It is always advisable, according to Dr Shivachi, to marry as close to your social class as possible.
"As a man, marry from your own class or lower. Marrying upwards is always a big challenge for men. It's very difficult to adjust to it, unless you find a way of making more money than your spouse, or finding another way of achieving superiority over your spouse," says Dr Shivachi.
He reckons that if a man marries a woman with more money, then ensure you're a step further in something else.
"Like have more education which gives you some superiority. Or get into politics and become a leader, so that even if your wife has more money, you have more power. Otherwise, the power dynamics will be challenging to navigate within the relationship," he says.
Parents prefer their daughters marrying into money
The pressure to marry well is often transferred down from parents who "would prefer their daughter to marry someone who is better off, someone from a higher social class, but are uncomfortable with their son marrying from a higher class. They know the implications. They know their son might be subjected to some form of control or suffer inferiority complex."
Dr Shivachi adds: "It is not desirable for your child to marry downwards. Even as parents, you want to move in the same circles. You want your child to be seen to be doing well by marrying someone who is doing well. Everybody likes to brag about their children."
Indeed, it is harder for men to deal with the gulf in class for men than it is for women. Men have a bigger ego, while women are more willing to learn and settle.