From red wave to red flag: menopause can be a unique challenge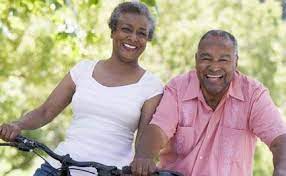 Menopause, that natural biological process signaling the end of menstruation, can occur when a woman hits the 35-year plateau towards 40 or around 50.
For some women, the transition is nearly unnoticeable, with their regular periods slowly petering out and finally stopping. But for several others, menopause brings with it a host of physical complications.
Night sweats and fatigue are among the most common; many women experience some form of difficulty with their temperature, especially at night.
Dr John Ong'ech, a consultant gynecologist and obstetrician, explains that there are two types of menopause with "primary menopause" being "a natural process that occurs around 50 years. Secondary or pre-mature menopause "could be from 35 years or brought about by an auto immune disorder."
"It was the hot flashes that tipped me off," says Valerie Angole, a 62-year-old mother of three. "My periods eventually stopped, but about three months before that, it was almost impossible to sleep through the night. My body would get very hot all of a sudden, forcing me to do away with the covers. But as soon as I uncovered myself, I would feel cold again."
Having worked as a nurse for over 20 years, Valerie knew exactly what to expect. So when her periods finally stopped, she knew she was officially menopausal.
"You see and hear stories from other women," she says, "but you're never really ready for it. And even if you are, it still takes you by surprise. The sweating, for me, took some adjusting to.
"It was challenging because I used to share a bed with my husband, which meant a lot of tossing and turning, a lot of covering and uncovering. I still haven't completely gotten used to it. Years later, we decided to sleep in separate beds."
For Brenda Ngaira, crossing the threshold into 50 has meant contending with a sudden drop in energy levels.
"I am always tired," the retired teacher says. "Any time I close my eyes, I am likely to fall asleep. I experience fatigue on most days, and on bad days, it can be very specific. My knees and legs can ache for hours. It forces me to spend a lot of time off my feet."
When her period first stopped at 47, Ngaira was unsure what to expect.
"My first periods had been irregular. I got it for two days when I was 15, and then not again for another two months. It was somewhat similar with menopause. I actually had my lastborn at 47. A few months after that, I didn't get my period.
"It did not show up for six months, and then out of the blue, it happened. I got them regularly for another six months, and then they disappeared again. So, for the two years leading up to my 50th, my periods fluctuated a lot."
Dr Andrew Mulwa, the CEC Health Services in Makueni County says menopause is usually accompanied with weak bones due to lack of calcium. He adds than when a woman is between 45 and 50 years they may start experiencing headaches, fatigue, night sweats and hot flashes but the most common symptom among the 55 years plus is arthritis."
The downside of menopause, says Dr Mulwa, is that "many women are usually not prepared for menopause and many "do not know the symptoms. This is an area that has been neglected in the health system."
Menopause is considered pre-mature if it occurs in women who have celebrated their 40th birthdays and its considered 'early' if it falls between those aged between 40 to 45 years and Dr Mulwa reckons that in Kenya, "about one per cent of the population experiences pre-mature menopause."
Some women experience menopause earlier than others and for reasons beyond medical interventions. Others still experience it much later, as is the case with Sharon Munira, an M&E specialist in Nairobi.
"It's been business as usual for me," Sharon says. "I have not had cause to think about menopause, no physical changes or anything of the sort. I'm turning 52 this year. The only change for me would be social, as a 52-year-old woman is accorded slightly different treatment by her friends and colleagues. But no, menopause is not as yet something I've experienced."
Since a woman is out of reproduction, the supporting hormones, estrogen and progesterone, fall predisposing one to diseases specific to the onset of menopause.
But this drop in hormonal production also means progressively lower sex drives for the women.
"I also noticed, as I got older, a loss in my sexual drive," Angole explains. "I would feel like I really didn't want to do it, and it got harder and harder to warm up to any sexual activity. Even when I did have sex, it took too long to orgasm.
"This was something I had seen before, with my own parents, which I now understand a bit better. It's the reason older women devote more and more time to their grandchildren. It's why women would rather spend all day out working, so they can keep away from their husbands, knowing they can no longer match their sexual drive."
But menopause can be more sinister, too. Some common diseases that can crop up include cardiovascular diseases; Osteoporosis, a condition that causes bones to become brittle and weak; urinary incontinence (involuntary loss of urine); and uterine cancer, among others.
Heart ailments are also common during menopause due to the declining levels of estrogen hormones, which increases the chances of increased cardiovascular diseases.
Dr Catherine Syengo, a consultant psychiatrist, notes that depression and anxiety are common among women experiencing menopause and more often than not "midlife crisis happens at this stage. Before the start of menopause, hot flashes come in with a lot of anxiety.
"In order to comfort the patient, we assure them that this is a normal phenomenon and we work closely with a gynecologist to see whether they would need to balance their hormones," she says.