Every day is hard Labour Day for Nairobi bicycle boda boda riders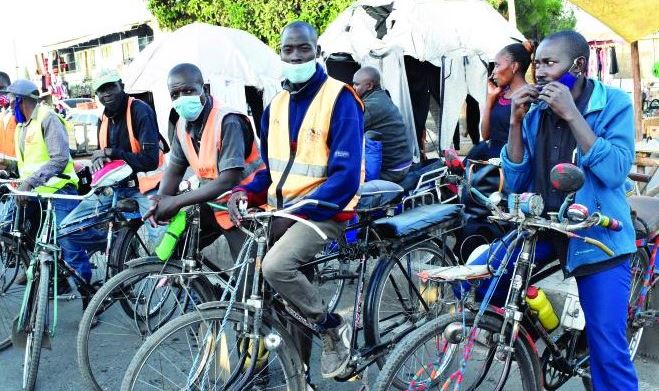 Bicycles, the iron horse that was for years the village beast of burden and status symbol for the rural rich, mostly teachers and male clergy, quietly morphed into a taxi in western Kenya and Nyanza.
The enterprise spread from the border town of Busia where bicycles were used to ferry goods between Kenya and Uganda before passengers hopped onto the saddle. They became an instant hit for rural dwellers who previously had to traverse long distances on foot in areas not served by public transport.
From Western Kenya, they spread across the country like a bushfire, becoming a constant feature in district and provincial towns like Busia, Kisumu, Bungoma, Vihiga, Kakamega and as far afield as Malindi.
But the business was hit hard during the Mwai Kibaki presidency when Finance minister Amos Kimunya lowered taxes on motorcycle imports to encourage workers to ride to work so as to reduce personal vehicles and matatus on the roads and save foreign exchange used for importing oil.
Instead, thousands of Kenyans purchased motorbikes and converted them into taxis, thereby revolutionising both rural and urban passenger transport. In one sweep, bicycles were sidelined for the faster, sexier and more comfortable bikes. A few diehards, however, hang on, and you will often see them peddling uphill with a passenger on the saddle in rural and urban areas, incuding in Nairobi's Eastlands.
Bicycle boda boda operators, who have a stage at after the Donholm bridge, have vowed to stay put and no way they are bowing to matatus and motorcycle taxis. Dennis Gekone, 33, who lives in Patanisho area in Kayole hails from Kitutu Masaba in Nyamira County. A licenced driver who dropped out of school in form two due to lack of fees, Gekone, worked with a Chinese construction company in Ruai and at Garden City Mall before going back to the village in 2016.
"I came back in 2018 and worked for an Italian man in Westlands till 2019. But in early 2020 when Covid-19 struck, I was rendered jobless, forcing me to look for an alternative means of livelihood. I have been carrying passengers on my bicycle since," says Gekone, who says he is still looking for a job and can operate several construction machines including an excavator despite not having undergone formal training as a plant operator.
On a good day, he makes between Sh350 to Sh400 in the morning and Sh450 to Sh500 in the evening.
"Before Covid-19 restrictions, we would start working from as early as 5am and push till 10am then go home to do other jobs. We would then resume at 4pm to capitalise on rush hours," he says.
Apart from passengers, they also transport luggage for clients for short distances within the estate.
"On a good day, I make about Sh500 to Sh700. Fares range from as little as Sh30 to Sh40 to Jacaranda, which is about one and half kilometres away. We charge Sh50 to Kayole, Sh100 to Cabanas, Sh200 to the vicinity of Jomo Kenyatta International Ariport (JKIA) and Sh150 to Kariobangi," says Gekone.
Weekends are their worst days because most of their clients are city dwellers heading to or from work," notes Gekone, who says most motorcycle boda boda operators at his stage were once bicycle boda bodas.
He chose to buy a bicycle and not hire a motorcycle because the owners demand Sh300 every evening whereas all the money he makes as a bicycle rider is his.
Stephen Muthian, 34, who hails from Makueni County and has been at it for three years, says his boda has served him well.
"This bicycle has enabled me to buy three acres of land upcountry through our chama. We have a chama of 30 people and I save Sh300 from the minimum Sh700 that I make daily. I start work at 3am and have regular customers call me on phone," says Muthiani.
He says their biggest challenges are lack of a stage as most spaces have been taken by motorcycles and matatus. He says lack of designated cycling lanes also forces them to fight for space between vehicles or the side of the road, which is dangerous.
"Another challenge is that matatus charge as little as Sh20 while our cheapest fare is Sh30, meaning they take our customers. Their fares should be a minimum if Sh50 so that all of us can take something home," says Simon Wangila, another bicycle rider.
They are organised into an association called New Jacaranda Transporters. Each member has a reflector jacket, a membership number and identification card.
"Initially, we were 47 but our number has dropped to 30 bicycle riders. We have big plans this year, as an association," says Muthiani, who is the group treasurer.
Alex Amukhaya, who used bicycle taxis for nearly 10 years, says they are trustworthy unlike motorcycles, who can change their mind and demand more cash when the ride is over.
"There are many motorcyle boda boda riders who are conmen. You can never tell whether the one you flag down you is a criminal or not. Also these riders are not reckless like motorcycle boda boda," says Amukhaya.
Wangila, 40, from Bungoma County started riding bicycle in 2015 as a sidejob to supplement his income. "I work from 5am till 7am then proceed to my usual job at 8am. I leave job at 4pm and come here to ferry passengers," says Wangila.
Joseph Mukongolo from Butere in Kakamega County who has been riding since 2010 says he has bought a posho mill among other achievements.
"I looked for jobs until I got tired and picked a bicycle. It feeds me and my children are going to school. I make Sh750 to about Sh1,000 which translates to good money per month. I am probably better off than those who are employed person in Industrial Area. I am proud of my job," says Mukongolo.
The Bungoma man has no plans to buy a motorcycle and says when he can longer peddle, he will just go home to rest and run his posho mill businesses. Nothing, he says, pleases him and his mates more than a matatu strike or increase in fares and traffic jams because that means more customers.
It is not an easy job though and one needs to eat well to survive.
"I only consume maize flour from posho mill. If eat these packet things, I feel hungry. I eat ugali for lunch and super while in the morning, I do tea or porridge with mandazi, sweet potatoes or nyoyo (githeri). This job requires energy and if you do not eat well, you can collapse," said Mukongolo.
Steven Muthiani, who hails from Ukambani where Ugali is not a staple food now, says he can't survive a day without it.

Hide your knickers
Hanging your underwear on a public clothesline makes them public property