Bado mapambano: COTU boss set to mark 19th Labour Day in office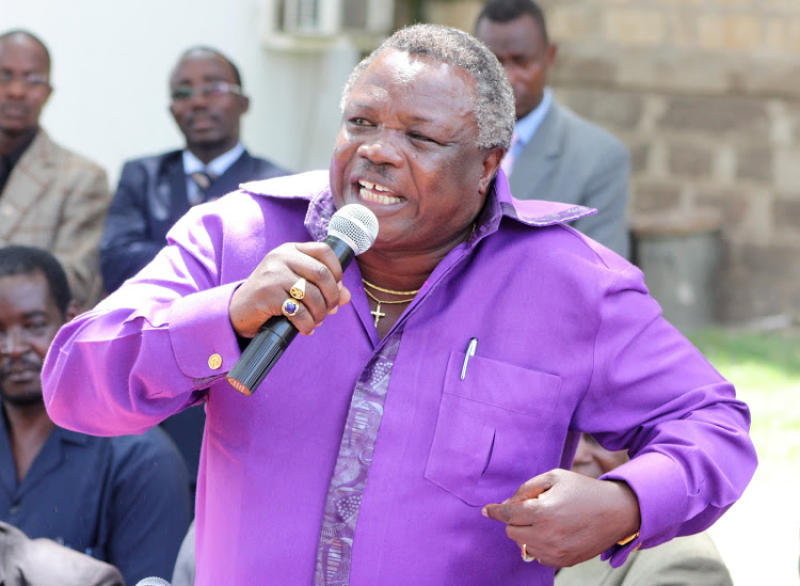 As Kenyans join the rest of the world in marking International Labour Day on Saturday, it will be the 19th time Francis Atwoli will be in the limelight having been at the helm of the Central Organisation of Trade Unions (Cotu) since August 2001.
And it appears Kenyans will have to wait much longer for a new face to preside over the occasion and, by extension, lead in championing of workers' rights in the country. This is after the 71-year-old Atwoli was given a fresh five-year mandate as Cotu Secretary General by its 250 delegates on April 9.
The flamboyant Cotu boss retained the seat unopposed during the elections held both virtually and physically at the Tom Mboya Labour College in Kisumu after his only opponent, Seth Panyako, the secretary general of Kenya National Union of Nurses, withdrew from the contest.
Atwoli's re-election, however, sparked heated chatter online and offline as many were left wondering why the leadership of the umbrella workers union cannot be taken over by a new crop of leaders. Some online commentators even branded him as "the Mugabe of Cotu."
Apparently, there is no place for term limits and succession in trade unions in Kenya whose politics are personality driven.
As long as leaders of affiliate unions are behind an office bearer, he will continue running the show often romping back into office unopposed.
However, when he was re-elected for a fourth term in May 2016, Atwoli had hinted that he contemplated leaving office but was prevailed upon by his colleagues to vie, giving the impression that it was to be his last term.
"As I was contemplating to quit, my colleagues insisted and persisted that I must have another five year term, all positions I hold both locally and internationally I have never contested these positions," he had said at the time.
Unlike Atwoli, his predecessor Joseph Mugalla only served for three terms before stepping down.
Despite the criticism that greeted his latest re-election, Atwoli made it known he will continue to abide by the wishes of members for as long as they want.
"As things appear, I may not have the last term in this position. I might be here for as long as those who have entrusted their job security in my hands want me," he tweeted on April 11.
In addition to his Cotu and international roles, Atwoli is also the General Secretary of the Kenya Plantation and Agricultural Workers Union (KPAWU), a position he has held since 1994.
Between 1971 and 1986, he was the branch secretary, Union of Posts and Telecommunication Employees. He joined the labour movement while at Kenya Posts and Telecommunication Corporation where he rose to become a senior technician.
University of Nairobi communications lecturer Herman Manyora is among those who came out to defend Atwoli's decision to run, noting that unlike most of his predecessors, he has dedicated his life to fighting for workers' rights and has not been keen to venture into politics.
Those who rode on the labour movement to launch political careers include Tom Mboya, Dennis Akumu, Clement Lubembe, Juma Boy and Mugalla.
Prof Manyara told Atwoli's critics to consider the example of Lech Walesa, who fought for workers' rights in Communist Poland and later joined politics in the 1980s. He became the country's first democratically elected President in 1990 with the fall of the Berlin Wall that marked the end of the Cold War.
Atwoli agreed with Manyara, adding that it was sad that many young people care little about history.
"Five of the six previous Secretary Generals of COTU (K) have been Members of Parliament. I have since opted not to join active politics but to influence policy and decision affecting workers by strengthening Cotu (K)," he tweeted.
While Atwoli previously attempted to become Kwishero MP, those close to him confided in The Nairobian that he is no longer interested in any elected or appointive position, which he sees as below his calibre.
"He is one of the most powerful leaders in Kenya today. Do you think he will want any position below the presidency, even if it is that of Cabinet Secretary? I think the only position that may interest him is serving in the Council of Advisors that was proposed by the Building Bridges Initiative (BBI) steering committee, which will offer counsel to the President on a non-salaried basis," one source said.
However, it is not just Atwoli who has served for many years at the helm of Cotu.
Save for first and second assistant secretary generals Ernest Nadome and Carolyn Rutto respectively, the other members of the Solidarity Building-based secretariat are veterans of the labour movement.
Chairman General Rajabu Mwondi, for instance, has been holding the position since 2003. The former assistant works manager at Nation Newspapers previously served as Cotu vice chairman general (1986-2003) and General Secretary of the Kenya Union of Printing, Publishing, Paper Manufacturers and Allied Workers Union (1983-1986).
His vice Rev Joel Chebii has also been in office since 1995. Previously, he was the National General Secretary of Tailors and Textiles Workers Union (1995-2000), National Chairman of Tailors and Textiles Workers Union (1986-1990) and Assistant National Treasurer for Tailors and Textiles: Workers Union (1986-1989).
Other Cotu veterans include Francis Murage (second vice chairman), Benson Okwaro (deputy secretary general), Rebecca Nyathogora (treasurer general), Washington Adongo (deputy treasurer), Francis Wangara (first trustee) and Joseph Onchonga (second trustee).
Amani leader Musalia Mudavadi also supported Atwoli's re-election, noting that "the challenges facing workers during these difficult times will require your full attention and experience."
Others were Kakamega Governor Wycliffe Oparanya and Nairobi lawyer Donald Kipkorir.
"You can only be elected as such if your people love and trust you. Atwoli is a good man with a Big Heart. Humbled to call him my friend," Kipkorir tweeted.
The record for the longest tenure served by a trade union official in Kenya, is, however, still held by the late Were Dibo Ogutu, the founding secretary general of the Kenya Chemical and Allied Workers' Union. He held the position from 1957 until his death on July 1 last year, aged 86.