Philip Ochieng' Otani: The non journalist who defined Kenyan journalism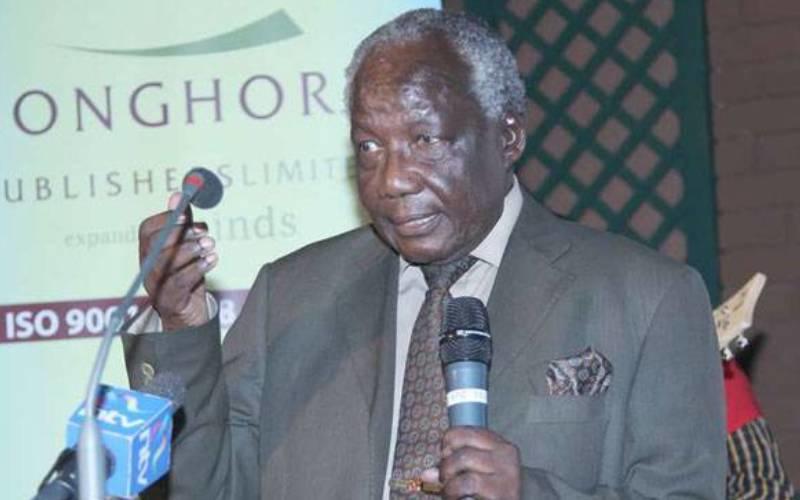 Writing the story of Philip Ochieng' Otani is like giving a journey into the media in Kenya. In a casual encounter in the streets of Nairobi, one would always see him with a book. He never walked without something to read, be it a magazine or book.
His death on 27th April has elicited lots of reactions from newspaper readers and general consumers of journalistic material in general. Ochieng's pen shaped the written word in many media experiences and several journalists owe it to his tutelage.
The country is now full of his orphans because his network spread across various media organizations.
Having joined the local media in the mid-sixties, Ochieng' had just arrived from the USA where he went in 1959 in the first Tom Mboya Airlift cohort.
Mboya was his friend and mentor, besides being his hommie. Ochieng' was among the few who qualify to join the group purely on merit.
As a top student at the Alliance High School in the fifties, Ochieng's grasp of the English language was once praised by none other than his former teacher in the famous school.
The missionary who was in charge of teaching poetry was on a nostalgic visit to Kenya, where he met his former students and said publicly that he had never met an African who understood Shakespeare's works more than Philip Ochieng'.
His regular column in one of local dailies once drew sharp reactions from some readers. Some felt his choice of grammar was too difficult for the ordinary reader. Many readers wondered why he could not tone down his choice of words.
He responded "I do not write for those who do not understand English. If you find my column too difficult to understand, then the message is not meant for you". That was vintage Philip Ochieng', he never played fools in matters to do with English grammar.
He kept his columns tight and to the point, advancing different ways of looking at any matter under discussion. Some of his popular columns were The Way I See It, Ochieng' On Sunday, and From My Desk.
Ochieng' was born in 1938 in Awendo, Southern Nyanza District, now known as Migori County. He passed his examinations well to gain admission to Alliance High School, where Carey Francis the eccentric headmaster was in charge.
Intelligent but a bit reluctant to go to school, he was at some point disinterested in schooling after being caned by a teacher. Carey Francis had to go all the way to look for him in the village and persuade him to go back to school.
His mastery of English saw him study Literature Latin, Philosophy and French at Roosevelt University in Chicago, Illinois. He however did not finish his course before moving to France to study Philosophy.
Ochieng' was a self-declared atheist and he never believed or practiced any religion, embracing the Marxist belief that religion indeed is the opium of the masses. After he came back from the USA, he joined a local daily as a trainee editor and rose through the ranks to become Associate Editor.
In between, he had stints in Dar es Salaam and Kampala working for the Uganda Argus and Daily News respectively. At the Tanzanian media house he shared a work station with former president Benjamin Mkapa.
Ochieng's moment of irony happened when he joined the Kenya Times, a Kanu mouthpiece. He regularly penned the unpopular Kanu Briefs, a pullout that attacked proponents of multiparty politics. In the court of public opinion, Ochieng' was accused of being a maverick turncoat and for sleeping with the enemy.
In other places, he was commonly seen as an intellectual journalist who was variously described as a grammarian, wordsmith, linguist and literary icon.
Immediately his death was announced, condolences started flowing. One Joab Osore wrote "I remember one time, Ochieng' criticised a newspaper headline which read 'Chaos Erupts'. Philip argued that when an editor writes ' Chaos Erupts' it means that the word chaos exists in both plural and singular such that the singular version of that headline would read Chao Erupt which is wrong. The correct headline should be Chaos Erupt".
Ochieng' was gifted in English grammar and he had this capability of picking out common errors committed by the so-called lazy editors.
The joke making rounds is that Ochieng' could easily see if a full stop was not round enough or a comma was shaped like an apostrophe. One day he wrote a long list of English words that are commonly used but are grammatically wrong.
These were: Return it back; repeat again; still remains; the other alternative; new recruits; past history; added bonus; plan ahead, revert back; first and foremost, new innovation; end result and round in circles.
Ochieng's name first gained prominence when together with the late Joseph Karimi, they co-authored The Kenyatta Succession, a political narrative that analysed the intrigues around Jomo's succession in 1976.
This was just two years before the old man died in 1978. He is among the few journalists who have in their career written books that critique their own work in and outside the newsroom.
His autobiography, The 5th Columnist: A legendary Journalist was written by a fellow journalist - Liz Gitonga - to give people the story of his life. The death of Philip Ochieng' shall be mourned by many journalists from different generations and avid newspaper readers who valued the beauty of the European language.
Unknown to many, Ochieng' was a self made man who surprisingly had no university degree but was full of passion and love for English grammar.
At 83 years old and with almost six decades in the newsroom, he had seen it all. Journalism is poorer without Ochieng'. Maybe some media-related institution will one day do something in memory and honour of this man who made our reading days complete.
Those who passed through his hands may confess that Ochieng' was the journalism teacher our universities never had. Had he been living in a country where systems work and education is taken seriously, he would have been a visiting lecturer in any Kenya school of journalism. Unfortunately, he was in Kenya where paper qualification is cherished more than real knowledge.
A unique and simple man in his own way, Ochieng' dropped smoking many years back and actually never learnt to drive a car his entire life. He was also a soft spoken man but very firm in his convictions. He preferred using his pen to communicate than engage in loud debates.
He has left behind several children, grandchildren and great-grandchildren. His wife of many years passed on few years ago. May the soul of Philip Ochieng' Otani rest in eternal peace.