Managing the mess: Major General Badi's hits and misses a year on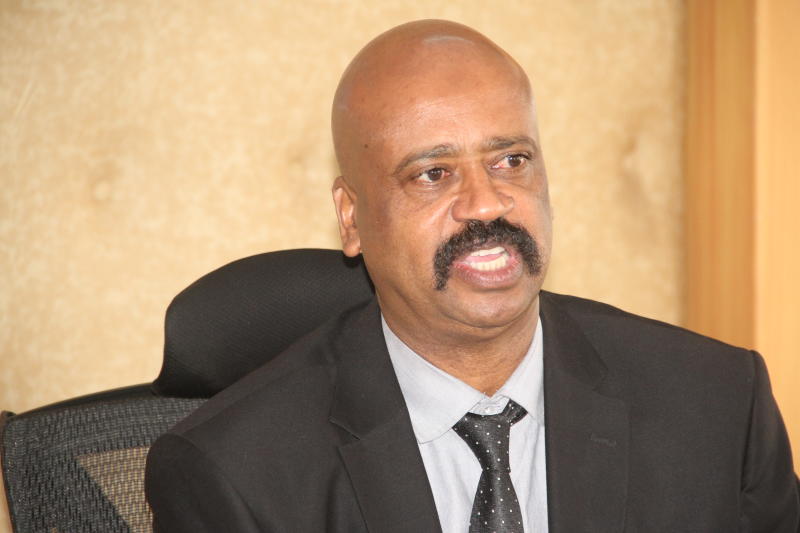 The mission to reclaim the capital city's lost glory has had its fair share of hits and misses with General Mohammed Badi, the man in charge of Nairobi Metropolitan Service (NMS), facing resistance from almost all quarters.
If not being arm twisted by the executive and assembly at City Hall, some of Badi's own staff are sabotaging him as evidenced with the unexpected purge at NMS where some senior officials were kicked out for abeting graft.
Cartels must be popping champagne bottles in celebration of the turn of events in their favour. Cartels literally run the capital.
They thrive and mint millions in a disorderly environment. In fact, these shadowy individuals are the single reason why the people do not at times receive deserving services.
And one year down the line, Badi is still struggling to dismantle them while registering triumphs and failures as well.
NMS has made strides in certain areas hitherto overlooked especially in informal settlements undergoing a transformation in matters health and sanitation.
It is a new dawn for dwellers in low class settlements. They can now access affordable medical care thanks to health facilities set up by NMS, which has also sunk additional boreholes to boost free water supply.
At the same time, a section of Central Business District (CBD) is looking nice. Space has been freed and paved for use by pedestrians.
Some roads around the city have been refurbished, some old residential estates are either being renovated or upgraded and works on satellite bus parks to decongest CBD are ongoing. This is a slice of Badi's success story.
On the flipside; the city is still choking with mounds of garbage, bulging with raw sewer and clogged drainage channels. Add this to the ever unending traffic gridlocks, hawking dilemma, matatu madness, boda boda indiscipline, homeless families and you have a cocktail of problems yet to be decisively addressed.
Parking boys, cart pullers and trolley pushers also pose mundane challenges. This category can be a nuisance too.
In order to effectively clean the mess caused by these interest groups, some key functions were transferred to NMS from City Hall, which ceded health, transport, planning, management and public works.
HEALTH AND SANITATION
When it comes to health, NMS has not disappointed. Unless faced with complicated conditions requiring specialised treatment, the sick from slums do not need to flock Kenyatta National Hospital (KNH).
Instead, they can access medication at Muthura, Ushirika, Soweto-Kayole, Gatina, Gichagi, Mukuru kwa Reuben, Mukuru kwa Njenga, Riruta-Satellite, Sinai, Lunga Lunga, Kibra, New Mathare-Kiamaiko, Tassia kwa Ndege, Mwiki, Zimmerman, Pumwani-Majengo, Gumba and Ngundu-Kamulu health facilities.
These facilities dotting informal settlements in the city have in turn eased pressure on KNH, Mama Lucy Kibaki Hospital, Mbagathi Hospital and Mutuini Hospital.
To improve levels of sanitation in informal settlements, free water provision has been prioritised. There are more than 190 boreholes supplying more than 40 million litres of water.
Optimistic residents from across some of the settlements, are in agreement these social projects will have a great impact on their lives.
"By bringing health and water closer to the people, NMS is killing two birds with one stone. In Mathare, for example, our people will spend less on healthcare and sanitation," says Samuel Mwaka, chairman, peace committee in Mathare sub-county.
For the longest time, residents in informal settlements have not enjoyed access to clean piped water. They rely on vendors who sell the commodity between Sh10 and Sh20 per 20 litre jerrican.
During acute shortages, water is sold at Sh50. Most households with family spent an average of Sh100 daily on water for cooking and cleaning.
Elias Kuhia, a village elder from Lunga Lunga slums, believes availability of water will result into more business opportunities.
While Lameck Osieko says sufficient water supply water will translate into a reduction of waterborne diseases common in Dandora, Maili Saba, Kayole, Soweto, Obama among other areas.
"Water scarcity has seen many residents incur unnecessary expenses for treatment of diseases resulting from contaminated water exorbitantly sold by vendors. We are therefore happy with the approach NMS has taken," says Osieko, chairman, peace committee, Njiru sub-county.
WALKWAYS AND ROADS
Walking in some parts of CBD is a leisurely exercise for some pedestrians thanks to paved walkways laid under the non-motorised transport project aimed at reducing congestion of vehicles.
Though some residents feel the project is a misplaced priority, others laud it, saying it is has given the city a much need makeover.
"The truth of the matter is that there are many people who drive into town because they don't feel comfortable and safe when walking along crowded streets," engineer Michael Ochieng Owino, director of Transport, Roads and Public Works at NMS told The Nairobian in a previous interview.
Further, many roads within and outside CBD have been re-carpeted. NMS in partnership with Kenya Urban Roads Authority is improving roads in commercial and residential areas – a move likely to improve response to emergencies especially in informal settlements where the road network is poor.
HOUSES AND MATATU TERMINI
The metropolis is in the process of constructing affordable modern houses. In January, NMS listed 10 estates where the proposed housing units will be developed.
The targeted estates include Bahati, Maringo, Jericho, Lumumba, Bondeni, Ziwani, Embakasi, California, Kariobangi North and Woodley.
"This is the second phase of the Affordable Housing Delivery Programme in Nairobi which aims at tackling urban decline, improving quality of the built environment, increasing housing stock, promoting optimal utilisation of land and improving the quality of social-economic life of the residents," said NMS in a notice published in local dailies.
Some residents in these estates are however opposed to the upgrade, claiming they have a sentimental attachment to the houses built during the colonial era.
"We propose that Jericho should be spared in full or part because it's a place rich in history and above all, for heritage preservation. The estate is well planned with beautiful trees, dispensaries, open fields and home to Camp Toyoyo. These are just a few of the aesthetic values that Jericho offers," said Harambee Ward MCA Anthony Kimemia in a protest letter to ministry of Sports, Culture and Heritage.
In a bid to reduce congestion within CBD, six termini where city bound matatus will drop and pick passengers, are under construction by NMS. They are Green Park, Fig Tree, Nyayo Stadium, Muthurwa, Desai and Park Road.
The relocation is, however, facing resistance from matatu operators who say termini spaces are too small to fully accommodate their fleets.
"They will end up creating a problem they are trying to run away from since smooth flow of traffic into town will be disrupted by matatus blocking or parking on roads. We saw such confusion with Muthurwa bus stage where drivers had to end trips in the middle of Jogoo Road. It became inaccessible before rules were relaxed," observed Dickson Mbugua, chairman, Matatu Welfare Association.
Against the backdrop of these strides, the city is a labyrinth messed by uncollected garbage, infinite traffic jams, leaking sewer, unruly matatu operators, uncontrollable hawkers, indiscipline boda riders, loitering street families, extorting parking boys, marauding cart pullers and trolley pushers.
GARBAGE AND SEWERAGE
Though NMS say it is collects an average of 2,500 tonnes of garbage every day (confirm), the reality is that mounds of waste litter many footpaths, lanes, streets, estates, markets and commercial areas.
In fact, one does not need to go beyond River Road to understand the untidiness. Some lanes have been turned into waste dumping and open defecating spots. Flowing raw sewer neither makes the situation any better.
Walking through those parts of the city, according to Wycliffe Sava, can sometimes be a disgusting experience especially for first time visitors at the sight of eyesore human waste.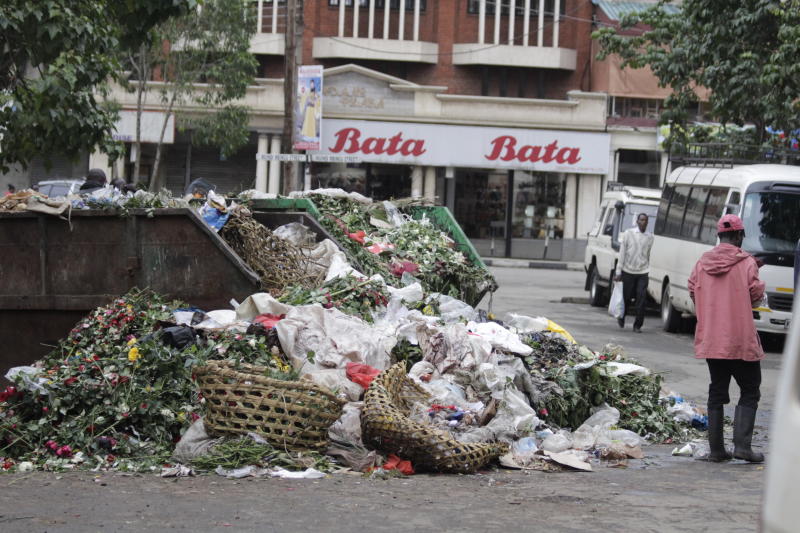 As much as a commendable job of improving streets and walkways is being done, the hotelier feels NMS should also focus on keeping the CBD cleaning.
"Otherwise we risk losing in terms of revenue generated from the hospitality industry. There are some tourists who are pissed by the level of dirt on our streets," says Wycliffe Sava, secretary general, Kenya Hotels and Allied Workers Union.
The area between Muthurwa Market and Machakos Bus Station, along Ladhies Road, is notorious for this appalling state of affairs. Raw sewer freely flows onto the road; an indication that city's sewerage system is overloaded.
Against an exploding population, sewer lines have not been upgraded more almost three decades. The last renovation was 1987 when the water supply production was 270,000 m3/day, according to City Hall.
Most of sewers flow above half bore instead of flowing below half bore overloading the lines. Further, storm water is directed into the same lines, worsening an already grave situation.
Nelson Githaiga, chairman, Muthurwa Traders Association, says the sewer problem is because of poor design of the market, which NMS is currently trying to upgrade through creating an access link road, water outlet channels and putting in place a waste management mechanism.
"The contractor never put into consideration several factors that have contributed to the sewerage problem. The contractor relied on existing facilities and failed to forecast the market will have high population of people leading to straining of water, toilets, sewer line and drainage channels," explains Githaiga.
HAWKERS AND STREET FAMILIES
General Badi's administration has not been enthusiastic about curing headache caused by hawkers and the homeless. Yet some street family members, hawkers and parking boys are a security threat – they abet and engage in crime.
It is anticipated the five new markets; Westlands, Karandini, New Wakulima, Qware Road, and Mwariro will reduce the number of hawkers in CBD. The markets are expected to accommodate more than 7,000 traders.
TRAFFIC GRIDLOCKS
Traffic jam is a great source of frustrations among city residents. Many wake up early or leave their place of work before official time just to try and beat the unending gridlocks. According to World Bank estimates, city residents on average spend an hour to travel to work and another 60 minutes commuting back home due to traffic congestion. The introduction of Bus Rapid Transport (BRT) is expected to ease traffic pressure.
The BRT concept by Nairobi Metropolitan Area Transport Authority (NAMATA) aims at decongest the city and reducing travel time. Eventually, it will be linked to the ambitious Nairobi Commuter Rail Network (NCRN) complete with newly built passenger in Kikuyu, Embakasi Village, Pipeline, Donholm, Dandora, Kahawa, Ruiru, Athi River, Githurai and Mwiki.
BODA RIDERS, CART PULLERS AND MATATU CREWS
A day out in the city is not complete without one having to encounter prowling cart pullers or reckless boda riders who have no time for traffic regulations. They move or ride against traffic flow while harassing and bullying other road users.
Finally, matatu crews have no qualms breaking the law. Unruly crews have literally taken over town. Today, every inch of space within CBD has been turned into picking and dropping stages, resulting into congestion with a spillover effect on auxiliary roads.