Kenyan plus-size designer has eyes on dressing former US First Lady Michelle Obama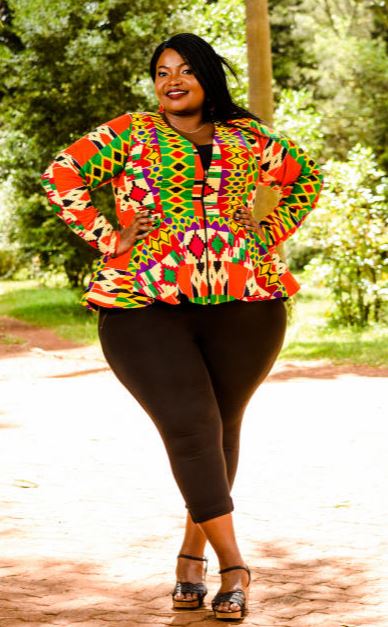 Mary-faith Vutale describes herself as the queen of plus-sized women. The 'big is beautiful' fashionista has carved a niche in creating fashion that caters to women with curves.
Like many women, Mary-faith believed she would be a career woman, having landed an NGO job soon after graduating. What she didn't know is that fate had other plans in store for her.
"I started my business in 2010 after I lost my 8-5 job due to the political instability in the country at that time. I had to quickly figure out a way to put food on the table, seeing as I no longer had the security of a salary. That is how I started my business," she says.
Eight years later, Mary-faith says it has been a long but rewarding journey. Her business M'kay West African Designs has grown in leaps and bounds to become one of the more recognized fashion houses in Kenya and beyond.
Mary-faith has also been privileged to dress up some of the country's most influential public figures including some cabinet secretaries and women representatives. However, to get here, she had to do a lot of research and legwork.
"Unlike many local tailors, I had to go an extra mile to provide the best quality in terms of fabric and designs," she says, adding that she imports her fabric from West Africa, noting that Kenya's textile industry is not dependable.
"I settled on West Africa for their authenticity, quality and varieties. With the current efforts by the government to revive the textile industries in Kenya, I'm looking forward to such a time when we will be able to source for our fabrics in Kenya and also stitch them locally," she says.
The responsibility that comes with dressing high-profile clients motivates her to perfect her couture skills.
"I always engage my clients in order to understand their styles, the occasion, the statement they want to make, preferences, and most importantly their expectations. Thereafter I come up with designs that would fit their expectations," says the designer who considers body types, colours and prints when designing.
"Some clients come to me with a set mindset of what they want, which at times may not be suitable for their body types. Therefore, I often advise them and provide alternative suggestions. More often than not, we agree on something suitable and they leave as happy clients."
She adds that most of her client portfolio has been built through networking and referrals, noting that her clients are her biggest advertisers. To keep them, she adjusts the prices of her outfits to cater for everyone, with a full get-up ranging between Sh2,500 to Sh40,000.
Despite her huge success in fashion business, Mary-faith admits that she has had her fair share of challenges.
"One of the biggest challenges is getting appointments with my clients as they are always busy. I also have to think for them ahead of time," she says.
Given the high caliber of clients, no two outfits can look the same. "This means that out of one fabric, I only make one outfit. For instance, I can only make one shirt out of a whole roll of fabric and I can't make the same for another person," she says.
As she scales up her business to go global, Mary-faith says her biggest dream yet is to dress the first and second couple, as well as Chief Justice David Maraga and former first lady of the United States, Michelle Obama.
Hide your knickers
Hanging your underwear on a public clothesline makes them public property