Eric Omondi vs Jacque Maribe: The story of love, hate and deep secrets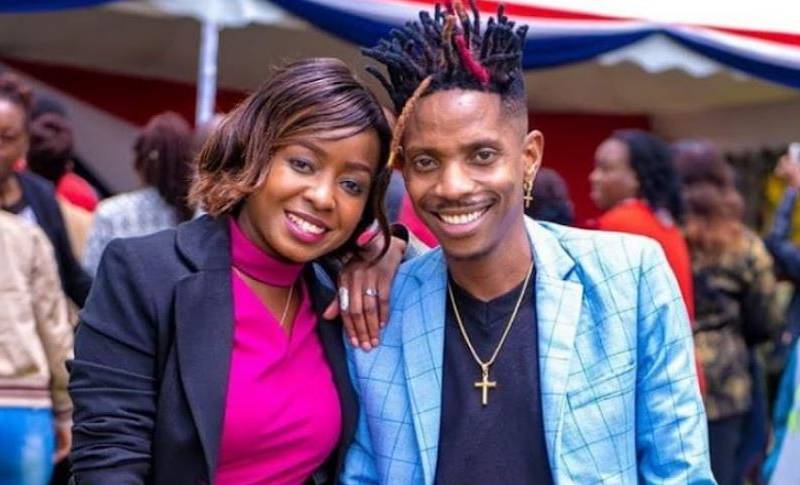 The latest bombshell from the Eric Omondi and Jacque Maribe story was the comedian's casting doubt on the paternity of their child. Eric and Maribe maintained a discreet relationship for almost a decade before they finally admitted they dated and sired a son together. This was in 2019 when Maribe shared a picture of herself, Eric and her son on Instagram, which she captioned saying that mum and dad were proud of him.
However, before that, Eric, had on many occasions, kept mum about being boy's father.
At one point during an interview, Radio Jambo's Massawe Jappani,asked, "Are you the child's father?" Massawe asked the comedian to which he replied, "That question is private, you understand?"
Eric narrated how he first Maribe while both working at Radio Africa and disclosed that they went on their first date at Java Sarit Centre but vowed to remain best of friends.
"Tulikutana na Jacque Maribe akiwa anafanya hapa. Mimi nilikuwa nafanya Radio Jambo, yeye alikuwa anafanya Kiss TV. Alikuwa reporter Kiss TV. Tukapatana tukakuwa marafiki sana. Tukaenda date pale Java Sarit Centre. Tukawa marafiki na mimi nikatoka hata yeye akatoka akaenda Citizen. We have been tight since. Sisi tunajiambia kila siku whatever happens, we'll remain best of friends. She's a true friend," said Eric.
The paternity of the child became a topic of discussion after a close friend disclosed to a local newspaper that the comedian fathered the child. The friend also disclosed that the comedian had been footing child support bills since the baby was born in May 2014.
When contacted by The Nairobian, Eric Omondi was reluctant to be drawn into the matter, but later relented and said: "I know the baby daddy, however, it is not a good time to reveal him since Jacque is undergoing a difficult time."
This was during Maribe's court trial in 2018, where she was in the dock alongside her once boyfriend Joseph 'Jowie' Irungu over the murder of Monica Kimani.
Opening up on their relationship during a detailed interview with True Love Magazine in 2020, Maribe said that they had been good friends for five years before they decided to date.
"Eric and I were very good friends for about five years before we made the decision to cross that line and start dating. By the time we realised that we were expecting, I was very excited. I really wanted a baby and had gone through all the motions of trying to get one. I was at a space where this was what I wanted and was genuinely actively working towards it. But I think for Eric and his career, he wasn't very sure about the path he should take. Not speaking ill of him, but at that time he had this 'ladies' man' image, there was no space for a child in that mix. People had a field day guessing, saying he was Dennis'(Itumbi) child, some said it was some politician's kid until one of Eric's friends let it out that we had been dating. So when he was put on the spot, he jumped ship," she told the magazine.
For that reason, Maribe says she put some distance between Eric and her son since she didn't want the boy to go through heartbreaks and disappointments.
"I put a barrier between him and my son. He could only talk to me, not the child. The child is mine, not ours…I was very afraid of letting him in that space because I did not want my child to go through heartache and being let down. Sad to say immediately I gave him the leeway, he was an immediate letdown. He would commit by word of mouth but never deliver," she said.
On Monday, November 1, 2021, Eric took to his Instagram and claimed that he had sired a baby with singer Miss P and was ready to take up the responsibility of raising the child, something that triggered a reaction from Maribe.
"Responsibility? @catewamaribe come I can't speak 7 years of responsibility," commented Maribe on Eric's post.
Maribe even posted a cryptic message on her Instagram timeline accusing Eric of not providing for their son, saying she was a single mother.
"I have absolute love for this here son of mine, fruit of my womb that I wanted. And I'm blessed to be custodian over him... Now, a lot of people have asked me to be quiet about what the real story on the ground is, I respect that. But I also ask that you respect me enough to be really real," said Maribe.
She added: "I wouldn't air any dirty laundry. A lot of my real friends love him, and us, he's such a charming person. My family adores him. So, all said and done, and you can read in between the lines if you want, I'm hopelessly in love with motherhood. And as a single mum doing everything on her own, my goal is to raise a brilliant person, as he already is. I love my son, I'll stand by him, any day, every day."
It was after the post that Eric called Maribe on phone during a live interview with YouTuber Eve Mungai to address the matter. However, the former TV anchor accused the comedian of being a deadbeat dad and maintained he was never involved in their son's life.
Following Maribe's accusations, Eric dropped a bombshell message via Instagram on Tuesday evening, casting doubts on the child's paternity, claiming Maribe refused his request for a DNA test after she reached out to him claiming that she was pregnant. Eric stated that throughout Jacque's pregnancy, they barely saw each other and later reconnected a few months after the baby was born.
"During the entire pregnancy nothing happened and we barely saw each other. Roughly 4 months after the baby was born Jacque called me and asked me if I would help or be part of the baby's life. I asked her for a DNA test so that I could comfortably be part of the baby's life and SUPPORT fully. She got very offended and refused my request," said Eric, adding that she begged Maribe for the DNA test for seven years, something Jacque continually declined.