Shakilla blasts Miss P, Eric Omondi over faked pregnancy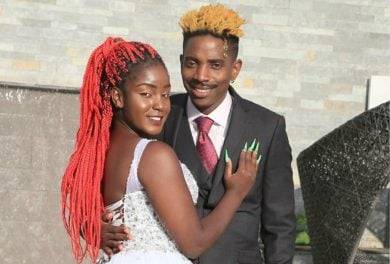 Popular Socialite Shakilla has blasted musician Miss P and comedian Eric Omondi for faking a pregnancy.
The self-proclaimed Queen of the streets called out Miss P for allowing herself to be used. Shakilla also expressed disgust at Miss P's poor editing skills. In her Instagram stories, Shakilla wrote:
"Next time better try ordering at least a fake belly bump or get a good editor. Responsibility my foot. Tell her to learn from the rest she'll be used and dumped after getting views."
The former 'Wife Material' show actor further revealed how she successfully faked pregnancy with Eric Omondi.
"First, I was faking I was pregnant with their princess. After doing so many retakes to have the perfect video then I see another badly edited picture of another naive girl saying she'll be taken care of..."
Shakilla's rants happened after Miss P shared a photo with a fake baby bump. Eric Omondi claimed that he would take full responsibility of the baby and this elicited many reactions from netizens, most of whom claimed that Miss P was chasing clout just before the release of her new hit.
The celebrated songwriter and recording artist was formerly signed to Willy Paul's label dubbed Saldido International. Miss P has recorded songs with Willy Paul, including 'Mashallah', 'Liar' and 'Fall in love'.
Shakilla is an Instagram model and Kenyan socialite. She is also popular for being the queen of controversies. She was formerly featured in Eric Omondi's Wife Material Show. After losing in the wife material contest, Shakilla took to social media with claims that she was pregnant with Eric Omondi's child. She said, " Yes, I am four months pregnant and I can't wait...he is aware and cannot wait to hold the baby in his arms."