'Very Nice Tumdo' hit singer: I met my loving husband at a disco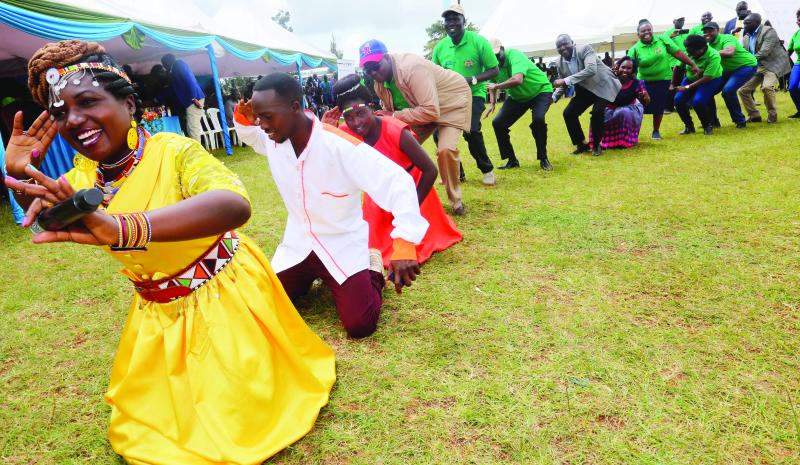 Fast rising Kalenjin singer Rose Cheboi says it took her 40 years to learn what the entertainment industry had in store for her. That was after releasing her hit song Very Nice Tumdo, a Kalenjin celebration song popular in weddings and other celebrations. Directly translated, it means "the event has been wonderful."
Cheboi's life took an interesting turn when she had requested her cousin to invite her as a guest singer during her (cousin's) engagement party.
"I told her to pay me Sh5,000, and she accepted. But I thought to myself, which song will make people enjoy the event more?" says Cheboi.
She wrote the song Very Nice Tumdo, went to Eldoret and was directed by a friend to a specific producer.
"We recorded the song and it was ready on the same day. We had no time to waste because the engagement was coming up in two days," recounts Cheboi.
She says she felt satisfied that the song was good, at least that's what the producer had told her. When she played the song to her close friends, they, too, loved it.
That single performance at the engagement party on December 1, 2018 changed Rose's life forever... for the better. Her song was an instant hit. Her cousin played it several times and later followed her hoping to buy the CD, but she had none yet.
"I tried playing an alternative song titled Kalya (peace) but people demanded that we play Very Nice Tumdo instead. The song got immense support and positive feedback while those who demanded to have the CD paid for the audio, which I sent them," says Cheboi.
Born in 1978 to Michael and Josphine Kandie in Surmoi village of Kaptarakwa, Elgeyo Marakwet County, Cheboi knew from a young age that she had a talent for singing. And so she would sing in church and school choirs.
Cheboi schooled at Ebkei Primary before joining St Augustine Emsea High School.
However, she had to drop out of school at Form Two after she got pregnant. She says she had to get married early in order to take care of her son.
She had met her now husband Moses Cheboi at a disco while she lived with her elder sister in Kapkenda as a Class Eight.
The mother of three says life changed for the worst when she agreed to drop out of school in 1995 and live with her in-laws.
"It was tough, and I had to persevere the hard life. I had to toil in the farm, but still lacked the basic needs like clothes and food. I had to walk miles to access water yet I was too young to depend on myself," she told The Standard.
She says just when she was giving up on her marriage, with a plot to leave her matrimonial home in 1998, her husband arrived from Nairobi.
He had completed his college education and was ready to settle with his family. Fortunately, the man got a job in Eldoret, and she says their life changed for the better.
"When he got the job, he provided for our family, while I focused on being a housewife. Love kept us strong," she says.
Years later, they could afford to buy a television and that became the turning point in her life.
Every time she watched her favourite programme that aired gospel songs, she had an urge to sing like Emmy Kosgei and Maggy Seurei.
"There was a fire burning in me every time I watched Emmy and Maggy sing great Kalenjin songs. I knew I would sing like them, and everyone around me motivated me, saying I had a good voice and a talent," she adds.
First album
In 2012, the singer raised money from her shop business and took her team of 42, including her husband and children, to record her first album titled Icheng'e Nee Eng Misri (What are you searching for in Egypt) in Eldoret.
"I received immense support from everyone. Although the album of eight songs did not become a hit, I was happy that my dream had come true, and slowly I made progress in following my passion," she adds.
The following year she was a guest singer at an event at Elgeyo Marakwet Senator Kipchumba Murkomen's rural home.
"The invite presented a good opportunity for me to showcase my craft. I put effort and time and I was paid Sh20,000. This was to me a lot of money. I was shocked that singing could actually pay," she narrates.
She says after performing during a fundraiser in 2013 for victims of landslides in Marakwet, she was given Sh10,000 as a token by former Prime Minister Raila Odinga.
"I used to share every coin we received equally with my team, even if it meant each one of us got Sh150. But on that day, I requested my colleagues to allow me to keep the money as savings for the recording of our next album. That did not please most of the members," explains Cheboi.
As a result, 30 members left her team, and later, seven more followed. She was left with four dancers. They have stood with her to date.
Determined to move on, she continued with her second album Obwa keng'alal (Come let's talk).
She gained popularity and would be invited to various events, where she would earn between Sh2,000 and Sh3,000.
"I was happy that I was making progress and did not even know that the cash was little. I was content and did not wish for more," said Cheboi.
Second album
After releasing her second album in 2015, she was reluctant to do more songs. For three years she stayed at home taking care of her children and attending only a few events. Her popularity was slowly waning and she was not earning more money.
The Atinye Chorwet (I have a friend) hitmaker even closed down her business after selling the remaining stock to pay her son's school fees.
"The song totally changed my life. I no longer hire cars to get to various events because I now own one. And my husband drives me whenever he is off duty," she says.
Cheboi has received support from her fellow musicians, including Young man hit maker Israel and Mwalimu Kendagor.
She now charges between Sh25,000 and Sh40,000 for events such as weddings and pre-wedding ceremonies.
"I have learned so much and more so that using various platforms like YouTube, Mdundo and Boom Play music helps a lot to sell your music to the audience all over the world."