Man Stevo, your dance is confusing, slow down, so we can understand you
BLOGS
By Barrack Muluka | May 18th 2022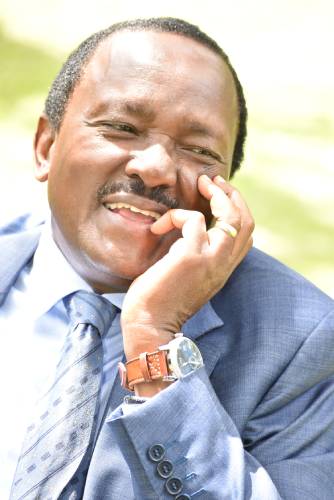 The buffalo man has been enjoying a good dance, the middle path fire dance. You recall that amazing fella, who was called Fella Anikulapo Ransome Kuti of Nigeria, who was singing the fire song called Afro. He was the cousin of another great man called Oluwole Soyinka, or simply Wole.
Now Anikulapo was not a jagajaga person, who fools around with people. When some big shot refused to pay his moni, or say money, he drove four exhausters into the big chief's Muthaiga of Lagos. He plastered the whole place with sewage from the exhauster. When the big man asked, "Na wat be dis oh?" Fella told him (pardon the language oh, but na dis be de truth oh), "You give me shit, I give you shit."
You remember how Fella, the son of a tough Nigerian woman who fought for independence said one day, "If you call woman African woman no go 'gree. She go say I be lady oh!" If you tell her to dance, "She go dance Lady dance. She go say him equal to man. She go take cigar before anybody," and "She go make you open door for am, she go make man wash plate for her for kitchen."
But the African woman "go dance the fire dance," the amazing fella said. She does not know how to dance Lady dance. The buffalo soldier, otherwise known as Man Stevo, aka Kalonzo wa Musyoka from Tseikuru, dances the political fire dance. Now some people are not happy that he dances this way and that way, katikati, like the wipers of a giant truck. They say that he is confusing them, because his dancing is difficult to understand. They want him to slow down and do Lady dance that they can understand.
Accordingly, Wa Musyoka has been alternating between fire dance and Lady dance, just to please everybody. You see, Mr Odinga, otherwise known as Baba Raila Amolo son of the Bull, has been trying to run with somebody to the House on the Hill. But he does not know whom to run with. He put together a team of seven heads to tell him who the best runner in the whole country is, so that he can run with him, or her, to the top of the Hill. Even before they could say the word, "Run!" Wa Musyoka the Buffalo man was going for them, saying they were doing rubbish.
"You don't need any team to tell you who the best runner is. I have run with Baba two times. And I can run with him again. Leave this matter to me and Muigai wa Kenyatta, we will settle it, because we know the best runner in the whole country. Without me, Baba will not go anywhere," said the man who ran with Baba twice, but was left at River Jordan, when Baba saw giant crocodiles and stormed off in the Opposite direction.
The Wiper buffalo soldier was left stranded at the Crocodile River, not knowing what to do. Meanwhile, Baba had found Muigai wa Kenyatta, otherwise know as the crocodile farmer. Baba made peace with Muigai and his crocodiles. Muigai agreed that in the future, he would get his crocodiles out of the way, so that Baba could cross safely to the Promised Land. It was also agreed that next time Baba wants to go to the Promised Land, Muigai would come along.
But to make it sweeter, Muigai wa Kenyatta wa Muigai wa Ngengi would also bring a team of tough mountaineers, to accompany them beyond the Jordan. One of them would be a tough female athlete, who would give any crocodiles near the Jordan a real run for their monies and crocodile tears. Now when Muigai wa Kenyatta wants to fulfil his promise to Baba, Man Stevo comes in from nowhere to cut across Muigai and Baba. Anataka kupitia katikati.
You see, the buffalo soldier is very good kwa kupitia katikati. That is why some people started calling him funny stuff. Just imagine some rude one calling him a vegetable name, ati sijui watermelon! Another one ati pumpkin. These are unfair names for someone who only saw good chances to pass katikati ya watu. He saw one before Raila Odinga, before Mr Odinga became Baba. There was Mr Odinga and Mzee Mwai Kibaki. Mzee Kibaki and the future Baba had competed in another race to the Big House on the Hill in December 2007. The referee announced that the Mzee had won. But the future Baba said, "Hapana, the race had been stolen."
Trouble broke out. The who place began burning. People were running this way and that way, like wipers. Some were getting killed in the commotion. There was real trouble in the republic. Some peace experts started telling the future Baba to have a handshake with Mzee Kibaki, but Baba started playing difficult to get. Before he could recoil and go for the handshake, he found that Wa Musyoka had already pita katikati and had shaken hands with Mzee Kibaki. Now Wa Musyoka was sitting pretty smiling, next to Mzee Kibaki. He was inviting Bwana Odinga to come and do a handshake with him and Kibaki!
The future Baba reluctantly agreed to the handshake, after another girl called Condoleezza Rice came to our big town in a giant airplane written on "Airforce 2". She threatened to do some very frightful things if Baba and Mzee Mwai did not shake hands. So, the two just shook hands, in front of a messenger called Dr Kofi. They also agreed to make new laws, otherwise known as Constitution review. But when they began, Wa Musyoka decided that he did not know whether the new laws were good or bad. So, again, he decided to pitia katikati ya hiyo constitution.
Wa Musyoka's motto is always, "Katikati all the Way." So he behaves like windscreen wipers. He wipes this way and that way. You can never say yuko hapa, au pale. He is just everywhere and nowhere, like real wipers. He just goes, "Swish-swash." Then he says, "I will not go for an interview, ati to run with Baba." But the next day he goes, anyway. He can also say, "Uh, if I support Baba, then I am the most stupid man in the world." But the next day he will say, "I am going to do the toughest campaign for Baba."
Wooweh! This is the true buffalo soldier! He is a man of many worlds. He is a buffalo man, fighting for survival, like Master Robert Nester Marley used to tell us. He was stolen from the Africa called Tseikuru and brought to the America called Nairobi. And he was fighting on arrival, fighting for big things. Like Nester, otherwise known as Bob, said, "When I analyse the stench, to me it makes a lot of sense."
Yeah, it makes a lot of sense. When you know your history, then you would know where you are coming from. Man Stevo's history is one long story of trading katikati ya watu na hali. He is, therefore, trading katikati ya akina Iron Lady, aka Martha Karua and her shadow, Sabina Chege. It is also passing through a man called Peter Kenneth and another one named Ali Hassan, mwana wa Joho.
When you know your history, you know where you are going. Man Stevo knows where he is going. Or maybe he does not know. He is just hapo katikati, enjoying the fire dance. Na nobody dare go make Man Stevo open door for am oh!
Dr Barrack Muluka is a strategic communications adviser.