I quit my posh PR job to start carwash, carpet cleaning business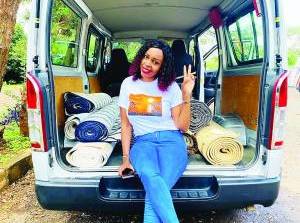 One Sunday afternoon, Wamuyu Maina and her husband took their child to have fun at the kids' park inside Shark's Palace on Kiambu road. That single visit has since birthed a business idea.
That day, they had a dirty car and couldn't find a carwash around. Wamuyu requested to speak to the director of the premises.
"I am looking for space to put up a carwash," she told the director.
The director said they were considering the request. Not long after, Wamuyu received a call that the ground was ready for a carwash.
And with that, Wamuyu founded Creative Carpet Spa, a carwash and carpet cleaning business. Why a spa?
"We take care and revive carpets, just like when one goes to the spa, you come out feeling new and revived. We treat, shampoo, condition the carpet and the fur comes back," she said.
Wamuyu's spa started as a carwash three years ago. "I have been running the carpet business for five months now; we washed the carpets manually, and, during cold seasons, we would struggle to dry the carpets," said Wamuyu.
During that time, Wamuyu would keep carpets for about three weeks. Something had to change.
"We needed to find a way to dry the carpets instantly. I did research and that's how I came to know about carpet drier," Wamuyu said.
One time, she got a client who gave her 14 big carpets to clean. They washed the carpets but the weather was so bad that the carpets would be rained on sometimes. It was so frustrating cleaning them over and over again.
"Once I realised I needed an instant drying machine to boost my business, I imported one from Turkey because it is not locally available," said Wamuyu.
Wamuyu said it wasn't easy starting the car was.
"We underestimated the cost. We asked friends who owned car washes before we started and they told us Sh300,000 would be enough. We ended up spending Sh480,000 to set up a car wash to the standards we wanted," she said.
Her regret is going for a cheaper floor which did not last two weeks. "We did the floor twice because of lack of knowledge. If I had known better, I would have gone for the terrazzo floor from start," she said.
She said she used savings from her previous job to start the carwash. "I worked as a PR specialist before quitting to focus on my business. My husband also pulled in some funds for the business. The scale of operation has gone up since I resigned," she said.
Wamuyu, who has always been passionate about owning a business, said that while working at her former job - a recruiting agency - she would also do side jobs.
"I have always been into business. At weekends, I would wash 18 cars a day. It has never been a struggle for me to do business. I still wash cars and carpets despite having six employees, especially on our busy days. I wash my car myself," she said.
Her employees enjoy off days, drop-offs after work and over time when they work till late: "Besides work, we talk about life. I am always in my gumboots because my employees and I are a team."
To attract more customers, Wamuyu offers free pick-and-drop services, she said.
"We are a 24-hour job, we wash, dry and return it within 24 hours. Alternatively, a client can wait for two hours and go back with their carpet," Wamuyu said, adding that the drying machine dries 97 per cent and the three per cent depends on air drying. The cleaning process takes only 15 minutes.
Wamuyu, who targets homes and offices, uses influencers to market her business. "I promote my page on Instagram and also give out fliers," she said.
She wants to start a carpet spa in every town. "I love clean spaces; clean spaces attract good vibes," she said.