Duo develops smart App that cuts your food budget by half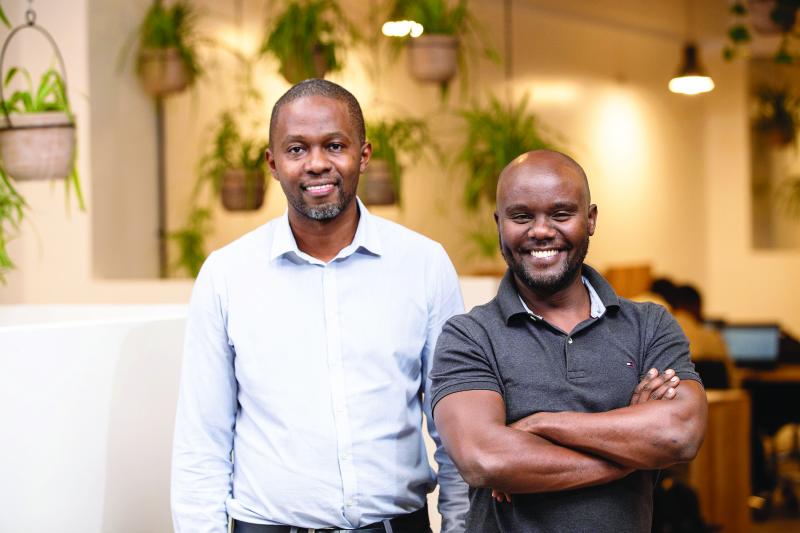 Before starting Cashback App Simon Githinji was working as a management consultant with Bain & Company in South Africa and KPMG in Kenya. He also spent a couple of years in financial services working for Barclays and CBA in Kenya and IFC in Washington DC.
He resigned and partnered with a friend to develop an app. The alumni of the prestigious INSEAD Business School in France and a BSC in Computer Science from the University of Nairobi shares how they came up with the app that is helping ordinary Kenyans cut food costs.
Tell us a bit about your Cashback App and how you developed the idea.
The App was born out of a personal experience and the realisation that the cost of living in Kenya is just too high, especially the cost of food and household shopping which continues to grow by the day. An alarmingly high proportion of 30 to 50 percent of most middle to low-income household budgets in Kenya goes to food and groceries. We found that there are two main solutions to this problem; either you look for more money to cover the extra expense, or look for ways to cut your costs. My partner Allan Thiga and I decided to do the latter and help ordinary Kenyans reduce their food and household shopping costs.
How does the Cashback App work?
CashBackApp is an app that helps consumers save money on their supermarket shopping by refunding their cash for buying products promoted by manufacturers on the platform. We aim to save the shopper between 10 to 15 percent of their shopping expenditure. While we help shoppers save on their shopping, we also help manufacturers grow their sales through targeted promotions and also help them understand their consumers and market better through data and insights.
Describe the process of getting your cash back as a customer.
When the users buy products from a participating supermarket, they scan the receipt confirming they have purchased products using the App's redeem button. The App then uses the receipt picture and machine to automatically process the cashback within five seconds and then the consumer gets their refund, which they can access via mobile money.
What are the advantages of using this App?
The shopper benefits the most since they access a rich basket of offers from multiple manufacturers running in their favorite supermarkets and get the savings as actual cash in one central App. Our target market is middle to lower income people. These groups of consumers really have tight budgets, and this is the main driver. If we save them Sh200 per shopping trip of Sh1,500 that is a significant amount, and it adds up.

Which areas is the App most active?
The App is very active in neighbourhoods around Kayole, Kitengela, Kahawa West, Rongai and increasingly towns outside Nairobi like Kitale, Kisumu, Eldoret, Nyahururu, Ol Kalau and Naivasha.
What progress have you made so far?
We now have 50K+ people who have downloaded the App and we are able to save on average Sh200 per shopping trip of Sh1,000 to Sh1,500 per week. We have partnered with major manufacturers and brands who use the App to deploy offers fast and enjoy uplift in sales, access consumers insights and we also save them logistics and communication costs ordinarily associated with offers. We have also partnered with supermarkets which use the App to provide more value for their customers at zero cost to them.
How much was your starup capital and where did you source it from?
We raised our pre-seed funding of Sh52 million from three international venture capital firms. This round also had participation from several angel investors based in the US, UK, Nigeria and Kenya.
How do you make profits from the business?
We make money by charging a small commission from manufacturers for promoting their products on the App and only when a shopper buys and successfully redeems a receipt that had a product on offer on the App. There is no charge to the shopper and also no charge to the retailers. We charge the manufacturer 7.5 percent of the cashback redeemed by the shopper. The business makes money but we are starting and we are not yet profitable. We have not broken even because on average it takes a business three or so years to break even. This year we have given back more than Sh2 million in Cashback to customers in five retailers.
What were you doing before you ventured into business?
I come from a humble background; I was born, raised and did my primary and secondary schooling in Kiambu town. My mum and dad were primary school teachers so from early on I learned the importance of structure and living within a teacher's salary. Though my undergraduate is Computer Science, my first job was actually not in tech. I started my career at in an audit department, but technology has always been my passion and through a series of career transitions I have come back to the core with this venture.
Do you have an IT background?
I am a BSc computer science graduate from the University of Nairobi. I switched to computer science mainly because I was interested in technology, it was more marketable, and you still get to build large high impact systems and innovations like CashBackApp.
What were the challenges of developing this App?
This business has the classic chicken and egg problem. You need downloads to attract manufacturers and retailers to promote on the platform and you need good offers to be present on the platform to attract people to download. One of the biggest challenges in this business building the network of shoppers, manufacturers and retailers.