Form Four leaver turned businessman invents digital dust-bin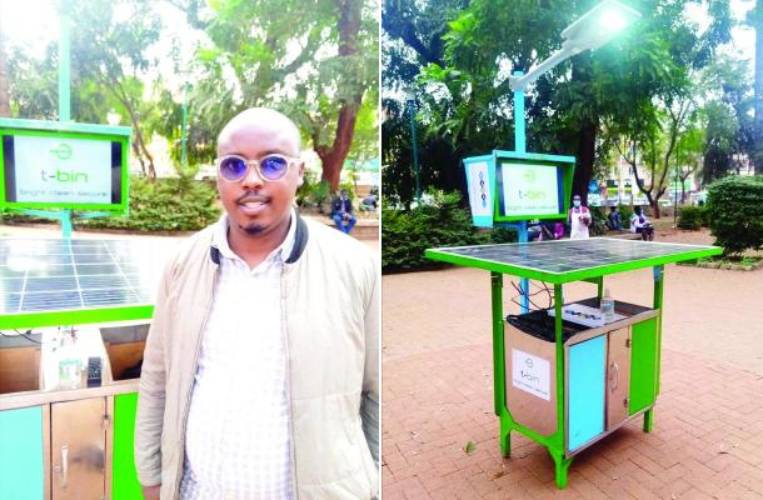 Waste management is a major challenge that most urban authorities are yet to wiggle their way out of. For instance, in Nairobi city, residents produce 2,475 tons of waste, which the county government acknowledges it can't manage.
However, a young innovator has invented a smart intelligent solar powered waste bin that promises to make this burden a thing of the past. Eddie Gitonga says is a witness of how city dwellers are irresponsible in handling waste, adding it prompted him to start looking for ways to conserve the environment.
Though he never went beyond Form Four, Gitonga, a trained entrepreneur, could not understand why people still rely on dumpsites to dispose of their waste, prompting him to come with a technological innovation to address the challenge.
The solution was a T-Bin, which is solar powered segregated waste bin that is integrated with sensors that exploit Internet of Things (IoT) and Artificial Intelligence (AI). It also has twin digital screens that educate people on the need for waste separation at the household level to reduce waste that ends up in dumpsites.
In addition, the device comes with street lightning and a CCTV camera to promote a 24-hour economy and security and has key pads that enable the user to key in any digits as well as a power switch. Overall, it is very simple to use and as that is not enough, it has an inbuilt Wi-Fi that provides free internet access to users especially in this digital age where we have online work and online schools.
The device is designed in a rectangular shape and the bins are not the same size as the solars. It weighs 300 kilogrammes.
"When I came to the city after high school I found that the city was very dirty and people being so irresponsible in handling their own waste. That is when I started looking for ways to address the situation using innovative ideas", he told City Biz.
Gitonga targets mainly County governments, schools, public parks, schools, public parks, green spaces, airports, and bus and railway stations. His first beneficiaries are shopping malls, hospitals and all the places that have public interactions.
"This innovation was selected among 15 others at the great Covid-19 Hackathon which was a competition organised by the ministry of ICT and Youth courtesy of Konza Technopolis and countrywide hubs. Among the sponsors of the event was United Nations Development Programme that gave me the seed capital to build the first product", says the 30-year-old.
He explains that his device takes one week to make and it's efficient. It also not costly considering the profit it brings with the different technological attributes incorporated inside it. The machine costs between Sh50,000 and Sh150,000 according to customisation of the different attributes as well as users.
"It took me eight years before I got my seed capital and actually I have been innovating since childhood but not at any one time did I think that innovation would actually be all that I do. When I found out that I can create solutions for our societal problems I decided to stick to innovation and be a full time innovator," says Gitonga, who is currently based at Christina Gardens in Thika town.
Other gadgets that the Young African Leader East Africa Fellow has developed include a florescent bulb made of discarded biro pens. He says that the greatest challenge was getting intellectual property rights and building his first prototype.
Gitonga, 30, adds that he has tried countless times to ignore critics who try to discourage him.
"I have encountered challenges in building my first prototype as funding is really essential for any news disruptive start up to thrive.," he says.