DJ beats disability, makes cash spinning decks with her feet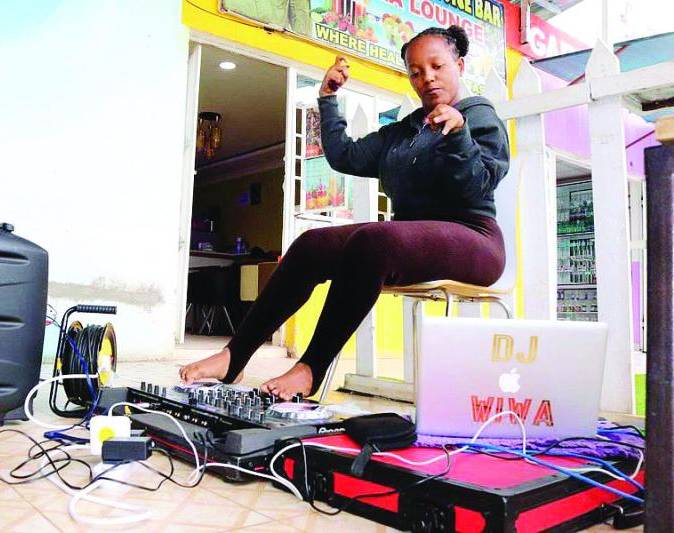 Winfred Wanjiku, popularly known as DJ Wiwa, is not your regular DJ. Wanjiku was born with cerebral palsy, a disorder caused by damage to the brain.
As a result, several parts of her body were adversely affected, including her hands. This means that Wanjiku cannot do the simple tasks that anyone else can do with their hands, like washing laundry, cooking or even driving.
But what she cannot do with her hands, her legs have developed in strength and stature to do both jobs, and are doing it excellently.
From the time she was a child, Wanjiku was always drawn to music. She recalls singing along to her favourite tunes and breaking into dance as soon as music started playing.
Having noticed her love for music, her mother introduced her to more of it, and that is how a simple love for song led into a successful career that Wanjiku does to date; her artiste name: Deejay Wiwa.
"I didn't always dream of becoming a deejay (DJ), I always wanted to be a fashion model like my sister," says Wanjiku.
But according to the popular DJ who is based in Kirinyaga County, it was her mother who steered her along the path of music. With the support of her mother, Wanjiku joined Talanta Institute in Nairobi, in 2018. There, she learnt vital skills to perfect her passion for music.
Wanjiku admits that her school life was not easy, noting that when it came to classwork, she had problems writing and keeping up with her teachers' pace.
The condition also affected her general quality of life since she had to depend on her siblings for support. But when she joined the DJ class at Talanta Academy fully financed by her mother, there she found home.
Since graduating from the institution, Wanjiku has built herself a business brand in the music industry where she is thriving and taking home a good pay. And as if to build on her prowess as a female DJ, Wanjiku has a unique advantage of being 'the DJ who spins with her feet'.
Since she cannot handle music equipment with her hands, she uses her feet to do virtually everything on the decks: turn on the deck, play music, switch tracks on the beat, add sound effects, hype the crowd and manipulate the controls among many other nitty-gritties.
She says her biggest challenge so far has been proving to people that she can do her job as well as any other DJ. For those clients who judge her based on appearances alone, she often loses the business. But for those who judge her after listening and getting client referrals, Wanjiku says they are wowed every single time.
"Most people see me as an inspiration, and others come to me for motivation. I admit that sometimes I get clients who hook me up with events and gigs out of sympathy and admiration," she says.
Even so, Wanjiku admits that landing gigs is still a challenge, especially because of the stigma surrounding people with disabilities. And being a female DJ, there is the problematic nuance of people asking for sexual favours from her.
Despite the challenges, Wanjiku says she keeps her focus on the positive clients who support her. And as the entertainment industry got hit by the Covid-19 aftershocks, she, too, re-invented herself so as to stay relevant in the market.
"Just like many other DJs, I took my trade online by creating a channel where I showcase my talent," she says.
Wanjiku told CityBiz that for one gig, she charges a minimum of Sh10,000, and her charges can go to as high as Sh40,000 per gig depending on the location, the number of people and the type of gig among other parameters. There are also tips from satisfied clients, and Wanjiku reveals that she once received a Sh50,000 tip from a very happy client.
"I always advise people with disabilities to never let anybody or anything hold them down. This world needs resilience, hard work and commitment for you to achieve your dream," she says.
She says her future dream is to grow her brand name and specialize her skills so as to broaden her clientele base.
Meanwhile, she is keeping love at bay (despite the many proposals from prospective suitors) as she puts her focus on being independent.
"This way, even your partner will respect you since you don't have to depend on him for everything," she states.