Buy, sell or swap your dream moti online, in just 45 minutes!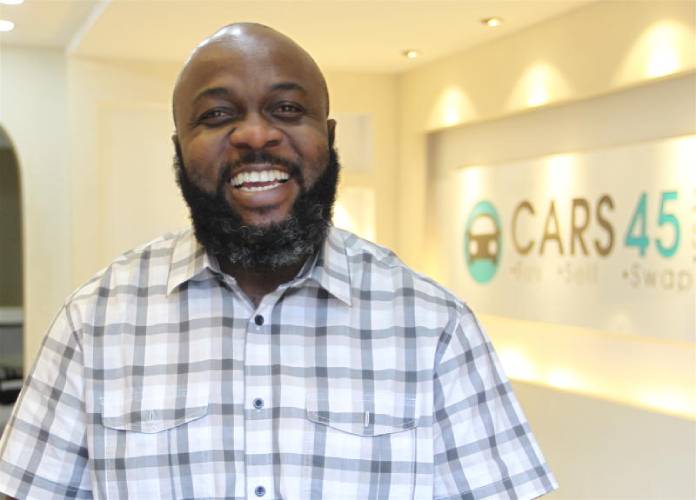 Do you know that overwhelming feeling you get when window-shopping for a product, but there are so many products in so many different variants that your mind gets stuck on what product to buy and from which seller?
Well, this feeling is all too common with car buyers as well, especially those in the market for a first-time purchase.
And this is where Andrew Agbro comes in. Andrew is the proprietor of Car45-Kenya, a vehicle e-commerce company headquartered in Nigeria, which enables customers to buy, sell or swap their vehicles online - simply with the click of a button.
According to the motorpreneur, clients are saved the hassle of walking from the car yard to the next looking for the ideal car. Not only does it save time, it also saves a lot of unnecessary energy used in looking for a car. Not to mention the fact that, as Andrew told CityBiz, the world of business is plagued with mistrust.
"Despite the growing consumer demand for used cars, there has been a lack of a centralised, trustworthy marketplace for buyers and sellers. They navigate in the business with opaque pricing without quality assurance structures and security," he says.
Established in 2016, Car45-Kenya sought to solve these problems by providing an easy and convenient way for consumers to connect in a seamless and secure way, as a marker of professionalism and per excellence.
After successfully establishing in Nigeria, Andrew decided to expand the business into Ghana and Kenya in 2019, while eyeing the continental market.
"Our vision was to reinvent how the used automotive sales sector operated in global emerging markets, by engaging with the best local talent and companies to help create the right infrastructure in which we could build marketplace platforms," he told CityBiz.
With the advent of technology in business, he says that matching of the infrastructure with an online system and strategy allows startups to flourish without wasting time with bureaucracy and insufficiency.
"Using its technology-enabled platform, consumers in both Nigeria, Ghana and Kenya can now sell their cars directly through cars45 and get paid in 45 minutes," he says.
Based along Muthangari Road opposite Valley Arcade in Nairobi, the company has adopted an extremely detailed study of the market and recognised the potential which could only be achieved through rapid expansion and excellent service delivery through Upgrade, trade in or swap in under an hour.
The customer journey in buying the vehicle starts when a vehicle is available for sale, which takes 30 minutes to run the inspection, while management engages the owner in pricing and documentation.
Once the vehicle is given inspection report; which details the current status of the vehicle, the company discusses it with the customer before giving an offer to the sell which takes 15 minutes.
"All cars listed in the Cars45 marketplace have been through a thorough vetting process, due diligence and background check and will carry the inspection report," Andrew says.
He adds that the report will provide vehicle financing, background, checks, vehicle history, insurance, after- sales support, servicing and other ancillary services that consumers will need in their automotive life cycle.
In addition, with the help of the inspection report, a pricing algorithm is carried out and standardized prices associated with used cars is arrived at.
Meanwhile, during engagement with the customer, the management interrogates reasons to why the client is selling the vehicle, value, discuss the inspection report and tables an offer, which the client is free to accept or reject.
The seller is also free to bring the vehicle to the yard for an offer or share it on the company's online platform. When buying online, the buyer has to show interest by booking online, after which one of the lead managers invites them for discussions (marketplace) before booking an appointment with the owner.
"The beauty of it all is, we have the best price on the market. Nowhere in Kenya will you find out the status of your vehicle for free. Kenyans have to know that locally used vehicles are good," Andrew says.
Just like any great product solving a genuine problem, Andrew says that he has seen massive consumer adoption of the model and this justifies the company's rapid expansion in just 12 months.
"We've so far conducted over 10,000 inspections and auctions through our platform over the period we have been in the country," says Andrew.
He however notes that Nigeria – and Cars45 – has been one of its biggest success stories due to its high population, but adds that the future of the tech space in the country, in his view, is very exciting since more people are quickly embracing the technology and has high quality locally used vehicles.
"Young people are constantly adopting new technologies and are more than capable of taking their know-how to new levels. For us, it's just about being able to identify the next potential success stories, and strike up partnerships in those talent hotspots," he notes.
Besides locally used vehicles, the company has also partnered with Japan and DT Dobie Kenya where brand new vehicles are ordered.
"Is a one-stop-shop where you can get any locally used, foreign used and brand new vehicles".