Three sisters turn their love for second hand clothes into a thriving business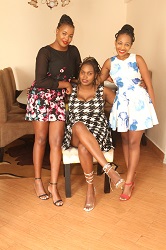 A dream that started as a hobby for dressing smart and looking elegant led to the birth of three lucrative businesses for three ambitious sisters.
The fashion outlets - 500bobcloset, glam500kenya and mali_affordable254 cloth lines are run by sisters, Christine Ayienda, Ruth Ayienda and Ivy Ayienda, all fashionistas in their own right.
The sisters say they first started the business by selling their own clothes from home using online platforms. As demand for their fashion items increased online, they quickly became overwhelmed and decided to find a physical location to meet the needs of their customers.
Together they raised a capital of Sh10,000 from their personal savings, which they used to source for more clothes from the popular Gikomba market.
With their client base growing bigger each day, they acquired a shop at the sunbeam shopping complex along Mfangano Street in Nairobi, where clients have a wide range of fancy items to choose from.
"What you see online is what you get," Christine told CityBiz, "Most online shops don't give their clients what they display on their pages, but for us, what we post on online pages is what you'll find in our shops."
professional career
The three sisters are all graduates, with Christine holding a graduate degree in broadcast journalism from Moi University, Ruth a Bachelor of commerce degree from Strathmore University and Ivy a Bachelor of Commerce degree from Multimedia University of Kenya.
Ruth said that after graduating, they each went on a fruitless search for employment. Eventually, they put their heads together and decided to go the entrepreneurial way. Their university education came in handy to provide skills and knowledge on handling money and balancing books.
Profit
Ruth says that from the three online shops, which started with a capital only Sh10,000, they now reap up to Sh100,000 in a good month. They have three employees who run the stalls while the ladies shop for more stock.
Ruth says they took advantage of the fact that not many female clients can make it through the hustle and bustle of Gikomba madness, so they do it for them, at a premium.
"Many ladies want to dress smartly and at an affordable cost, so we took advantage of that and decided to fill in the gap for them," said Ruth.
In keeping in line with the fashion trends, the ladies do a lot of online research on the latest trends, which has made them trendsetters in their business.
"After gaining ground in our fashion business, we decided to go a notch higher to do research on what's trending for our clients, then we stock it for them in our online and physical shops," says Ivy.
The ladies also have their share of challenges, especially with the current Covid-19 pandemic taking a toll on businesses. Ivy notes that the spending power has drastically gone down due to the harsh economic times, meaning that people are not spending like they used to before.
She says the stock they are currently purchasing is from China, which is not as stylish as what they used to get from Canada, the United Kingdom, Australia and USA, that is before Covid hit.
Despite this, the three are determined to make the best of a bad situation. Ivey says they consult each other extensively before making purchases to ensure that they get the best buys.
"I would like to advice my fellow ladies that mitumba pays, any hustle pays. It doesn't matter what you have studied, any job can earn you a living. Start with what you have and where you are, you don't have to depend on anyone, or slay to make ends meet," says Christine.
In future they plan to expand their business to other regions of the city and eventually expand to other towns.
Hide your knickers
Hanging your underwear on a public clothesline makes them public property