Meet Jahazi, the trained engineer who heads mkokoteni association in Nairobi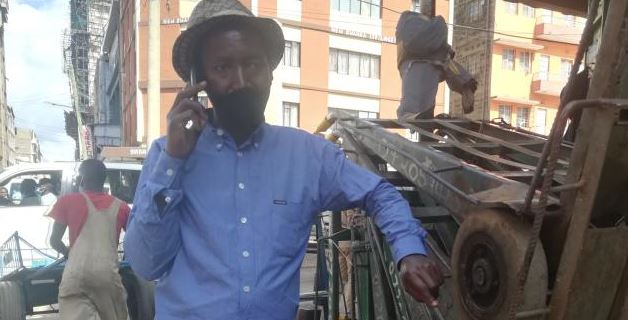 If you stop along Kenneth Matiba Road (formerly Accra Road) in Nairobi and ask for Peter Njoroge, no one will assist you. That is because the man who operates tiny office along the busy street is better known by his alias 'Jahazi'.
Like the popular catchphrase used by Safaricom to allow their customers borrow airtime or bundles, 'Jahazi' is popular among hawkers, boda bodas, cart pushers and many others for coming to their rescue thanks to his connection with cops and city county askaris.
An engineer by profession, Njoroge is coordinator of the Trolley and Handcart Pushers Association, a position he has held for more than five years after he was retrenched by the coming he was working with.
"I was working as plant engineer in a plastic company within Industrial Area but it scaled down operations in 2015 when the government implemented the ban on use of plastic bags," he says.
"I was among those who were laid off. Since I had risen to a senior level, I had known some people who had distribution shops in Kamukunji and other traders in the city centre. I knew that selling in bulk requires stuff to be delivered elsewhere."
With the knowledge, Njoroge bought five trolleys and approached a popular trader in Duruma Road and convinced him to lease the trolleys for regular deliveries.
"I had also known people who had invested in trolley and mkokoteni business and when I came in, some were facing rough time in the hands of Nairobi city county askaris. They tasked me with managing their trolleys and collecting money from those who lease them out for a day. I would get a commission from the owners," Njoroge said.
That year, he and six others were arrested after woman lost her luggage within the city centre.
"That time, there were 15 of us operating in one area and when police arrested us, I offered to trace all the men for and identification parade," he told The Nairobian.
"When the matter was sorted out, I summoned all the trolley and cart pushers and registered their details like identity numbers for easy tracing whenever such cases came up. We also divided our operation zones like matatus," added Njoroge.
Since then, the zones have grown from 93 to more than 130 with each having between six to 15 registered members under one leader to weed out those out to steal luggage from customers. He says unlike other associations, members do not contribute anything on daily basis.
City zones
With time, some spots have been zoned according to regions members hail from. For example, the one in Nyamakima has members purely from Western Kenya, one spot at Afya Centre is managed by six brothers from Kigumo, Murang'a while others prefer elderly people only.
Today, Jahazi also is tasked with managing trolleys and handcarts for other investors who don't manage to follow up with those who lease trolleys. He leases them for between Sh50-70 and earns a commission from the collection.
Njoroge says hundreds of trolley pushers are graduates but many view them as academic failures.
Presently, Nairobi has 2,608 trolleys and 371 handcarts. According to city bylaws, handcarts are not allowed past Moi Avenue and only operate until 11am in other areas but they are mostly observed in the breach.
The father of four, two of them university graduates while the other two sat for KCSE exams this year, is also a board member in five secondary schools, of which two are in Nairobi.
A Mechanical Engineering graduate of Kabete Technical College and the former Kenya Polytechnic, he boasts of a 15 years experience in the packaging industry.
With this skills, he assists self help groups write constitutions, in addition to writing business proposals from individuals.