No laughing matter: This funnyman makes a cool Sh20,000 per week selling sugarcane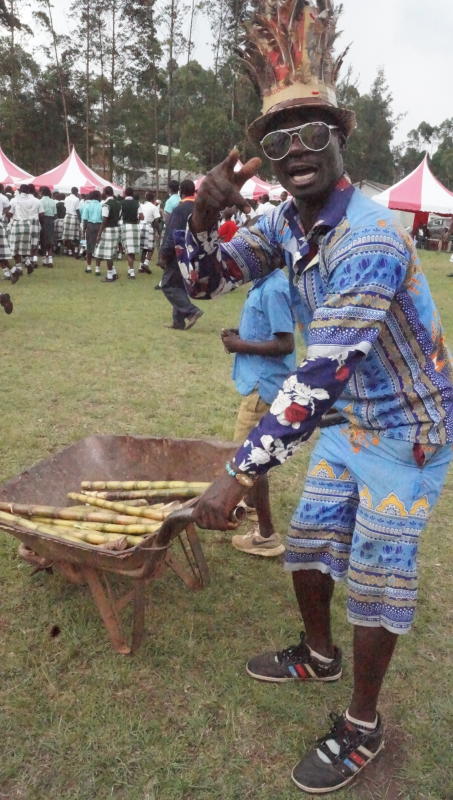 You cannot fail to notice Jefferson Machuma. It's not his shrill whistle or loud ululation that attracts you to the businessman, neither is it his creative, flamboyant fashion. Machuma a.k.a Ganabi Ganasi Ganabo is a real performer, a comedian fit for the acting stage.
Donning matching Ankara shirt and shorts; a round feather hat made from khaki paper, Machuma drives his wheelbarrow of sugarcane through an excited crowd in Rigoma Market, Nyamira County.
The 35-year-old is by all means a good marketer and within no time, all ears and eyes are glued to him. Using the popular buy one get one free trick, he dishes out three pieces of sugarcane to three gentlemen standing by and cracks a joke:
"I know you love sugarcane just like me. That is free sample that you can chew and I can prophesy here and now that its sweetness will make you deep your right hand into your right pocket and let out just Sh20 to help me stay afloat in this business!" he says as the cornered buyer willingly hands him a Sh20 coin.
The other two men follow suit. The happy businessman jumps in excitement and launches another round of celebration, this time dancing to a different tune.
In less than 30 minutes of ecstatic song and dance to entertain clients, Machuma has sold all his sugarcane.
"This is a cool Sh1,000 I have made in less than an hour! How many people like me make such amounts of money in less than an hour?" he asks.
Every day, Machuma sells fresh produce harvested from his own shamba. In a week, he can make up to Sh20,000. These are proceeds from bananas, sugarcane, onions and kales. He targets public places such as markets, public rallies and meetings.
When his farm is unproductive, he sources stock from neighbours or from main markets like Daraja Mbili and Keroka.
"I have three acres of land with onions, sugarcane, cabbages and kales. I sell them all by myself and I don't regret living in the village," he says.
However, the shrewd farmer and businessman does not kill his entire day selling merchandise. He also dedicates about three to five hours a day tending to his crops and poultry before going to the market.
Through the business, Machuma has built a permanent house for his family. His three children, "are in good schools and they are always fed well and their needs comfortably taken care of."
Machuma, a natural comedian says his ability to make people laugh has boosted his agribusiness even though he has never considered a career in comedy. The farmer says a local vernacular radio station offered him a job which he turned down due to low pay.
"They approached and lured me to be their comedian cum presenter. But am I worth the few shillings they were giving me? I said to myself it will be better to die poor or begging than go for a job I am paid peanuts; money which I can make in a week through my agribusiness," he says.
His ambition now is to acquire a pick-up vehicle for quick movement and to cover long- distances where he can do more business.
After successful sales, Machuma encourages young people to embrace agriculture or small businesses which can give them good returns.
"I am the first person in my village to build a permanent house from this business which some young people despise. My elder brother who is employed does not match my monthly income!" he says.