Woman makes a killing selling fish soup after losing plum teaching job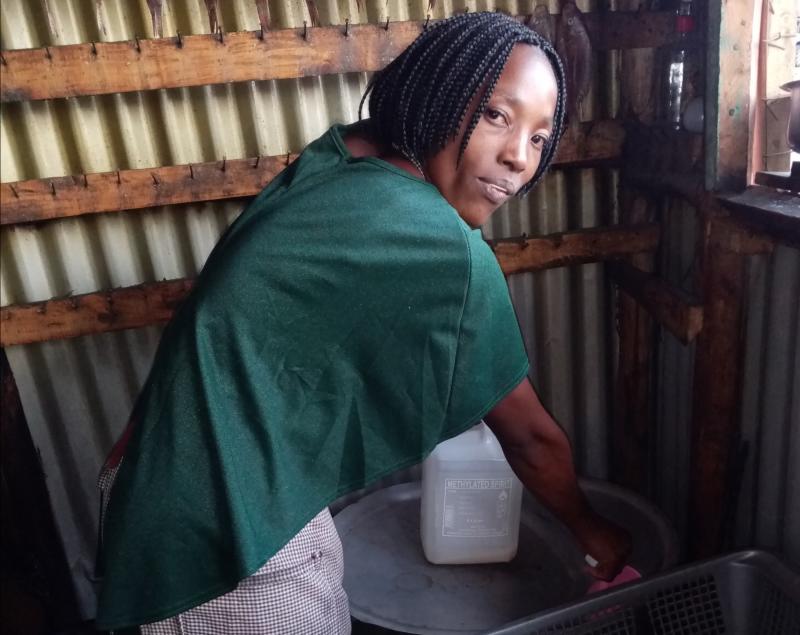 Before Covid-19 hit the country in March last year, Christine Waithaka was working as a primary school teacher. But as soon as the government invoked various measures to curb the spread of the pandemic, Waithaka was among thousands of teachers who were sent home as schools closed. Unfortunately for her, she lost her job when it became clear that schools would take a long time to be re-opened.
With few options on the table, Waithaka had to think of a way to survive, seeing as her income had suddenly been cut short. This is when she came up with a brilliant idea that quickly put her back on her feet; selling fish-head soup.
Waithaka, a middle-aged woman, runs a soup joint in Ngondi - a small town on the border of Nakuru and Narok counties- where long distance truck drivers and locals troop to for a cup of the unique soup. The 25-year-old sources fish heads from fishermen at Lake Naivasha where they are in abundance and at a throw away price.
"Previously, I used to work as a primary school teacher. I started selling soup last year when I lost my job. Most of the people in this area are farmers and they need energy to tend their farms, and fish head soup makes their bodies more healthy," she told CityBiz, adding: "I wake up early in the morning to buy fish heads from fishermen in the lake. Each head goes for Sh20 and sometimes you can be lucky and get them for free because they are by-products. About 20 heads of fish are enough to prepare a sufuria of soup. The heads are mainly from tilapia, mudfish and common cup fish."
Waithaka boils the heads as soon as she returns to her base, and while they are still fresh. Initially considered an unusual broth, the fish head soup has now become a popular delicacy in the area.
"The soup sells like hot cake," she says, adding that "it is unique and has nutritional value because the head is richer in fat than other parts of the body. Fish heads are full of omega 3 oils that keep the brain and heart healthy. They also contain vitamin A which boosts immunity. The truck drivers who transport farm produce to Nairobi frequent my kibanda and say that it helps them to keep warm and energises their bodies," Waithaka says.
Interestigly, Waithaka says the business idea was a case of trial and error as she had no idea that the soup would excite her customers, seeing as not many people fancy eating fish heads.
"At first, I was reluctant because I didn't know what people were going to say about the odd soup. But to my surprise, as soon as I started marketing it, everyone wanted to try some. I wanted to offer something new and thankfully, the fish soup is doing very well," she told CityBiz.
After realising that no one in the area has never thought of such an idea, Waithaka decided to try her luck and it has been rewarding. Customers start flocking Christine's soup den as early as 3pm for the delicacy, which has become a daily diet for some.
"Nowadays, I buy more fish heads than when I started, and I have been forced to look for extra sitting space because customers increase every day. I usually place additional chairs outside so that my customers can find a place to sit," Waithaka explained.
Each day she serves more than 100 customers who throng her premise to drink soup.
"My business is growing rapidly and so far, I am the only who sells this kind of soup in the busy town. A cup of fish head soup costs Sh20, and on a good day I can make Sh2,000 just from selling soup," she says, adding that, "On a bad day, I make about Sh1,400. I also sell fish as a meal, but my specialty is fish head soup."
Waithaka notes that so far her biggest challenge has been to convince new clients that fish head soup actually tastes great, but says that once they taste it they keep coming back for more.
Hide your knickers
Hanging your underwear on a public clothesline makes them public property